Tirupati: Karthika Brahmotsavams end with Panchami Theertham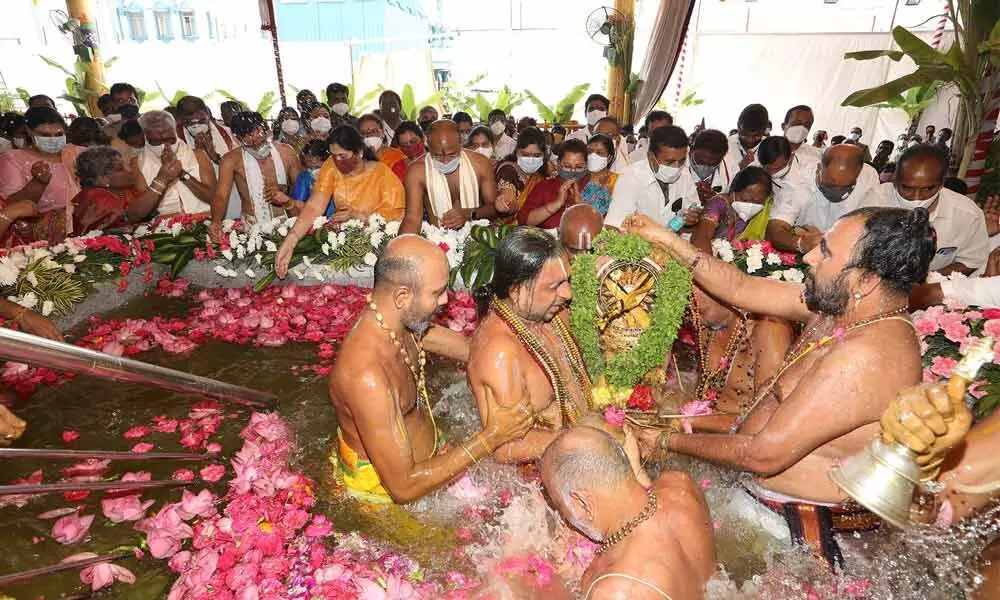 Highlights
Chakrasnanam was conducted at the mini-tank set up specially for the ceremony inside Padmavathi temple at Tiruchanoor
Specially prepared Srivari sare was brought in a procession from Srivari temple at Tirumala for the occasion
Tirupati: On the last day of ongoing Karthika Brahmotsavams of Goddess Sri Padmavathi, Panchami Theertham (chakrasnanam) was observed at Tiruchanoor on Thursday morning. The holy event was conducted at the mini-water tank set up specially for the ceremony inside the temple during the Kumbha lagnam at 11.52 am.
Earlier, Padmavathi Ammavari Pallaki utsavam was performed at the temple and the utsava idol was seated in the vahana mandapam.
Meanwhile, the Srivari sare, specially prepared for the occasion, was brought in a procession from Srivari temple at Tirumala to Tiruchanoor. As part of the tradition, 112-gram gold medal, 249-gram platinum Lakshmi medal and a platinum chain with dashavatara medals were also brought in a procession for decorating Goddess Padmavathi to mark the occasion. Other decorations included various fruits, pineapple, black cranberry, Tulasi and garlands made of orchid flowers and flowery crowns donated by devotees of Tirupur, and prepared by artistes from Salem, both in Tamil Nadu.
The TTD garden department had decorated the vahana mandapam with lotus flowers, apple, and green apple, roses and sampangi and six varieties of cut flowers adding more colour toe the event held to mark the end of the nine day annual Brahmotsavam. Both the senior and junior Pontiffs of Tirupati, TTD chairman Y V Subba Reddy, TTD EO Dr K S Jawahar Reddy, addl EO A V Dharma Reddy, Chandragiri MLA Dr Chevireddy Bhaskar Reddy, Prashanti Reddy, Sampat Ravi Narayana, JEOs P Basant Kumar, Sada Bhargavi, CVSO Gopinath Jatti and others participated.