Tirupati: SPDCL agrees to promote watchmen as shift operators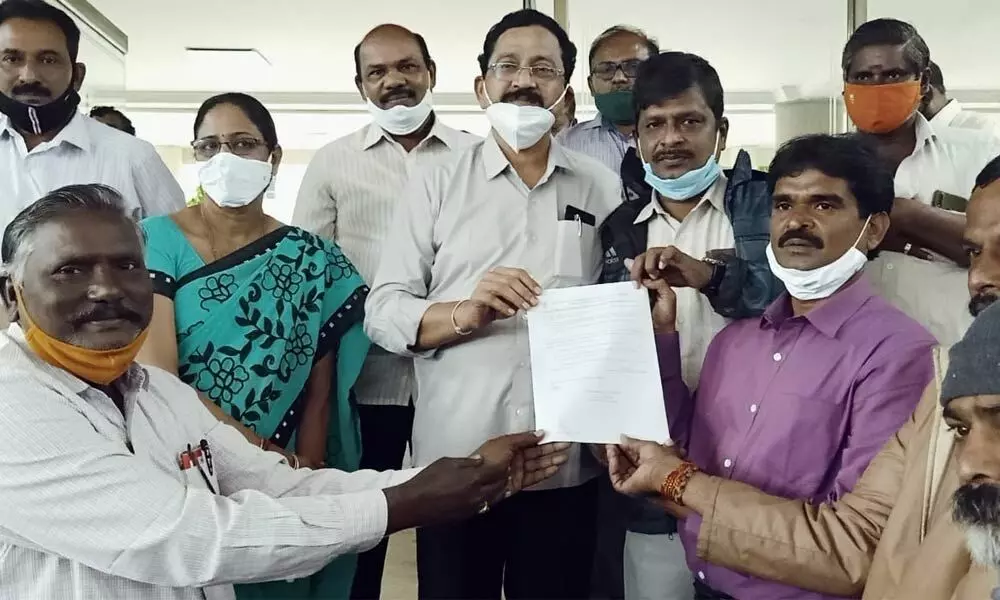 Highlights
Unions have been staging protest demanding promotion of watchmen at the sub-stations as shift operators for the 32 days at discom's corporate office here
SPDCL CGM Subba Raju and Joint Secretary Radha Jayasri hand over letter to this effect to CITU leaders
Tirupati: APSPDCL (Andhra Pradesh Southern Power Distribution Company Limited) management had at last agreed for thepromotion of the eligible personnel who are working as watchman in the sub-stations as shift operators.
Responding to the personnel working as watchman who were observing protest at SPDCL corporate office here for the last 32 days, SPDCL chief general manager (CGM) Subba Raju and joint secretary Radha Jayasri on the direction of SPDCL chairman-cum-managing director Harinath handed over the letter agreeing for the promotion of eligible watchman who have ITI qualification as shift operators to CITU leaders.
Speaking on the occasion, CITU state vice-president K Murali and United Electricity Employees Union state president Duggirala Suribabu said that the employees were forced to resort to Deeksha (protest) as the SPDCL had refused the demand for promotion of watchmen as shift operators. Murali, who is also the SPDCL employees union honorary president, alleged that the ruling party leaders obstructed the promotion of watchmen as they wanted their own men appointed in the shift operator posts and even tried to sell the posts but the unite fight of the employees at last saw the personnel achieving their demand. He lauded the employees who continued the protest braving inclement weather of cyclonic rain lashing the pilgrim city for two weeks.
He said the employees working as watchmen in the sub-stations under SPDCL covering five districts, including four Rayalaseema and Nellore districts, will be benefited from promotion to eligible watch men as shift operator.
SPDCL employees union district general secretary A Jayamani, Discom Employees Union district president Subramanaym and secretary Suman were also present.