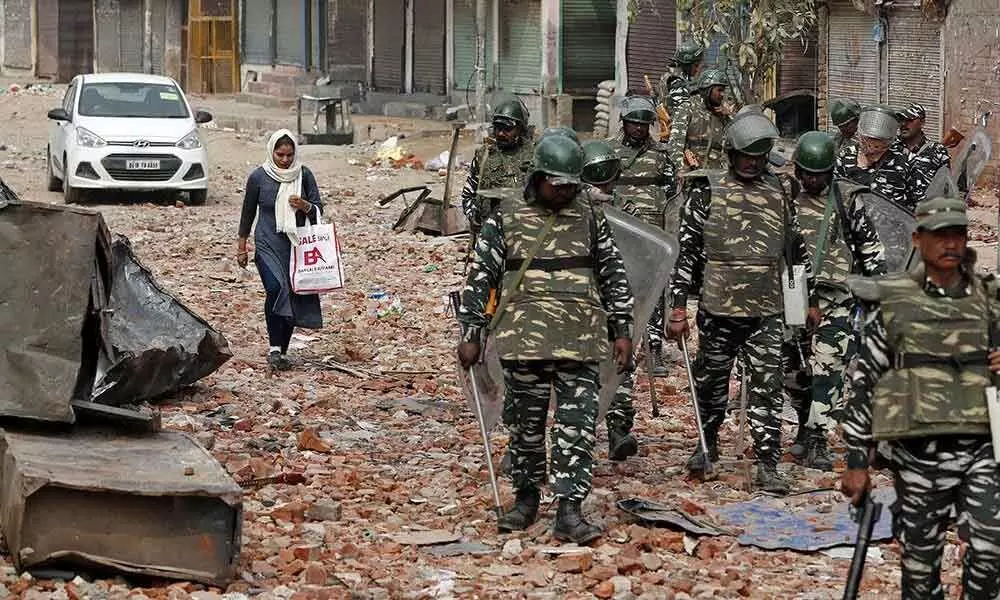 Highlights
Death toll rises to 24
PM calls for peace
Situation alarming: Kejriwal
New Delhi: After two days of communal clashes that claimed 24 lives, a brittle quiet settled over parts of riot-hit northeast Delhi on Wednesday but there was violence in some other places with shops set ablaze and the body of an IB staffer found in a drain.
As police conducted flag marches and security personnel spread out across the northeastern edge of the national capital in a bid to quell the violence raging since Sunday, Prime Minister Narendra Modi in his first reaction appealed for peace and brotherhood.
While 22 deaths have been reported in Guru Teg Bahadur (GTB) Hospital, two persons died in Lok Nayak Jai Prakash Narayan Hospital.
According to GTB Hospital authorities, the number of injured now stands at 189, however, the situation at the hospital "seems to be settling".
Delhi Chief Minister Arvind Kejriwal had earlier in the day flagged that the situation has become "alarming" and the Army should be called in as police are "unable to control it".
Government sources, however, said the Army won't be called. The Centre, however, deployed 800 additional troops in affected areas of Delhi.
Communal violence over the amended citizenship law had escalated in northeast Delhi on Tuesday as police struggled to check the rioters who ran amok on streets, burning and looting shops, pelting stones and thrashing people.
Earlier, at least four bodies were brought to the Guru Teg Bahadur (GTB) Hospital from the Lok Nayak Jai Prakash Narayan Hospital (LNJP) Hospital, a senior official said.
Later, while interacting with reporters, GTB MS said, from Tuesday midnight it is a "trickle of patients and not a gush of injured persons as was earlier".
These patients have several kinds of injuries, including from gunshots, many sustained trauma from jumping from rooftops to escape violence, many received head injuries, he said.
"We are fully prepared with doctors, nurses, paramedics, consumables, linen and other paraphernalia and hoping that the situation won't worsen from here," he said. Asked if the victims have been identified, Kumar said, "Many people have been identified, some are yet to be".
Meanwhile, television visual showed DCP Northeast Ved Prakash Surya along with a posse of police personnel conducting a flag march in the violence-hit areas seeking to boost the confidence of people and bring the situation to normal.