Protests against CAA: Violators in 'Congress clothes,' says PM Modi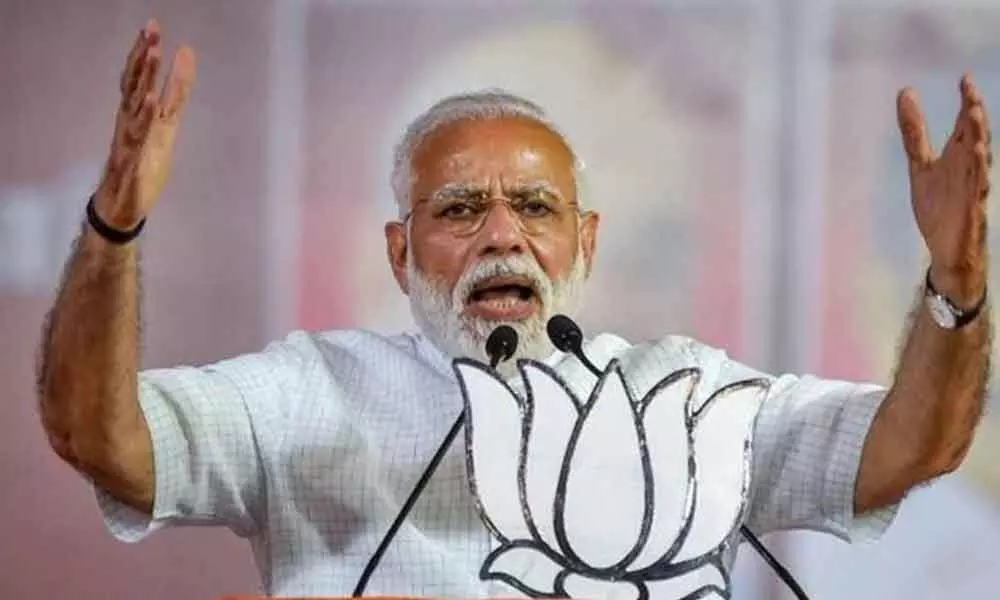 Highlights
'Country belongs to everyone': Mahesh Bhatt joins CAA protest; Citizenship law against Savarkar's views, says Uddhav
Dumka: Prime Minister Narendra Modi on Sunday congratulated the people of Assam for "keeping away from violence" amid widespread protests against the citizenship law in the northeast. "You can easily make out who is spreading violence by the clothes they wear," he said.
Singling out the Congress, he said the party, in a first, was doing what Pakistan did on the government's move on ending Article 370 or after the Supreme Court verdict on Ram Janmabhoomi -- organising protests outside Indian embassies abroad.
"I congratulate our brothers and sisters in Assam for staying away from those who spread violence... they are making their points in a peaceful way," he said at an election rally in Jharkhand's Dumka.
"The Congress and its supporters are spreading fire. When they are not heard, they spread arson," he said.
Veteran filmmaker Mahesh Bhatt on Sunday joined a protest meet in Mumbai against the amended Citizenship Act (CAA), and said it is time people unite to send across a message that the country belongs to everyone.
The protest meet was held at 'Rajgruha', the house of Dr B R Ambedkar in Mumbai, where Bhatt was joined by Congress leader Sanjay Jha, among others.
"It's time for people to stand up and say this country belongs to each one of us and it is the might and the will of each one of us that has finally found an expression...," Bhatt said, addressing a gathering.
"That curve has come, India has spoken this Sunday morning. All of you gathering here is an evidence that the core, soul of India is alive," he said.
"Today we dedicate ourselves to the core idea of India which has been spelt out by our predecessors in this sacred document which we all swear and live by," the filmmaker added.
Maharashtra chief minister Uddhav Thackeray on Sunday said the new citizenship law is against the views of Hindutva icon V D Savarkar.
Thackeray said that issues like CAA were being raised to "divert attention" of people from real issues like security of women, unemployment and farm crisis.
"Is CAA based on ideology? What about violence which erupted over it?, he asked.
Bengal Governor Jagdeep Dhankar has slammed Chief Minister Mamata Banerjee over advertisements that protest the CAA, and say it will not be implemented in the State.
Dhankar also criticised the ruling Trinamool Congress for the use of public funds to pay for the ads that also target the National Register of Citizens (NRC) exercise held in Assam.
The Governor has demanded the Chief Minister withdraw these ads, saying "criminal use of public funds (is) against law of land".
BJP spokesman Shahnawaz Hussain said the country will never forgive Congress leader Rahul Gandhi for insulting Veer Savarkar and asked the Shiv Sena to choose between power and the freedom fighter.
"Just tweeting a protest against Gandhi's insult of Savarkar will not do. (Shiv Sena president) Uddhav Thackeray has to take a stand onwhether he wants to share power with the Congress which has insulted the national icon and freedom fighter," he said.
Subscribed Failed...
Subscribed Successfully...