Somireddy plays catalyst role to pacify TDP dissident leaders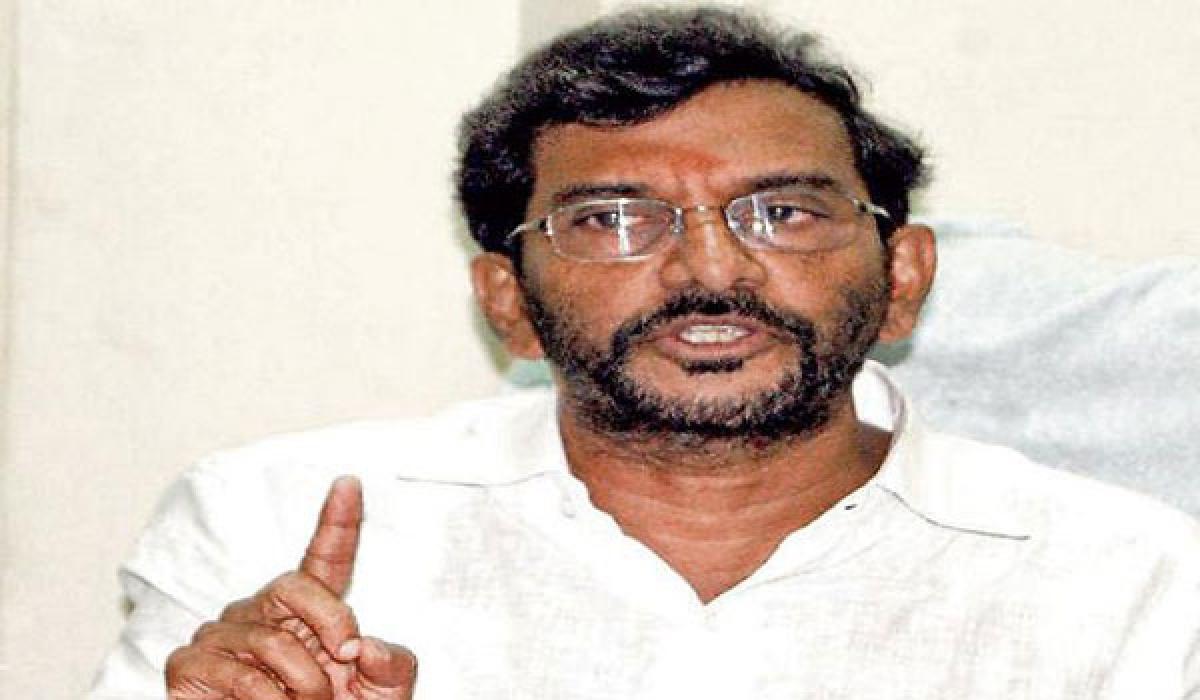 Highlights
Newly inducted Minister Somireddy Chandramohan Reddy is playing the role of a catalyst and coordinating among various groups of Telugu Desam subsequent to strong dissidence that broke out after MLC polls in the district. Though it is a herculean task to manage various conflicting groups, Somireddy has initiated damage control measures on the directions of the Chief Minister, keeping in view the fo
Nellore: Newly inducted Minister Somireddy Chandramohan Reddy is playing the role of a catalyst and coordinating among various groups of Telugu Desam subsequent to strong dissidence that broke out after MLC polls in the district. Though it is a herculean task to manage various conflicting groups, Somireddy has initiated damage control measures on the directions of the Chief Minister, keeping in view the forthcoming elections.
Highlights:
The newly inducted Minister has been busy appeasing dissident leaders keeping forthcoming polls in view

Adala Prabhakar Reddy and Anam brothers are keeping distance from party activities
The leaders who had earlier dissented on the selection process of party candidates for MLC polls and since then been maintaining a non-cooperative stance, are now being pacified and wooed by Somireddy to create harmony within the party. But, these leaders are expressing their ire and reportedly demanding the party leadership to abide by the assurance given to them previously.
In fact, Adala Prabhakar Reddy, who was expecting MLC seat under LAC quota which was finally offered to sitting MLC Vakati Narayana Reddy, is making his annoyance conspicuous by distancing himself away from party activities. Likewise, Anam brothers, who failed to get MLC seat under Governor quota, are simply continuing in the party without any active role, according to analysts.
Both groups were not present even during oath taking ceremony in Amaravati on April 2nd and welcome meet on April 7. At this juncture, former legislator Anam Vivekananda Reddy, who interacted with the Minister on Sunday, clearly pointed out the earlier promises made by the Chief Minister N Chandrababu Naidu at the time of joining the party. There was internal discussion on the assurance made by the CM for MLC seat under the Governor quota which was recently offered to Kadapa leader Ramasubba Reddy.
"Now, the party is concentrating on appeasing the leaders assuring that they would be offered nominated positions on priority basis as soon as the CM takes a decision. There would not be any discrimination among party leaders and the turncoats. We hope the strategy would be fruitful," said a leader. Somireddy also met the leaders from the Left parties seeking their blessings. He also interacted with local TDP leaders and explained the significance of strengthening party keeping in view forthcoming elections and their role in spreading the message of unity for countering the YSRCP in the district.
By P V Prasad

Subscribed Failed...
Subscribed Successfully...