Nallari Kiran Kumar Reddy back in Congress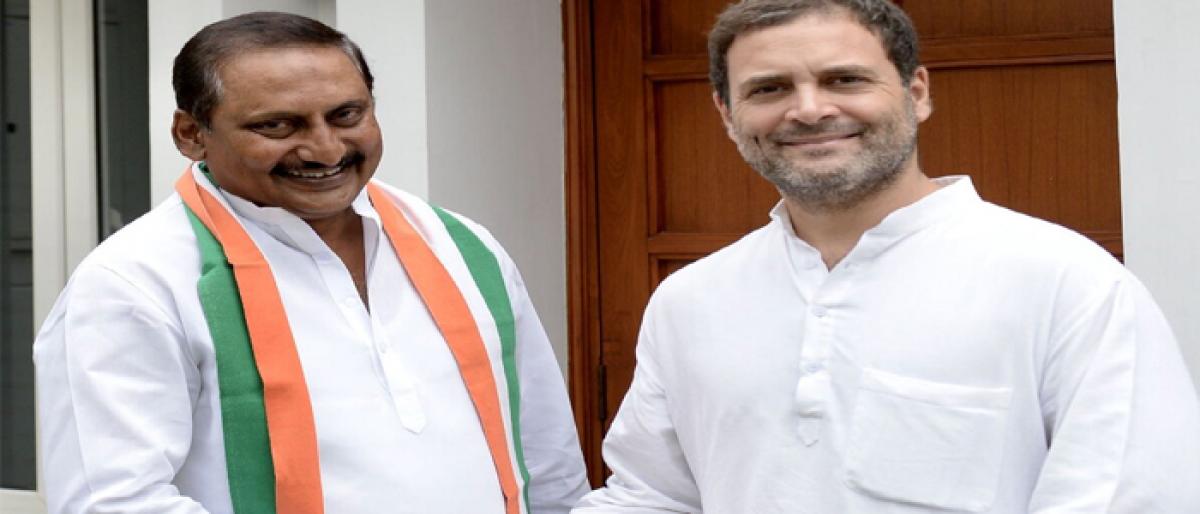 Highlights
Ending his long political hiatus, last Chief Minister of united Andhra Pradesh Nallari Kiran Kumar Reddy on Friday rejoined the Congress in the presence of party president Rahul Gandhi and senior leaders Raghuveera Reddy and former Kerala Chief Minister Oommen Chandy
​New Delhi: Ending his long political hiatus, last Chief Minister of united Andhra Pradesh Nallari Kiran Kumar Reddy on Friday re-joined the Congress in the presence of party president Rahul Gandhi and senior leaders Raghuveera Reddy and former Kerala Chief Minister Oommen Chandy.
Although there were strong speculations that he would join BJP sometime back, Kiran has finally voted for Congress with whom his family has been loyal with and the party which had made him the Speaker and the Chief Minister of the United Andhra Pradesh.
It may be mentioned here that Kiran Kumar Reddy had revolted against his own party Congress in February 2014 for its decision to divide Andhra Pradesh unilaterally and even floated Jai Samaikyandhra Party (JSP).
Chandy, who was made in-charge of the party in Andhra Pradesh recently, had met Kiran at his Hyderabad residence on July 1 and prevailed upon him to join the Congress.
This had followed meetings between Kiran and senior Congress leaders such as T Subbirami Reddy and former Union Minister Pallam Raju. The leaders also said that Kiran may be given a crucial role in national politics. Speaking to reporters after the meeting, Chandy said, "The Congress stand is clear and everybody knows it well. Those who left the party will come back to the party. This is a crucial time not only for the Congress, but also for the country. Congress president Rahul Gandhi is trying to unite all secular and democratic forces to fight the present government. We welcome all the leaders and workers who left the party."
Kiran Kumar Reddy decided to exile himself from politics after the state was bifurcated against his will. As the Congress was determined to grant statehood to Telangana by carving it out of the erstwhile Andhra Pradesh, Kiran quit the party and launched his own party—Jai Samaikyandhra Party (JSP) in 2014, just months before the elections. However, his decision to launch the party and contest the elections turned out to be a major debacle, as none of his party members could win a seat. After the failed attempt, the senior leader went into a self-imposed political exile.
The Congress was also decimated as it failed to win even a single Assembly seat in residual Andhra Pradesh. Kiran hails from Chittoor, and his return to the party might strengthen their presence in the district. Meanwhile, the Congress said that it will not tie up with any party for the state Assembly polls and the general election next year.
"The BJP and the TDP cheated the people of Andhra Pradesh on the issue of special status to the state. We have no intention to have an alliance with any of the parties. Our alliance is only with the people of the state," Chandy told reporters last month.