AP CM favouring corporate sector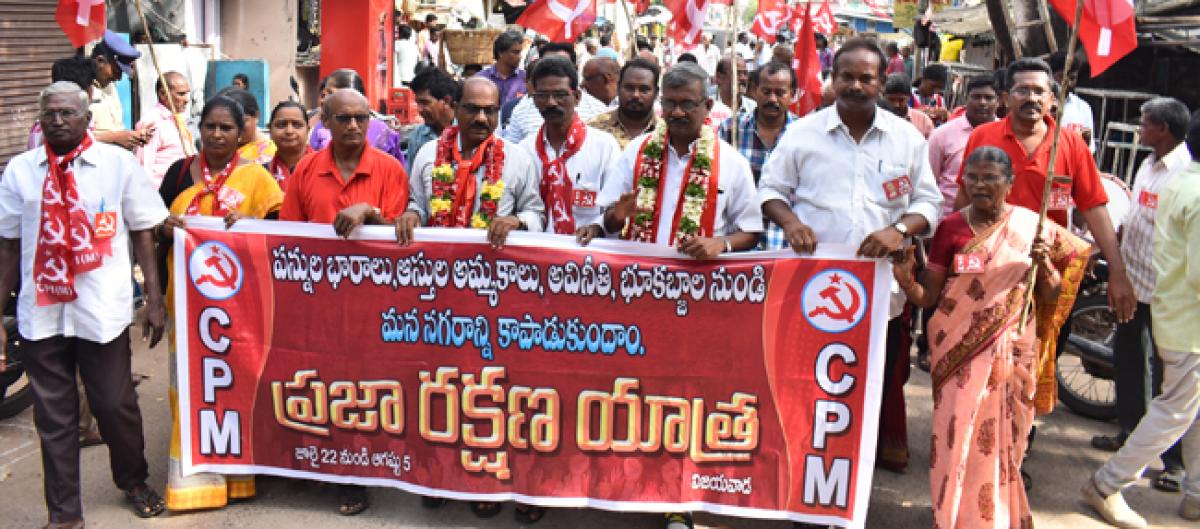 Highlights
On the second day of Praja Rakshana Yatra which was flagged off by CPM state executive member Dadala Subba Rao, the CPM leaders started the yatra at the 55th division office in the city on Monday
Vijayawada: On the second day of Praja Rakshana Yatra which was flagged off by CPM state executive member Dadala Subba Rao, the CPM leaders started the yatra at the 55th division office in the city on Monday.
Addressing the gathering, Subba Rao said that the Chief Minister has been handing over valuable lands to the corporate sector and the vacant lands were encroached by the TDP leaders and the MLAs. He alleged that the local bodies were being totally neglected. "Both the TDP and the BJP have been cheating people by not implementing the promises made during the elections," he alleged.
Subba Rao said the CPM activists have been receiving good response from people who are bringing their problems to their notice. "In turn, the Praja Rakshana Yatra has been bringing the corrupt practices of the government to the notice of people," he added.
CPM leader Ch Babu Rao, who is heading the Praja Rakshana Yatra, ridiculed the claim of Chief Minister that the state bagged first award in Ease of Doing Business and said that it should be ease of living and not doing business.
"If Naidu meets people he would know whether the government was receiving awards or curses of people," he said. Babu Rao recalled that when Dr YS Rajasekhar Reddy was the chief minister, the people were issued slips after taking their photographs but not houses.
He said the Opposition leader YS Jaganmohan Reddy was concentrating on the Chief Minister's post but not on people's problems. "Jaganmohan Reddy and his MLAs who are supposed to highlight the people's problems in the Assembly are not attending it," he added.
The Yatra passed through Prakash Nagar, Santinagar and reached Payakapuram. CPM Central city secretary D Vishnuvardhan, city committee leaders B Raman Rao, K Durga Rao, P Madhav, T Pravin, Y Subba Rao, Ch Srinivas, Sk Nagoor, Sk Niamuddin and others participated.