Jagan does a flip-flop on Kapu reservation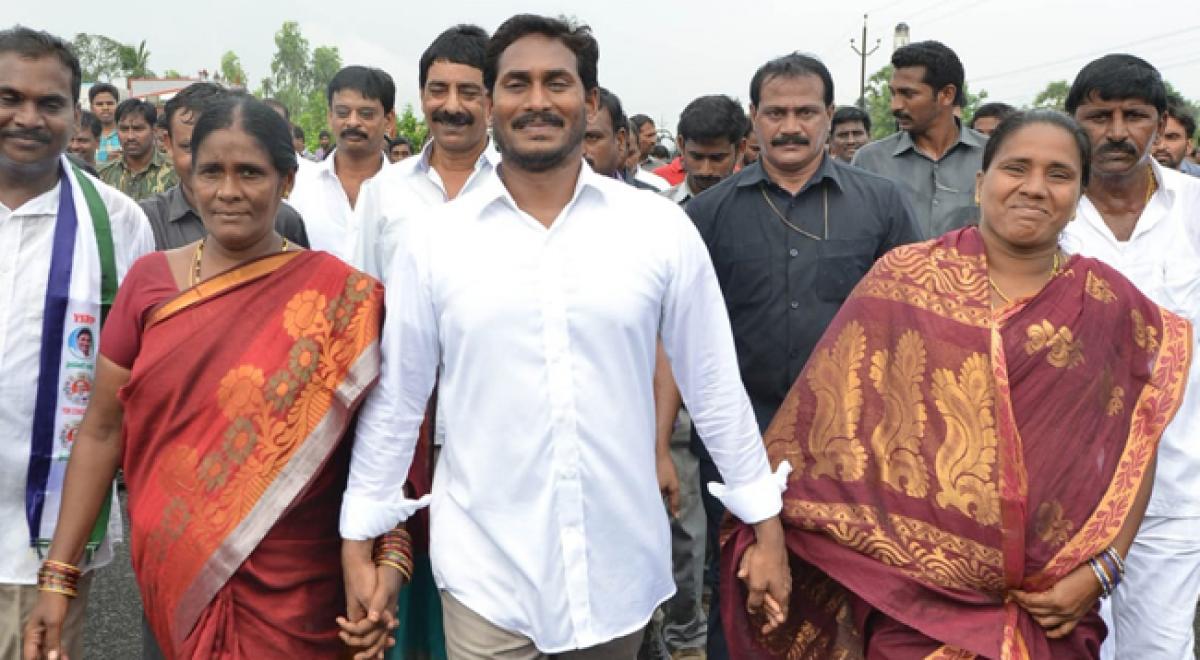 Highlights
YSRC chief YS Jaganmohan Reddy on Sunday appeared fighting a tough battle in containing the damage caused to his partys prospects with his comments that he would not be able to promise BC status to Kapus with youths taking serious exception to his statement
Hyderabad: YSRC chief YS Jaganmohan Reddy on Sunday appeared fighting a tough battle in containing the damage caused to his party's prospects with his comments that he would not be able to promise BC status to Kapus with youths taking serious exception to his statement.
In an attempt to retrieve the lost ground, Jaganmohan Reddy asserted that he had said he would not be able to get them BC status because the subject fell under the Centre's purview. "I am not one who promises something that cannot be delivered at a later stage," he said and wanted to know from the audience whether they wanted a leader who spoke truth or a leader who dished out a tissue of white lies.
After Kapu patriarch Mudragada Padmanabham's outburst against him, Jaganmohan Reddy appeared to be on the defensive, praising the Kapu leader sky high and questioned the decision of the TDP government in detaining him when he was agitating for BC status for Kapus in East Godavari district.
He referred to how Chief Minister N Chandrababu Naidu had promised everything under the sun for all though he knew he would not be able to implement any of them. "He had promised ST status for Boyas, SC status for Rajakas and BC status for Kapus. But nothing has happened so far," Jaganmohan Reddy said. He, however, promised to double the budget for Kapu corporation.
"Chandrababu Naidu said that he had allocated Rs 5,000 crore for the corporation. But I will double the budget for helping the Kapu youths lead a life of dignity," he said. That Jaganmohan Reddy had ruffled the feathers of the Kapus was evident from the fact that Kapu youths held banners asking him as to why Kapus should vote for him when he cannot promise BC status to them.
Groups of youths held out placards and boards at his public meeting, which made him defend the stand he had taken since there was no way he could walk back on his assertion that he would not be able to get BC status for Kapus.
Mudragada Padmanabham, who took a serious exception to Jaganmohan Reddy's statement, lashed out at him, demanding to know if the Kapus should always remain at the receiving end, bearing the palanquins of the leaders of his (Jaganmohan Reddy's) class. "Should we remain waiting for the crumbs that you throw at us," he asked.
The Kapu leader wanted to know how Jaganmohan Reddy could justify his stand that since BC status for Kapus was a subject under the purview of the Centre, he could not fight for it. "Aren't you fighting for Special Category Status, Vizag Railway Zone, Kadapa steel plant and so on.
Don't all of them come under the purview of the Centre? Why shouldn't you say that you would fight for BC status? If you do not fight for BC status for us, why should we vote for you," he asked.
He also confronted him as to why he was making Kapu leaders in his district spend crores of rupees for making arrangements for his padayatra. "Our people are not born with silver spoon in their mouths. You are making them spend crores of rupees for your padayatra.
Why don't you spend your own money? Why don't you tell them not to waste money on preparations for your padayatra? You promote two to three leaders in each constituency and make them compete among themselves in spending money for your yatras. Isn't this unjust," he asked.
Padmanabham was categorical that Kapus would not vote for Jaganmohan Reddy for declaring that that he would not fight for BC status for them. Even if it is under the purview of the Centre, Jaganmohan Reddy could still fight for it.
There are states where reservation percentage has gone beyond 50 per cent. They are also part of India like we are. What applies to them should apply to us too," he said, and ridiculed the YSRC chief's promise of doubling the budget of Kapu corporation. "What purpose of curries would serve if no rice is served," he asked.