Korean team all praise for VPT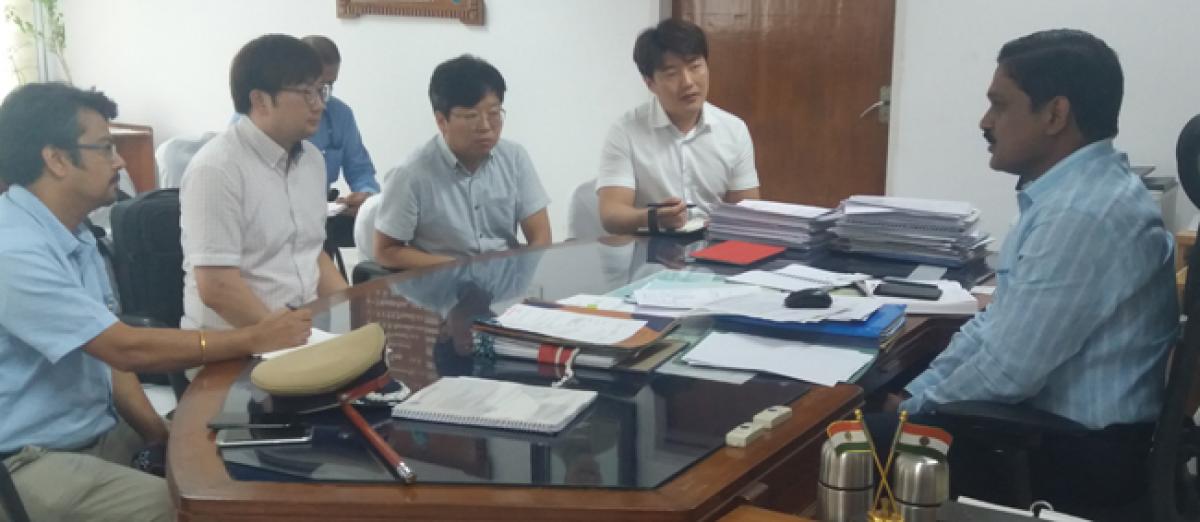 Highlights
Park Jongho, Choi Kwangseok and Lee Hyuk Gil of Dohwa Engineering Company Limited, Korea, visited the Visakhapatnam port on Friday for exploring the possibilities of investment opportunities within the Visakhapatnam port
Visakhapatnam: Park Jongho, Choi Kwangseok and Lee Hyuk Gil of Dohwa Engineering Company Limited, Korea, visited the Visakhapatnam port on Friday for exploring the possibilities of investment opportunities within the Visakhapatnam port.
Chairman of VPT MT Krishna Babu explained the strategic advantage of the port and various business development opportunities in the vicinity of the port. The Chairman explained about the different cargo handling facilities available at the port.
The Chairman explained about the future investment opportunities that are available in the port emphasising on development of free trade zones, silos, closed warehouses, ship repair, ship building facilities and development of cruise terminals.
The team of Korea was pleased with the multiple cargo handling facilities being available in the port and also appreciated the cleanliness and green carpet of the port areas.
A team of officers from Nepal also visited the port. The Visakhapatnam port officials explained the recently developed software in the fast clearing of LC payment issues and custom clearance formalities as a part of Ease of Doing Business.
They further interacted with the major container liners, operators and the shipping agencies and the obtained the inputs to further modify and upgrade the software developed by the port.
The officials informed that the new facility would improve customs formalities and also improve cargo handling through containers from Nepal to Visakhapatnam port.
The port management appreciated the initiative of the Nepal government as a part of the Ease of Doing business with an intention for enhancing the Nepal cargo throughputs from Visakhapatnam port through containers.