Mammography unit inaugurated at KGH in Vizag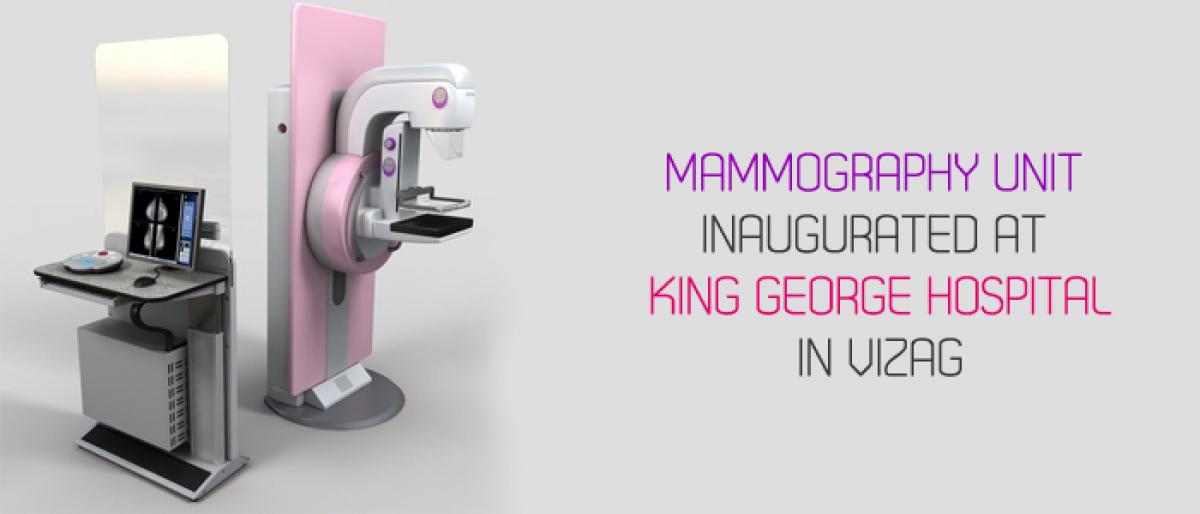 Highlights
Mammography facility was inaugurated at King George Hospital KGH here on Saturday, thanks to the alumni of Andhra Medical College
Visakhapatnam: Mammography facility was inaugurated at King George Hospital (KGH) here on Saturday, thanks to the alumni of Andhra Medical College.
With the latest medical equipment, the breast cancer could be identified at an early stage.
The 1996 batch medical students of AMC donated Rs 1.70 crore to procure the advanced medical equipment and handed over to the KGH.
Inaugurating the new unit, Collector and Chairman of KGH Pravin Kumar lauded the 1996 batch medical students for their noble gesture.
Doctors explained about the new unit functioning and how they would identify the breast cancer at the early stage with the advanced equipment.
The doctors informed the Collector that specially trained staff were deployed in the unit to take up the screening tests.
The Collector said that of late, the number of breast cancer patients are on the rise across the country.
With the help of the new mammography unit, the poor women also can go for screening tests to identify the breast cancer at the early stage, Pravin Kumar said.
The women, particularly aged between 45 to 55 years should undergo breast cancer screening tests twice in a year.
The women aged over 55 years should go for the tests once in two years, the Collector said.
If the breast cancer was identified in the early stage, it could be cleared through the treatment, he added.
After the inauguration of the unit, the Collector, along with superintendent of KGH Dr Arjuna, Principal of AMC Dr Sudhakar visited various wards in the hospital, including Rajendra Prasad ward, where the dengue patients are undergoing treatment.
Later, speaking to the media, the Collector said that dengue and other viral fever cases have been reporting from the agency areas and 32 outskirts villages which were merged in the GVMC.
However, the district administration and medical departments have been taking preventive steps and also providing medical care to the patients.