Dance items a feast for eyes at Gantasala Music College in Vijayawada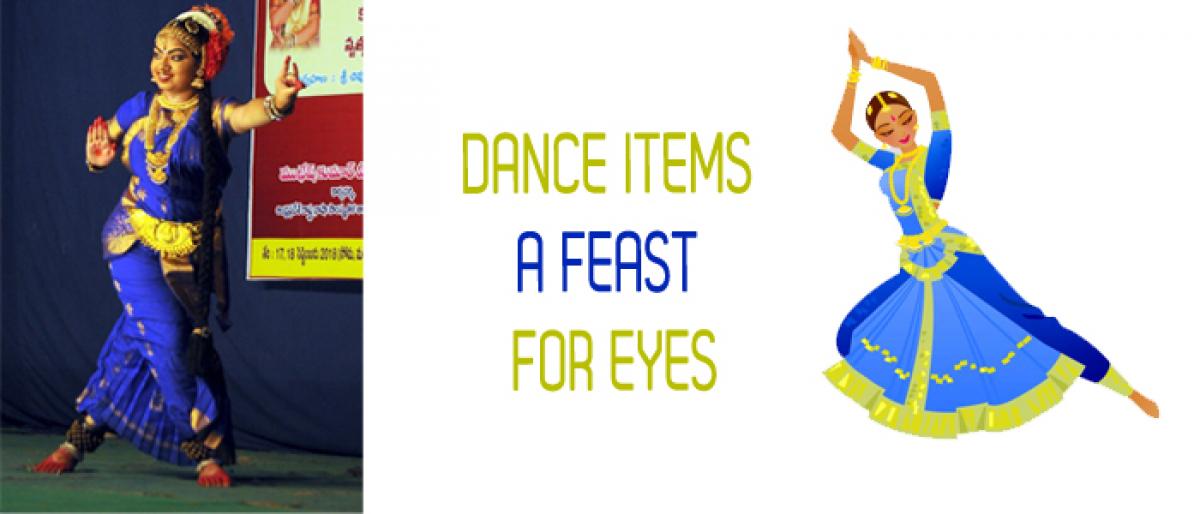 Highlights
Sirimuvvala Pattabhishekam, a bunch of dance items concluded at Ghantasala Venkateswara Rao Government Music and Dance College here on Tuesday
Vijayawada: "Sirimuvvala Pattabhishekam", a bunch of dance items concluded at Ghantasala Venkateswara Rao Government Music and Dance College here on Tuesday.
The two days dance festival was organised by Nataraja Samskrutika Kala Peetham in association with Department of Culture, Government of Andhra Pradesh.
Malladi Satwika traditionally commenced the first day programme on Monday with Bhaja Manasa, praying Ganesha to make this festival a grand success.
The dance guru Malladi Saichandrika had exhibited excellent talent in her items "Sambho .. Siva Sambho", "Jagadananda karaka" and Kshetrayya
padam "Valapu Nilupa".
Expressions and footwork of Sai Chandrika was impressive and received appreciations from the dance lovers.
The other items like 'Brahmanjali', Sri Vighnaraja'. Muddugare yasoda', were performed by Kanvala, Manasvini, Chaitra, Soudamini, Depanvita, Manvika, Snigdha, Sasi and Samjana.
On Tuesday evening, the students of D Suvachala Devi performed folk dances and Kuchipudi dance items by Chinta Ravi Balakrishna disciples.
Folk items 'Adentimama', 'Odinaku okkasari', Msugesindanta mina'and 'Manduloda ori mayaloda' were entertained the audience.
The Kuchipudi items presented by Guru Chita Ravi Balakrishna were extremely well received by the connoisseurs gathered there.
They presented the items like "Sankara Srigiri", "Brindavana nilaya", "Dasavataralu" and "Vande Vasudeva".
Though all the items were performed well, the dance masters should have tried with new items as all the items were repeatedly performed by these artistes in the same venue.
Maddali Surya Prakash conducted the programme