ESI Hospital in miserable state; patients keep off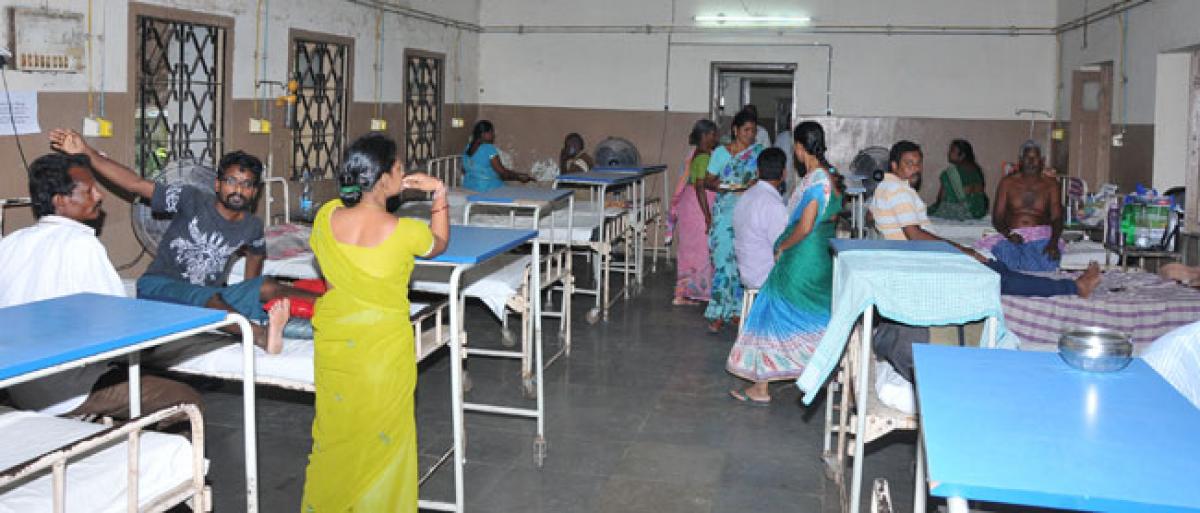 Highlights
The state of ESI Hospital here holds mirror to glaring apathy and lethargy of ESI Corporation Patients are reluctant to come to the hospital for treatment as the existing conditions of hospital are quite appalling
Rajamahendravaram: The state of ESI Hospital here holds mirror to glaring apathy and lethargy of ESI Corporation. Patients are reluctant to come to the hospital for treatment as the existing conditions of hospital are quite appalling.
Stinking beds, disused operation theatre, damaged roof, poor condition of surgical and medical equipment, besides the dilapidated structure itself, are scaring away those in much need of medicare at the ESI Hospital here.
The hospital has been started to provide medical aid to around 1.5 lakh ESI members in East and West Godavari districts. The situation is so pathetic that only around 200 to 300 outpatients are visiting the hospital now-a-days.
According to hospital sources, major surgeries were stopped nearly two years ago as operation theatre and medical equipment are not in good condition. They informed that only minor operations are being performed as of now. As such, a majority of patients are being turned away or referred to the referral hospitals in Rajamahendravaram, Bhimavaramand Tadepalligudem.
It is learnt that only four out of 40 staff are working in sanitation wing. There are no doctors in radiology and gynecology departments. Even the functioning of x-rayand radiology wings is not up to expectations. The hospital has general medicine, general surgery, pediatrics, orthopedics, dental and ENT wings.
A perusal of the hospital reveals that the floor in various wings in the hospital has sunk and cement slabs in kitchen, operation theatre, wards and in some other parts are also falling. A bigsurgical light is inoperative.
As there is no kitchen, the hospital authorities are supplying food to the patients from outside. Earlier, a central team visited the hospital and made some recommendations, but to no avail. The hospital has 50 beds which need to bedoubled in view of patient demand.
Speaking to The Hans India over phone from Amaravati, ESI Corporation regional director Ramakoti said that recently an engineering team from Andhra University inspected the hospital building and advised its demolition or shifting the hospital from the present premises. Their report has been sent to the central office in New Delhi for further action.
The Sitampeta ESI dispensary has been vacated and plans are on to use it for operations, Ramakoti said. A final decision would be taken as per the decision of head officewhether to take up repairs or construct a new building, he added.
Godavari Urban Development Authority (GUDA) chairman Ganni Krishna who visited the hospital expressed concern over the prevailing conditions and assured tosanction an amount of Rs 20 lakh from GUDA for temporary repairs.
He wondered why ESI Corporation which is awash with funds to the tune of Rs 50,000 crore was not taking care of theESI hospital maintenance and repairs. "Who would take responsibility if anything happens to the patients," he expressed concern.
There is sufficient place to construct a new hospital building at the existing place. The issue would be taken to thenotice of Chief Minister Nara Chandrababu Naidu for necessary action, he added.