80K devotees have darshan of Goddess Gayatri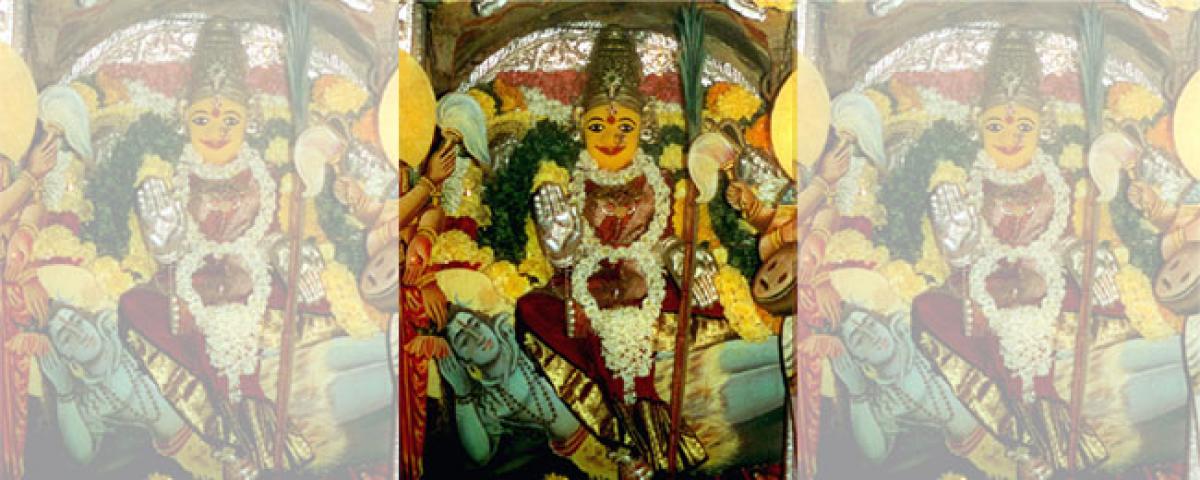 Highlights
Goddess Kanaka Durga appeared in Gayatri Devi alankaram on the thirdday of the nineday festival of Dasara celebrations on Friday
Vijayawada: Goddess Kanaka Durga appeared in Gayatri Devi alankaram on the third-day of the nine-day festival of Dasara celebrations on Friday.
Nearly 80,000 devotees had the darshan of Goddess Durga in Gayatri Devi alankaram. The temple received an amount of Rs 29,68,760 by selling darshan and special puja tickets on Friday.
The devotees thronged the temple since morning and several VIPs like actor Rajendra Prasad and Ministers Ganta Srinivasa Rao, Paritala Sunita and AP Film and Drama Development Corporation Chairman Ambika Krishna visited the temple and offered special pujas. The temple officials welcomed and presented prasadams to them.
Minister Paritala Sunita expressed happiness for offering pujas to Goddess Durga. She said that the government has made wide arrangements for the event.
Besides, Minister for Human Resources Development Ganta Srinivasa Rao said that nearly 3,000 police personnel were deployed for providing security. He said that the devotees were being provided free butter milk and drinking water. Ganta said that he wished the goddess to bless people for living with wealth and health.
Snake terror on temple premises
A snake is spotted at prasadam counter at Old Rajagopuram on the temple premises on Friday. The prasadam counter staff saw the snake and alerted the devotees. The devotees were panicked after hearing snake incident.
The temple staff immediately swung into action to rescue the snake. Some days back also, the devotees witnessed a similar incident. At that time, the temple staff caught the snake and left it in the hills of temple.