All set to celebrate Vijaya Dasami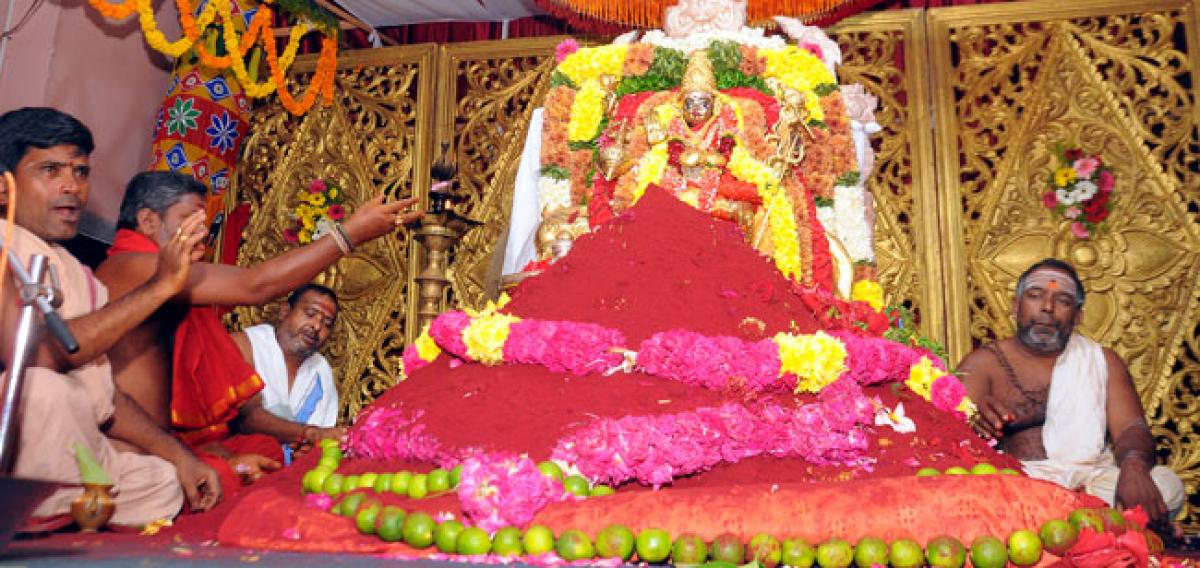 Highlights
The Goddess Kanaka Durga atop Indrakeeladri gave Darshan to devotees in the form of Sri Durga Devi on the eighthday of Dasara festival celebrations here on Wednesday
Vijayawada: The Goddess Kanaka Durga atop Indrakeeladri gave Darshan to devotees in the form of Sri Durga Devi on the eighth-day of Dasara festival celebrations here on Wednesday.
Besides, the stage is set to celebrate Vijaya Dasami day on the temple premises grandly and celestial boat ride of Sri Durga Malleswara Swamivarlu in Krishna River on Thursday.
The devotees thronged the temple from early hours on Wednesday to have the darshan of Goddess and several VIPS also visited the temple along with devotees. The temple officials made wide arrangements in view of increasing number of devotees rush to have darshan of Goddess on Vijaya Dasami day.
Assembly Speaker Kodela Sivaprasad Rao visited the temple along with his family members and offered special pujas to Goddess Durga.
On the occasion, Kodela Sivaprasad Rao said that he worshiped the Goddess to bless the two Telugu-speaking states with peace and prosperity.
He also said that he prayed the Goddess to complete the construction of the AP's capital Amaravati city speedily and sought all sort of help to the victims of cyclone-affected in Srikakulam district. He appealed to the people to extend their total cooperation and support to the state development without giving room for politics.
Meanwhile, the Chief Minister's Office (CMO) instructed the temple administration including the Trust Board members and the Temple Executive Officer to shun internal disputes and organise the celebrations in a smooth manner.
According to the sources, the CMO officials informed the Trust Board members and the Executive Officer not to give chance to defame the temple's sanctity. The CMO officials informed them on the seriousness of Chief Minister N Chandrababu Naidu on the protocol controversy issue between the EO and the Trust Board members.
Meanwhile, the Goddess Durga will give darshan to the devotees on Thursday in two forms. The deity would be decorated in Mahishashura Mardhini Alanakaram in the morning and Rajarajeswari Alankaram in the evening.
Besides, the temple administration planned for the celestial boat ride of Sri Durga Malleswara Swamivarlu on Thursday on the occasion of Vijaya Dasami. Already the temple administration conducted the trial run of celestial boat ride in Krishna river.
District Collector B Lakshmikantham, Police Commissioner Dwaraka Tirumala Rao, Temple Trust Board Chairman Yalamanchali Gouranga Babu, Executive Officer V Koteswaramma and several officials reviewed the celestial boat ride arrangements here on Wednesday evening.
The meeting decided to allow the devotees to Durga ghat and monitored the security arrangements in this regard. Huge number of Bhavanis are expected to visit the temple on the occasion of Vijaya Dasami.