People swarm to Happy Nest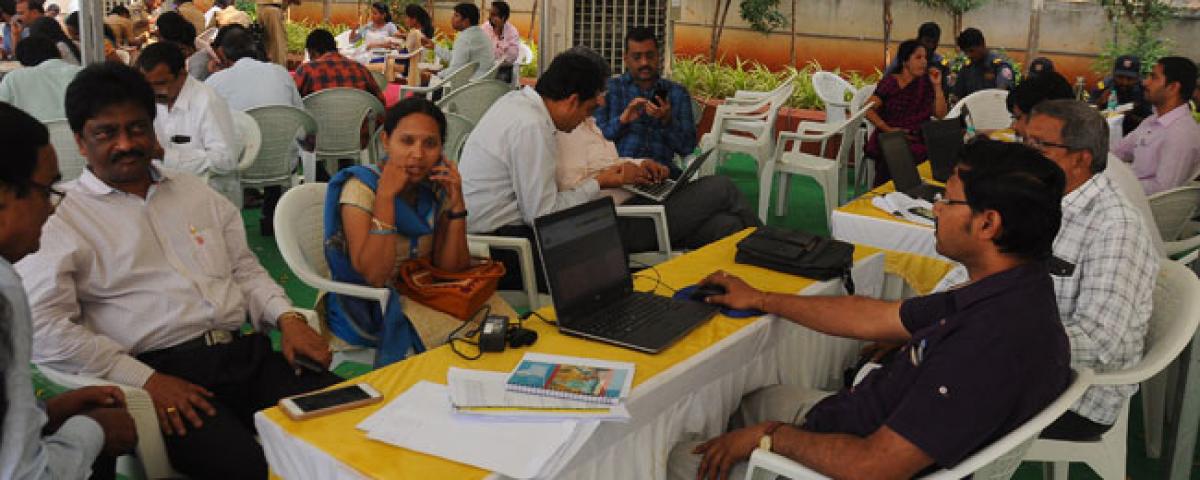 Highlights
Booking of residential flats at Happy Nest to be constructed by APCRDA in Amaravati was an instant hit on Friday with thousands of people trying to reserve flats online when the bookings opened at 9 am Due to heavy traffic, the website hanged now and then but at the end of the day all flats had been booked
Vijayawada: Booking of residential flats at Happy Nest to be constructed by APCRDA in Amaravati was an instant hit on Friday with thousands of people trying to reserve flats online when the bookings opened at 9 am. Due to heavy traffic, the website hanged now and then but at the end of the day all flats had been booked.
The APCRDA has proposed to construct 1,200 flats by constructing 12 towers in the capital region and opened the booking for 300 flats in three towers to be built by CRDA with the state-of-the-art technology, parking and greenery.
The CRDA gave wide publicity through media about the construction of flats and opened Help Desk counters for the convenience of visitors to the CRDA office for booking. Business woman Tummala Padma, who came to the CRDA office by 8 am on Friday was disappointed when she did not get the opportunity to book a flat.
"I am very much interested in booking a flat and came to the CRDA office by 8 am but could not book one," she said crestfallen. She waited till 3 pm so that she can get the link to book the flat. "I have some properties in Vijayawada but wanted to invest in Amaravati for the sake of my children," Padma said.
Like Padma, several hundred people enthusiastically thronged the CRDA main office since morning and disappointed after waiting several hours.
The CRDA has deputed about 50 staff to help the visitors, who came to office for booking.
They expressed unhappiness over not being able to get the link. Earlier, the CRDA has announced that the flats can be booked at www.happynest.live, www.crda.ap.gov.in/happynest.According to reliable information, most of the lucky persons who could book flats were from Bengaluru and NRIs. Since it is on website, thousands of NRIs and businessmen, employees vied with one another to book the flats.
The CRDA has decided to construct 10 types of flats. Out of which two types are double bedroom ones and the remaining are 3BHK flats. These flats will be built in 14.5 acres land.
The CRDA has decided to collect advance of Rs 2.5 lakh to Rs 7 lakh depending on the square ft of the flat. The available blocks are divided into A, B and AB. The average price is fixed at Rs 60 lakh.
The CRDA commissioner Cherukuri Sreedhar was in a jubilant mood with Happy Nest becoming an instant hit. The CRDA has decided to go for booking for another 300 flats very soon. Since the first housing project got huge response, the CRDA may go for similar projects. The flats are designed with plinth area of 1,225 square feet to 2,750 square feet.