Focus on rural problems, students told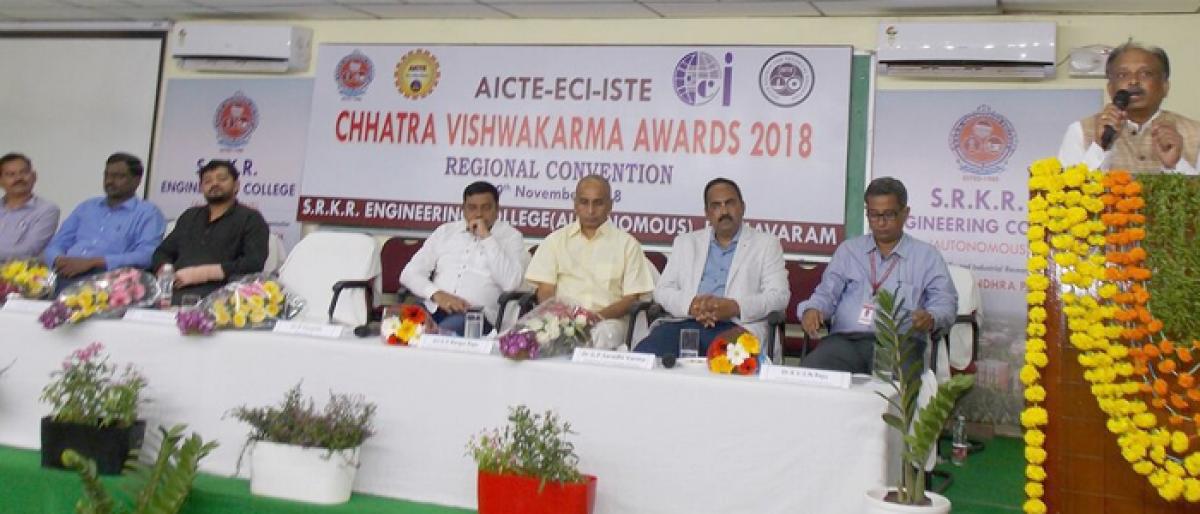 Highlights
All India Council for Technical Education AICTE would provide financial assistance to projects related to village development and uplift of agricultural production, assured Prof Dileep Mulakade, AICTE adviser
Bhimavaram: All India Council for Technical Education (AICTE) would provide financial assistance to projects related to village development and uplift of agricultural production, assured Prof Dileep Mulakade, AICTE adviser.
He participated in Chhatra Viswakarma Award function 2018 programme organised at SRKR Engineering College here on Monday.
Addressing the gathering, he said that the Viswakarma Award project promises financial assistance of Rs 10 lakh to support each project to be displayed at the international expo. He appealed to the youth to come up with more number of projects to solve problems of society.
He said that hundreds of farmers in India commit suicide for failure to make agriculture profitable whereas in developed countries cultivation was done with machinery.
He urged the students to develop projects related to farming and aqua culture as these two form the main business activity in the district.
Dr Ramesh Unnikrishan, AICTE local director said as 70 percent of the country forms the rural area, the youth should develop projects related to rural activities such as agriculture.
He said that 60 projects were displayed for the expo from AP and TS and the selected projects will be displayed at the national-level project expo.
The college principal Dr G Parthasaradhi Varma said rural problems should be studied and projects should be developed related to them.
The college secretary, S Vittal Ranga Raju, programme manager Gangadhar, P Vasanth, technology centre head Dr N Gopalakrishna Murthy and others were present.