Pawan Kalyan hints at feelers from YSRCP for alliance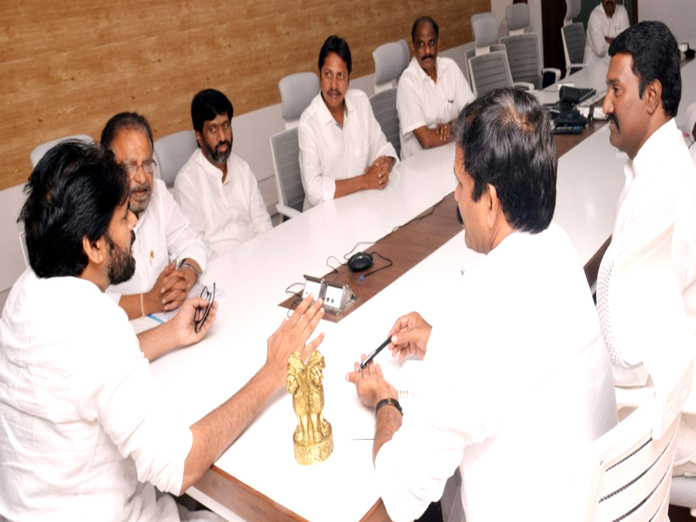 Highlights
Jana Sena chief Pawan Kalyan said those who criticised his party and berated its strength themselves were now sending feelers to him for an alliance
Vijayawada: Jana Sena chief Pawan Kalyan said those who criticised his party and berated its strength themselves were now sending feelers to him for an alliance.
Participating in a meeting with party leaders of Krishna district here on Friday, Pawan Kalyan said that even parties like YSRCP which have been claiming that Jana Sena was not politically strong and has no base were now trying for alliance with it. Some YSRCP leaders have been sending feelers, he added. He also said that TRS leaders too in talks with him for his support.
"Some parties pooh-poohed us saying that we will not going to win a single seat. The same parties are seeking our support. This shows our strength. That is why we are going to set up Parliamentary party committees along with Assembly party committees soon," he said.
Taking a dig at the ruling as well as main opposition party, Pawan said while Opposition party leader was dreaming to be in Chief Minister's post for the next 30 years, the Chief Minister was striving hard to retain his post.
He also said that he had supported the TDP in 2014 elections with a political strategy.'"After the failure of PRP in 2009, I had doubts on whether I can survive in politics or not. But the bifurcation forced me to stand up for the society. People's movements should be the basis of a political party, not caste-based ideologies," he said.
The Jana Sena chief said he used to extend financial help to people in need when he was in films, but as the number of people who were seeking help had increased, he felt that he could help more people through politics only.
Stating that 10 years time was needed to make changes in the society, the Jana Sena chief said that he went into deep thought before deciding to face the consequences and settle for a long journey.