Alternative fuels play key role in energy efficiency: ED A S V Ramanan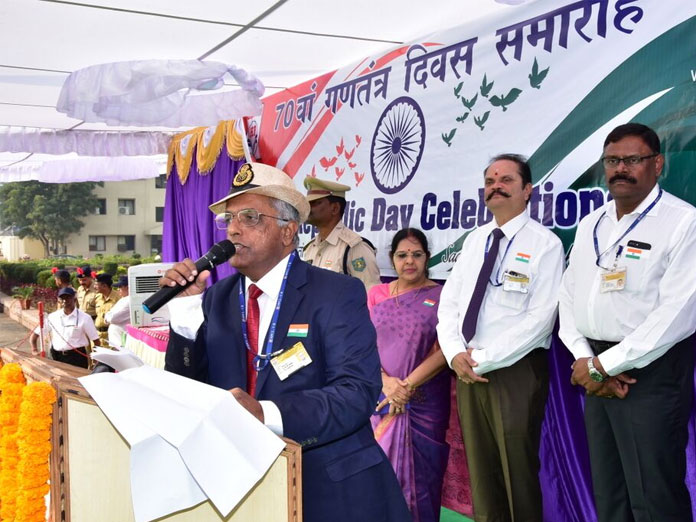 Highlights
Hindustan Petroleum Corporation Limited Visakh Refinery HPCLVR Executive Director A S V Ramanan said India will become an economic house with rapid development activities in all sectors
Visakhapatnam: Hindustan Petroleum Corporation Limited - Visakh Refinery (HPCL-VR) Executive Director A S V Ramanan said India will become an economic house with rapid development activities in all sectors.
As part of 70th Republic Day Celebrations, Ramanan unfurled the National Flag and inspected Guard of Honour from the CISF personnel led by T V Rao, Assistant Commandant.
Speaking on the occasion, he stressed upon the world energy demand and the role of alternative fuels in meeting it and stated that energy efficiency would play a key role in developing countries like India.
Ramanan insisted on the improvement of safety in refinery operations and emphasised on safety and environmental measures and its systemic implementation.
He urged all the employees to rise to the occasion in bringing fundamental changes towards reliability in operations and energy efficiency.
He stressed upon the augmentation of refinery facilities on a timely basis, which is one of the prime requirements for enhancing the profitability.
He also mentioned the Visakh refinery modernisation project, increasing the refining capacity to 15 MMTPA, is progressing in a planned manner.
The Executive Director presented the service awards to 59 employees who have completed 40,35,30,25 and 20 years of service in the corporation in appreciation of their integrity, efficiency and the sincerity shown by them.
Narisetty Rajarao, General Manager HR, welcomed the gathering and the programme was anchored by Sravanthi and M Umasri.
Chief General Managers B Balagangadharam, V Ratan Raj, P Veerabhadra Rao, Y Sriramulu, N Ramachandran, G. Rama, G Ugranarasimhulu, R Ramakrishnan and U S Sarma, Chief Manager were present.