SC panel chairman reviews quota implementation in TTD, varsities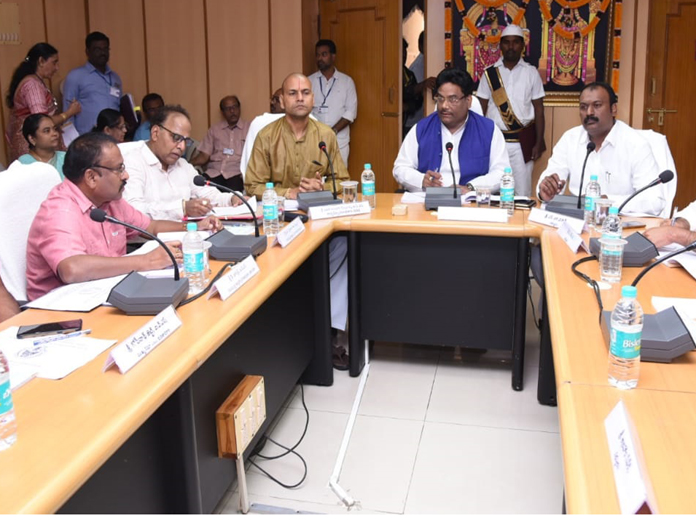 Highlights
AP State SC, ST Commission chairman Karem Sivaji has reviewed the rule of reservation, filling up of backlog posts and other service matters relating to SC, ST employees working in TTD and various universities here
Tirupati: AP State SC, ST Commission chairman Karem Sivaji has reviewed the rule of reservation, filling up of backlog posts and other service matters relating to SC, ST employees working in TTD and various universities here.
During his three-day tour to the district, the authorities of SV University, Sri Padmavathi Mahila Visvavidyalayam (SPMVV) and SV Veterinary University met Sivaji at Padmavathi Guest House here on Tuesday.
Sivaji has asked the registrar of SV University Prof RK Anuradha to set all the records properly and bring to him again on February 7. He expressed his displeasure over not maintaining the records properly. He even pointed out the higher mess bills being collected from the hostel students.
Similarly, the panel chief asked the registrar of SPMVV Prof DM Mamatha to update the registers and present before him on February 7 after he found that rule of reservation was not followed in the appointment of outsourcing staff. He asked the registrar to take steps to fill the backlog posts under GO numbers 65 and 66.
The registrar of Veterinary University Srinivasulu has explained to the Commission Chairman that the University has been in the 10th schedule of the AP Reorganisation Act. Hence, they have written to the government to take up the appointments and after getting the nod they will take up the procedure.
Sivaji asked them to fill posts at higher level by following rule of reservation and failing to do so, the commission will issue summons. Earlier, the Commission reviewed the rule of reservation and other issues being implemented in TTD in which TTD EO AK Singhal, JEOs Srinivasa Raju and P Bhaskar and other officials took part. Sivaji asked the TTD EO to take steps to fill backlog vacancies under GO numbers 65 and 66 before March end. He praised TTD authorities for providing free meals and accommodation to students in TTD educational institutions.
Commission members N Varaprasad, Ravindra, Abraham Siveri, Commission's OSD Subba Rao, SC Corporation ED Kanaka Narasa Reddy and Deputy Director Nagaraju also participated.