Training support to women for start-ups assured in Tanuku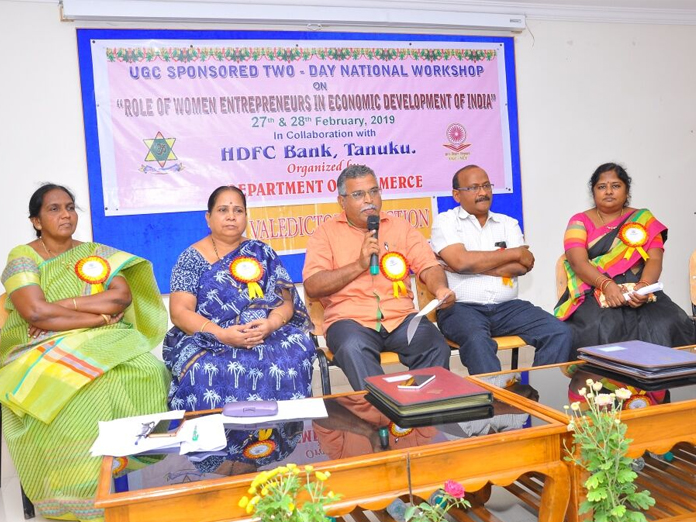 Highlights
The MSME Facilitation Centre is extending training support to women in their startups, said the centre senior manager AV Ramana Rao
Tanuku: The MSME Facilitation Centre is extending training support to women in their start-ups, said the centre senior manager AV Ramana Rao.
He participated as chief guest at the valedictory of two-day workshop on 'Role of Women Entrepreneurs in Economic Development of India' held at SKSD Mahila Kalasala here on Thursday.
He said that entrepreneurship nature in India is low and it is very low in case of women. People seek jobs with less risk and responsibility.
Parents themselves start differentiating their children by selecting their roles, career and life in future. When woman are not supposed to take decisions, then how can they get support from other family members to start an enterprise, he questioned.
He said the government is going to give financial support by MSMEs. Women also need the family moral support to get success.
The MSME Facilitation Centre in Eluru is ready to support youth who approach them with a vision to get into entrepreneurship rather than leading a peaceful risk-free life by doing regular jobs, he added.
Special invitee Dr TV Ramana, Department of Economics, AKNU Campus expressed his pleasure for sharing the stage by successful women entrepreneurs. Entrepreneurship is only seen in micro level at present.
To make it successful, we need to think of our capabilities. If the talent is not utilised, the nation will lag behind in its development. The development of Indian economy depended on the real facts of utilisation of skills and abilities.
The country's development is dependent on the utilisation of woman power. The GDP growth survey among the world says that the country which uses its woman power more is in the highest GDP rate and the countries which uses less woman power is low in its GDP, he said.
Distinguished guest Annapurna said women need financial support and marketing support. They should be prepared to face all the problems.
The Success of the women entrepreneurship depends on the hard work and dedication, she said.
Chief guests and resource persons were honoured on the occasion.
Founder secretary & correspondent Chitturi Subba Rao, principal Dr B Naga Padmavathi, convener of the workshop G Indira Kumari (Lecturer in Commerce) vice-principals K Vani and Dr DM Neeraja and others were present.