Assembly polls: A litmus test for KCR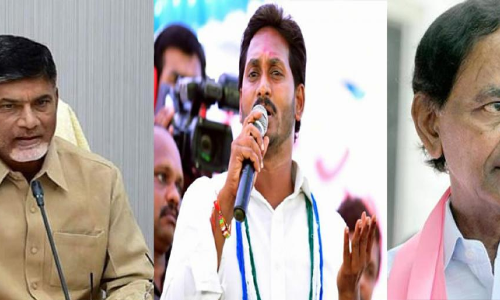 Highlights
AICC president Rahul Gandhis whirlwind visit to Telangana and caretaker Chief Minister K Chandrashekar Raos blitzkrieg on the Congress have set the tone for a noholdsbarred battle for Telangana Against this backdrop, the Telangana Rashtra Samithi TRS monolith appears to be invincible but Rahul Gandhis visit has turbocharged the Congress to challenge Chandrashekar Raos empire
AICC president Rahul Gandhi's whirlwind visit to Telangana and caretaker Chief Minister K Chandrashekar Rao's blitzkrieg on the Congress have set the tone for a no-holds-barred battle for Telangana. Against this backdrop, the Telangana Rashtra Samithi (TRS) monolith appears to be invincible but Rahul Gandhi's visit has turbo-charged the Congress to challenge Chandrashekar Rao's empire.
The Congress leaders sometimes refer to how strong the Telugu Desam Party (TDP) was when it was about to go to polls in 2004. Even after his historic padayatra across the undivided state of AP, which accorded him a cult status in those days, late YS Rajasekhara Reddy too was not sure that he was bringing down the TDP regime. In those days, the TDP looked like what the TRS appears now, a well-oiled election-ready war machine.
It was anti-incumbency wave against Chandrababu Naidu that has brought him down then. After being in power for nine years, Naidu went wide off the mark in assessing the pulse of the people with his focus having been riveted on information technology all the time.
In the process, he overlooked the distress in the farm sector particularly in Telangana region. This scribe recalls Naidu, ahead of 2004 elections, telling him that there was no anti-incumbency wave at all anywhere in the State and that he should change his mindset.
The hubris that Naidu had then appears to be in the ruling class of the TRS – K Chandrashekar Rao and his son K T Rama Rao. At a recent interaction with media-persons, Chandrashekar Rao said that the victory for the TRS in the ensuing elections was a foregone conclusion and that he was only wondering how many more seats he would get over and above 100 of the total 119 seats.
The TRS narrative has been that people would vote for the TRS by looking at him and not the MLAs, implying that he knew that some of the legislators had become an albatross around the TRS' neck but he was not prepared to replace them.
The difference between Chandrashekar Rao now and Naidu in 2004 was that the latter did not even know that there was anti-incumbency wave building up. He was under the delusion that he was Chief Minister for life and that no one would be able to touch him.
He did not care much for YS Rajasekhar Reddy until he came behind and dealt a mortal blow. Naidu then sobered up and came to the grips of reality that no one was invincible and that he too had to be careful, but it took him 10 years for him to come back to power, that too for a State which had shrunk in size after Telangana was carved out.
The million-dollar question now is whether the same fate is awaiting Chandrashekar Rao or not. The factors that brought down Naidu then were different from the factors at play in Telangana now. Chandrashekar Rao had offered a number of welfare schemes to the voters to keep them in good honour but at the same time he had antagonised one powerful section that was instrumental in helping him achieve Telangana State - students.
In fact, the quintessence of Telangana movement was to get jobs for the youth who were in the forefront braving police bullets and tear gas shells, but the zeitgeist of Golden Telangana is lacking now. As against 1.20 lakh job vacancies in government departments, he could fill only 32,681 during the last four-and-a-half years.
Now to please this section, he had announced unemployment dole of Rs 3,016 per youth per month which works out to some Rs 5,000 crore per annum which would not ease the problem of unemployment but would only prove to be a drain on the exchequer. According to one estimate, the total outgo from the State's exchequer, if all the promises made in the TRS manifesto are implemented, would be more than Rs 1 lakh crore per annum.
Though Chandrashekar Rao and his son Rama Rao say that farmers are quite happy with the TRS dispensation, the Congress alleges that the distress in the farm sector has now much worse than earlier. In fact, Congress chief Rahul Gandhi said that farmers who had committed suicide had gone upto 4,500 in Telangana State. Even if half of them were due to farm distress, then it is a serious issue that needs to be addressed.
Promises of farm loan waiver upto Rs 1 lakh and increasing subsidy to farmers under Rythu Bandhu Scheme from Rs 8,000 per year to Rs 10,000 per year regardless of whether farmers were growing crops or not is a clear case of trying to keep the farmers happy in view distress in the farm sector. Then there are other freebies given to the poor like Asara pensions, but the flagship programmes are yet to be completed like two-bedroom houses, three-acre land to each Dalit families, free education upto post-graduation and Mission Bhagiratha. The gestation period is high for most of them and therefore immediate results would not be forthcoming to help Chandrashekar Rao reap electoral benefit.
The greatest advantage Chandrashekar Rao has now and which Naidu did not have in 2004 was an Opposition that is a divided house. The grand alliance theme is yet to take a definite shape because of the "arrogance" of the Congress in dealing with its partners. Though Rahul Gandhi had told them clearly that they should have a spirit of accommodation in dealing with the allies, the Congress stalwarts do not want to budge.
They want to get their sons and daughters on board and that none of them is ready to offer his or her seat to alliance partners to shore up the prospects of the alliance. The alliance looks odd and grotesquely incongruous since the grand old party had teamed up with Chandrababu Naidu whom the TRS had painted as villain of Telangana and reaped a rich harvest of seats in 2014 elections that saw Chandrashekar Rao on the Chief Minister's mantle.
Chandrashekar Rao, who wears his hatred against Naidu on his sleeve, has put his finger right on the grey area in the alliance at one of his election rallies where he wondered how the Congress could join hands with a Telangana traitor like Chandrababu Naidu.
Though it was an election-related rapier thrust, yet it had to be discounted because of its potential to mar the prospects of the alliance but neither Rahul nor the other Congress functionaries, nor TJS chief M Kodandaram, who was staunch critic of Naidu during the heady days of Telangana movement and who is now part of the Congress-led alliance, had answered this paradox satisfactorily.
Chandrasekhar Rao is banking on his welfare schemes. He had ensured that many people have benefited personally from his munificence and therefore they would remember him at the time of casting their vote.
Most of them would neither bother nor are aware that freebies are detrimental to the wellbeing of the State's economy. It remains to be seen to what extent his welfare schemes would help him win this battle, particularly when the Congress is making a last-ditch effort to draw the first blood in the elections to Telangana Assembly, after being out of power for the last four-and-a-half years, to tell the entire nation that turnaround in its fortunes has begun.