Bike sharing: A solution for hassle-free travel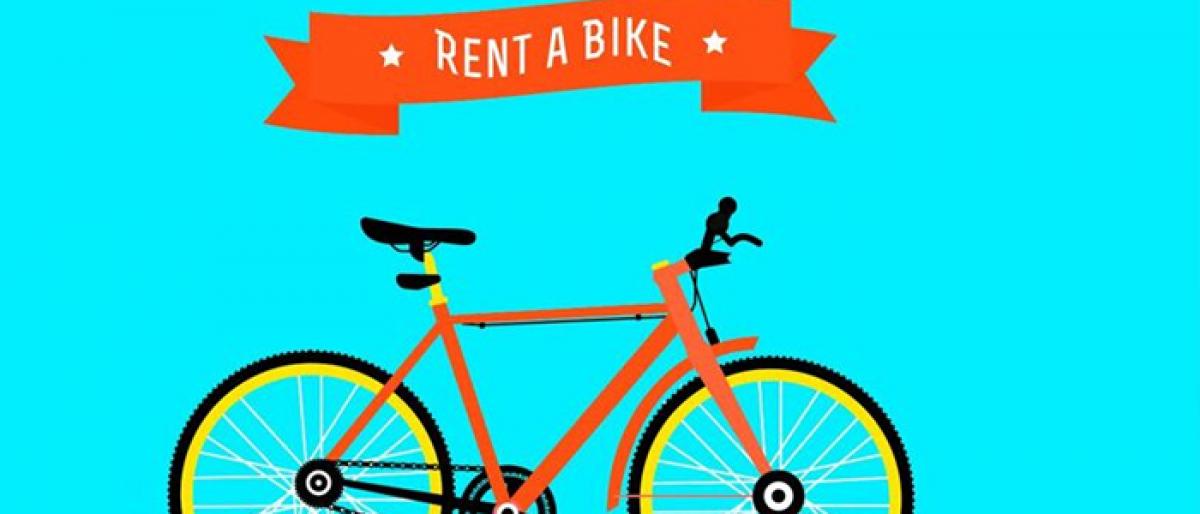 Highlights
The City of Nizams, a constantly growing urban conglomeration with over 10 million population and a rich history of over 400 years, is now home to a diversified economy driven by multiple modes of mobility The city is dominated by service industry which predominantly comprises IT and ITeS
The City of Nizams, a constantly growing urban conglomeration with over 10 million population and a rich history of over 400 years, is now home to a diversified economy driven by multiple modes of mobility. The city is dominated by service industry which predominantly comprises IT and ITeS. Pharmaceutical sector and realty are also fueling growth, leading to surge in the population of salaried class which needs to commute to work daily. This apart, the city attracts large number of tourists and is home to a significant number of students which come from far places.
Though Hyderabad is home to different modes of public transport including autos, buses, MMTS, local trains and now metro trains, the last mile connectivity has always been a pain point. Bike sharing companies like the US-based Uber, city-based SmartBike Mobility and Bengaluru-based Rapido are trying to provide a solution to it.
But it's not rosy for all the players in this space. While for few, business is dwindling, for the rest its mere survival. For instance, the smart bicycles parked at Hi-Tec City, are mostly used by employees taking a short ride to a coffee shop or a mall. A handler at one of the smart bicycle station states, "there are very few takers for this service. The users just prefer to hire the bike to avoid one-ways or longer u-turns so as to reach a near-by eatery or mall faster."
However, recently another Bengaluru-based startup, Drivezy has also entered the market with a fleet of 500 bikes and scooters, under a tie-up with the Hyderabad Metro. The rental bike facility is available at Kukatpally, Ameerpet, Tarnaka, Mettuguda, Balanagar Metro stations along with Drivezy stations at Gachibowli and Madhapur.
Speaking to The Hans India, CEO and Co-founder of Drivezy, Ashwarya Pratap Singh, said:"We are excited to launch our service in the City of Pearls. It's a special feat for us as the launch also marks the debut of our last-mile mobility services for commuters who frequently use public transportation services like the metro. We have commenced Smart Commute which is a last-mile bike rental service for Hyderabad metro commuters with tariffs at Rs 3 per km. The response has been really overwhelming and 60 per cent of our fleet is sold out."
Prior to the first booking, customers are supposed to submit their driving license and a government issued ID like Adhaar or PAN on the company's mobile app or website. Post registration, the customer can rent a two-wheeler from designated stations, at a cost of Rs 15 per hour for short term rentals while for weekly rentals it is Rs 6.8 per hour.
Ashwarya added, "Over the years, cabs fares have increased rapidly. So, people have started renting bikes as an alternate mode of transportation. Bike-sharing is the first step on the long road to reduce congestion. Additionally, riding bikes to get around the city hassle-free."
Mohammed Asghar, a traveller from Bengaluru, finds this platform an easy access for transport. "For tourists like me, bike-sharing helps us to travel and reach places faster. But, I also feel that more number of parking points should be provided. As of now I have to come back to the same station to drop the bike. But most of these providers forget to maintain vehicles properly; I hope Drivezy will give equal importance to maintenance and offers good quality vehicles."
To make its service more appealing, the startup is gearing up to launch the one-way and intra-city sharing services for motorcycles and scooters, in the near future. Drivezy plans to add on a fleet of 10,000 vehicles under a partnership with people wanting to sign up their vehicle on the platform, which can earn them extra income.
"This will allow customers to pick a two-wheeler from designated locations and drop it at any Drivezy location within city limits. Unlike conventional rental services, this absolves the need of returning the vehicle at the point of origin, providing customers a greater degree of convenience. This will allow customers to travel at half the price of autos and taxis," the CEO stated.
On an average, Drivezy has nearly ten customers on a daily basis at a prime metro station, wherein bookings take place for a minimum three hour travel, while countable numbers of office goers book for a period of one month. But, the facility at Cyber City Station counter sees lesser bookings on the weekdays and marginally more on the weekends.
However, bike-sharing as a concept is still in nascent stages. As it evolves, it may provide a solution to the nagging last mile connectivity issue. But the success of these services depends hassle-free commute they provide.
Interested in blogging for thehansindia.com? We will be happy to have you on board as a blogger.