UAE's Hassan Ali and Turkey's Taksim Trio delight audiences with musical fusion at Sharjah World Music Festival 2016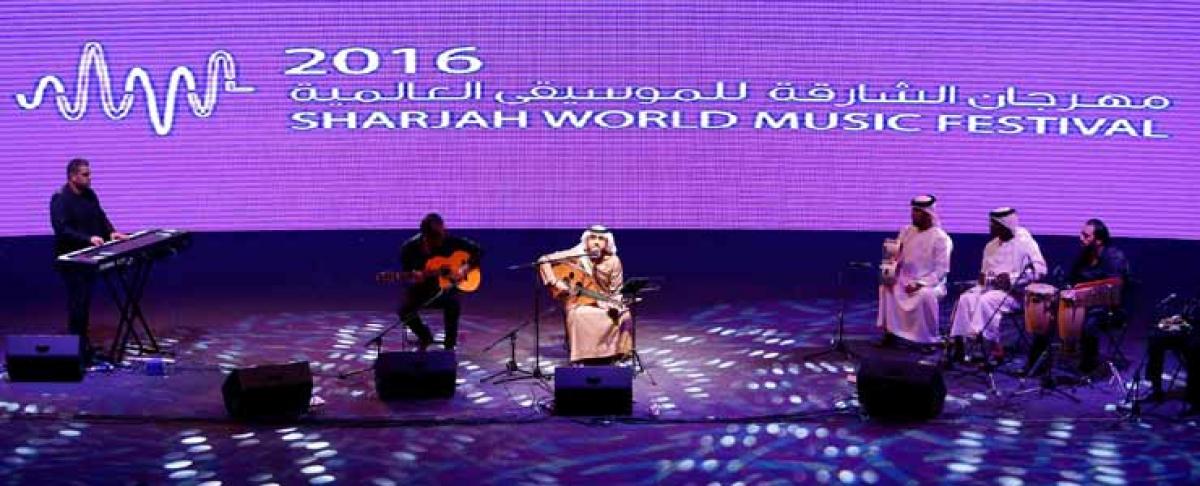 Highlights
Music dazzles the audience at The Flag Island on the second day of the Sharjah World Music Festival
Music dazzles the audience at The Flag Island on the second day of the Sharjah World Music Festival
Sharjah: Emirati singer and oud player, Hassan Ali, continued spreading the magic of music on the second night of the Sharjah World Music Festival 2016 (SWMF) along with Turkish act, Taksim Trio. Fans were delighted with the fusion of Emirati and Turkish music and welcomed Ali on to the stage with a roar while he thanked festival organisers for the opportunity to perform in Sharjah.
The Festival, organized by Furat Qaddouri Music Center and sponsored by Sharjah Investment and Development Authority (Shurooq) will continue till Tuesday at various locations around Sharjah including Al Majaz Waterfront, Al Qasba, Heart of Sharjah, and The Flag Island. Musicians and bands from 13 countries are performing as part of the festival including the UAE, Tunisia, Jordan, Syria, Palestine, Italy, Turkey, Hungary, Brazil, Bulgaria, Russia, Africa, and Argentina. The festival aims to raise the cultural and artistic profile of Sharjah and the UAE and introduce the local community to various musical cultures from other parts of the world.
Ali started the evening off with a solo on his Oud and in true Emirati spirit created an atmosphere of unity between him, his music, his fans, Sharjah and the UAE. Last night, with the huge flag of the UAE fluttering above him at The Flag Island, he was a symbol of Emirati identity. Ali pleased the audience by singing popular Emirati songs to the tunes he struck on his oud, and the fans sang along completely at one with the allure he was spreading through his music.
Next to delight the audience were the Taksim Trio band from Istanbul. The trio including Hussein Sinlindersi on Clarinet, Ismail Tonkbilk on Buzuk, and Itak Dogan on Qanoon continued the fusion theme of the night by playing classical, western and eastern music.
The three musicians, whose band's name was inspired from Taksim Square, the famous touristic and commercial square in Istanbul, dazzled the crowd with their music and gave them a taste of what Taksim Square represents – culture, history and Turkey as an amalgamation between the east and the west.
On Sunday evening, Italian jazz musician and winner of the Telerama award in 2000, Stefano di Battista will perform at the festival. Tickets can be bought from Customer Service at Al Qasba, Al Majaz Theater, Al Majaz Waterfront, and also online via www.ticketmaster.ae.
The free concerts which are also being held as part of the festival continued last night in Sharjah's most popular tourist destinations of Al Majaz Waterfront, the Heart of Sharjah, The Flag Island and Al Qasba. Six internationally acclaimed bands from Argentina, Bulgaria, Russia, Syria and two from Africa entertained audiences in free outdoor shows. The concerts are open to all and will continue nightly until the end of the festival on January 12.