Fifty months of TRS rule makes a huge difference-II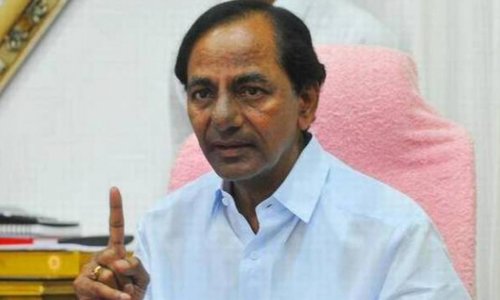 Highlights
K Chandrashekhar Rao immediately after the formation of Telangana State started focussing resolutely and mainly on irrigation sector to bring one crore acres under irrigation
K Chandrashekhar Rao immediately after the formation of Telangana State started focussing resolutely and mainly on irrigation sector to bring one crore acres under irrigation.
The faulty project designs prepared by the erstwhile rulers have been redesigned as per the suggestions made by experts. The Kaleshwaram, Palamoor-Rangareddy, Seetharama projects are all being constructed on fast-track. Several tanks that were destroyed during erstwhile rule have been revitalised and rejuvenated through Mission Kakatiya.
The government has decided to provide financial support to the hereditary professions and encourage them so that the rural economy is rejuvenated. A programme to distribute sheep to Golla and Kuruma castes on 75% subsidy is in implementation.
The government started a programme to distribute milch animals to dairy farmers to encourage dairy industry in the state; each unit costs Rs 80,000. The government has also been supplying fish seed and prawn seed to fishermen to encourage fish farming on a large-scale.
To change and better the living conditions of handloom and power loom workers, the Telangana government has taken special care and introduced several schemes.
Schemes for Naayi Brahmins, Rajakas, toddy tappers besides establishing MBC Corporation are some more benefits provided to the BCs. The government has also decided to provide financial assistance for self-employment with 100% subsidy to BCs to undertake any activity of their choice, interest being delinked with the banks.
The government with commitment has been making efforts to help the upper caste poor aiming at poverty alleviation as a basic objective. Aasara Pensions, ration rice, Kalyana Lakshmi etc schemes are made applicable to all the poor of all upper castes.
As part of nearly 40 welfare schemes with over Rs 40,000 crore funds, the government has been giving Aasara Pensions to the old age people, widows, toddy tappers, handloom, beedi workers, aids patients, differently abled, old age poor artists, single women and filaria effected patients.
Minimum life security is provided to all the helpless individuals. At the rate of 6 kilos for the individual, without any limitation irrespective of the numbers in the family, rice at Rs.1 a kilo is being given. Food with fine rice is given in schools and hostels.
The government implements Kalyana Lakshmi and Shaadi Mubarak schemes to provide financial assistance of Rs 1,00116 for the marriage of poor girl child. For foreign education, Rs 20 lakh as overseas scholarships to SC, ST, BC, Minorities as well as those who belong to economically backward other classes is being given.
For the welfare of SCs and STs, the government has enacted the Special SC, ST Pragathi Fund Act and has been implementing it effectively. The funds are allotted and spent in proportion to the ratio of SC/ST population.
The Act provides for exclusive allocation of funds to SCs, STs and also for transferring the unspent balance of a particular year to the following year. Distribution of 3 acres of land to the Dalits is implemented in the Telangana state which is not done anywhere in the country. The government has provided borewell, motor, power connection, as well as investment support for the crop on this land.
For the welfare of minorities and for their development, 206 residential schools, remuneration to Imams and Mauzams, new cloths to minorities during Ramzan and Christmas festivals, iftar parties, Christmas parties, construction of Islamic Centre, IT park etc. have been done.
For the welfare of women, schemes like Kalyan Laxmi, Shaadi-Mubarak, KCR Kits, SHE Teams, Arogya Laxmi, Ammavodi etc are being implemented. Salaries of Anganwadi workers have been substantially increased.
Salaries and remunerations of Home Guards, IKP, MNAREGA SERP staff, 108 employees, 104 employees, VROs, VAOs, ANMs, Contract and outsourcing staff, part-time lecturers, sanitation staff working in GHMC etc are increased substantially.
Mission Bhagiratha aiming at supply of purified and treated drinking water to the doorstep of each and every family has been completed with more than 19,000 habitations getting water supply. Health and medical facilities have been improved in a such a way that people started gaining confidence in government hospitals.
Diagnostic facilities are created across the state. Basthi clinics have been established in Hyderabad to bring medical facilities nearer to common man. Four more new medical colleges have been started. Poor pregnant women are covered under KCR kits scheme which compensates their wage loss.
As part of the KG-to-PG education system, in addition to the existing 296 residential schools, 542 more institutions have been established. 119 more residential schools, including one in each assembly segment exclusively for BCs, will come up from next academic year.
Through the largest green cover Telangana ku Haritha Haram so far 82 crores saplings were planted all over the state. As part of reorganisation, 31 districts, 69 revenue divisions and 584 mandals have been created. The number of gram panchayats has been increased to 12,751 which includes Girijan Thandas and Lambadi Gudems. The new zonal system would take shape shortly with seven zones and two multizones.
Thanks to the single window industrial policy, 7,679 industries with Rs 1,32,000 crore investment providing employment to 8.37 lakh have been started; of these, 5,570 have gone into production. In IT development, on the law and order front, in the case of highways etc., the state's progress card is simply fantastic.
Thus, an all-round achievement on all fronts has been achieved by KCR during the last 50 months in power, and truly it is a governance with a big difference. (Writer is CPRO to Telangana Chief Minister; This is the second and concluding part of the article)