GITAM students sensitised on maritime law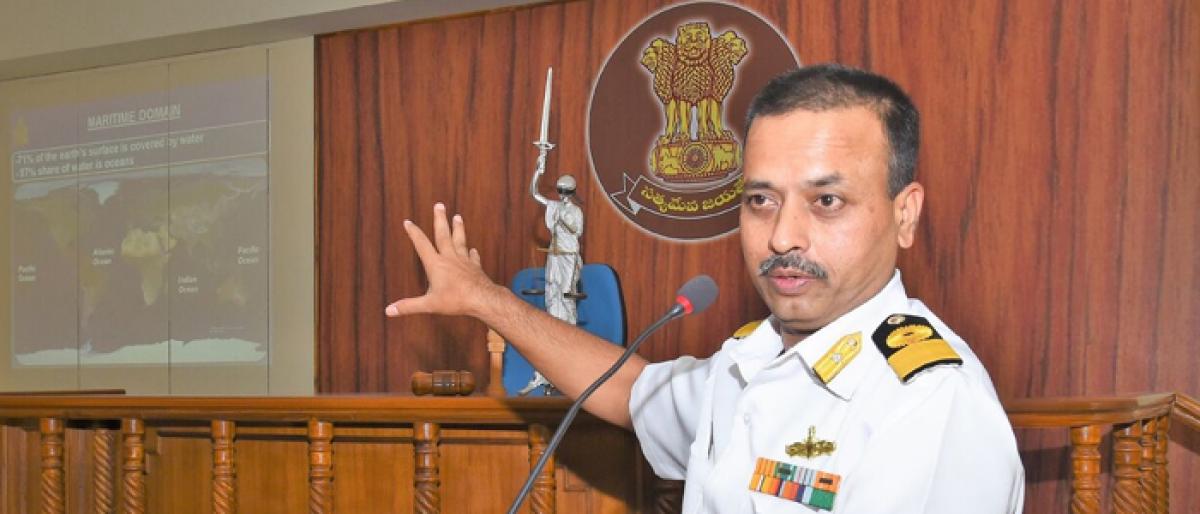 Highlights
A comprehensive approach to Maritime Domain Security is indispensable to safeguard common prosperity and security interests of all nations, observed by Eastern Naval Command Maritime Warfare Centre Director Commodore Sushant here on Thursday at GITAM He delivered an expert lecture on International Maritime Law at GITAM School of Law
​Visakhapatnam: A comprehensive approach to Maritime Domain Security is indispensable to safeguard common prosperity and security interests of all nations, observed by Eastern Naval Command Maritime Warfare Centre Director Commodore Sushant here on Thursday at GITAM. He delivered an expert lecture on "International Maritime Law" at GITAM School of Law.
While addressing the law students he said that International Maritime Law is the system of rules regulating the relations in using the world's seas and oceans in the fields of fishery, navigation, economic activities at sea, exploitation of sea resources protection of sea environment. He briefed about maritime laws related to baselines, territorial sea, contiguous zone, exclusive economic zone, continental shelf, high seas, archipelagic waters, international straits.
The United Nations Convention on the Law of the sea has been adopted by 167 countries. Even after signing on law of the sea some countries not honouring the sea laws and creating problems to others. The modern international law of the sea is facing challenges due to expanding human activities at sea like overexploitation of sea resources, sea pollution, sea piracy, territorial claims, unregulated fishing, Sushant said.
The Maritime Security is the combination of preventive and responsive measures to protect the maritime domain against threats and intentional unlawful acts and Indian Navy is always at high alert to safeguard the country, he added. GITAM School of Law Director Prof.Y.Satyanarayana, National Maritime Foundation Regional Director G.Padmaja also addressed the students.