Daaji stresses on significance of meditation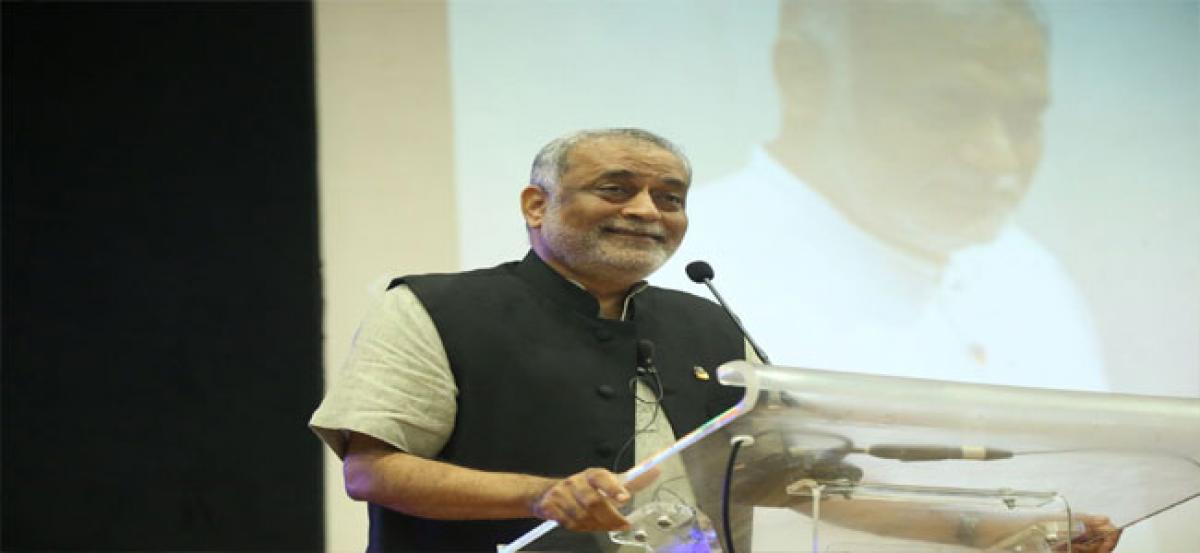 Highlights
Daaji, the Fourth Global Guide of Heartfulness on Saturday participated in a debate and lively discussion on Youth, Success, Life with the students of CMR College of Information Technology
Hyderabad: 'Daaji', the Fourth Global Guide of Heartfulness on Saturday participated in a debate and lively discussion on Youth, Success, Life with the students of CMR College of Information Technology. He spoke of the beauty of living and learning in this fast-changing world that at times overwhelms a student who falls behind in the race. Daaji also made the students practice Heartfulness form of meditation, an effective method to reduce stress and increase concentration levels.
Addressing a gathering of nearly 2000 students and teachers of the Institute at the newly constructed College Auditorium, Daaji spoke of the importance of living and winning while one is alive in this World. The meeting at the Institute was organised at the invitation of the college management who wanted Daaji to give life lessons to the students of their institute.
Highlighting the importance of life during his dialog with the students who are at the cusp of a major transition in their lives, Daaji said, "I get asked all the time is "what is the purpose of life" "why are we here"! After years of contemplation on this question, I have concluded that the purpose of life can be summed up in one simple sentence "Doing everything as perfectly as possible". When we live life with such a spirit then every thought, word and deed is infused with the essence of perfection."
Daaji further added that every individual, irrespective of what he/she does or at what stage of life they are in, the most important element is to set goals and strive to achieve them. He even said that every life principle learnt can become a reality only when an individual tap into the infinite potential that resides within the person. Expressing his happiness over Daaji's visit to the campus, Ch Gopal Reddy, Secretary and Correspondent, CMR Group of Institutions said, "We at CMR take steps for holistic development of every child; and meditation is the best way to stay mentally active and focus on the job at hand.
Heartfulness form of meditation is yielding amazing results in the lives of many people who practice it. And we are happy that Daaji himself has visited our campus enlightened us all on the true essence of life and how meditation can bring in a positive change." Post the lecture, a group 15 selected students interacted with Daaji, posed questions related to the topics of interest or the doubts they have, and got responses from the Guide. At the end of the session, which last for about two hours, it was a well spent afternoon for the students who got many insights into how to lead a happy and successful life.