Biotic community under threat: Vice Chancellor Avula Damodaram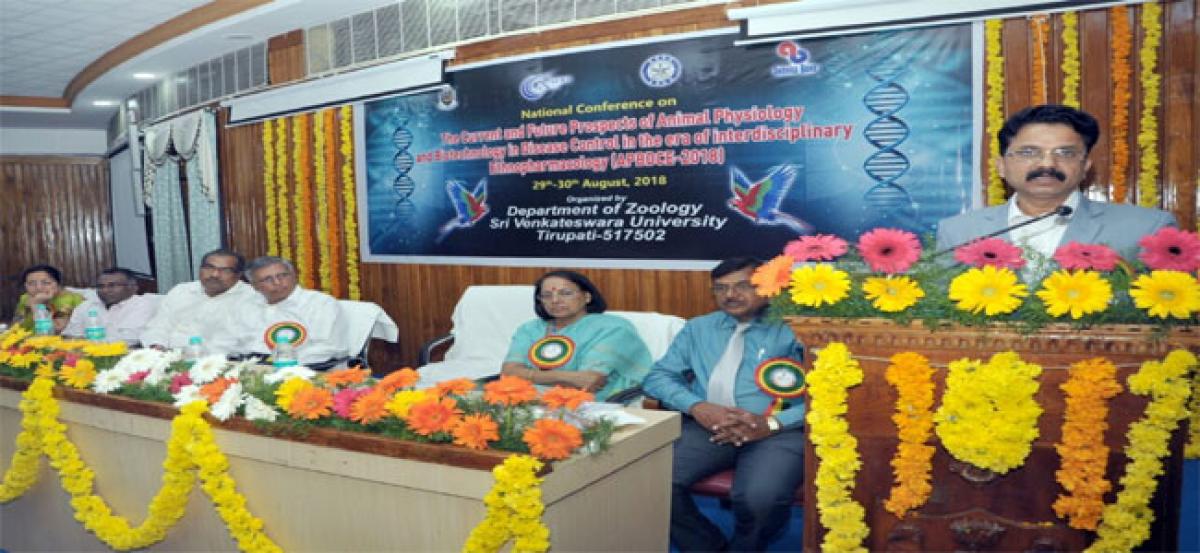 Highlights
Our own environment has started turning into a foe due to exploitation of natural resources As a result the biotic community is under threat, hence it must be protected with research in physiology, pharmacology and biotechnology etc, said the SV University Vice Chancellor Avula Damodaram on Wednesday here
Tirupati: "Our own environment has started turning into a foe due to exploitation of natural resources. As a result the biotic community is under threat, hence it must be protected with research in physiology, pharmacology and biotechnology etc", said the SV University Vice Chancellor Avula Damodaram on Wednesday here.
The VC participated as chief guest in a one-day national seminar held on "The current and Future Prospects of Animal Physiology and Biotechnology in Diseases Control in the Era of Interdisciplinary EthnoPharmacology ". This seminar was organised by the University Zoology department.
On the occasion VC Damodaram addressing the delegates said that " a few decades back, man and nature used to be the best of friends. We used to savour the goodness that nature brings the right warmth of sunshine that energises our mornings. These are just a few of nature's wonders. Mother Nature took care of us because we also took care of her. At presently this situation fully going on in reverse method, human beings are destroying the nature without future thinking".
"I came to know that the Department of Zoology is pioneering in correlating Animal Physiology research with new horizons in Biotechnological applications to develop cost effective traditional techniques" the VC emphasised. Later he said that "In the present scenario, Ethno pharmacology plays a vital role in our country as there are ample number of endemic herbs in peninsular India. The research community in this area from entire world is looking for the promising outcomes that turn into curable aspects of diseases which is more concerned for the public. Further, there is a dire necessity to develop folklore principles to cater the needs of India".
Dr Shashi Bala Singh, Former Director General, Life Sciences, DRDO mentioned that " In pushing the boundaries of human knowledge, it is inevitable that research is a complex and difficult endeavour. The physical, social, legislative, and economic environments in which research is pursued can have a significant effect in determining whether it is easy, or even possible, to make progress. Obviously, these vary greatly around the world." Further she added that ideally, a country would provide its research base strong support via competitive funding, easy collaboration to share knowledge and technical expertise, and support for academic and industrial efforts in tandem.
She mentioned that developed and developing nations could work together in a region-specific manner to promote development of research infrastructures and transfer of expertise. There is urgent need for innovative development of in vivo and in vitro experimental models, in silico models and the training of young scientists in these fields, encouraging national and international research collaborations to create an effectively functioning research system that will also benefit the wider community. Seminar convenor Prof K Sathyavelu Reddy, Zoology department head Prof A Usha Rani, Prof K Thyaga Raju, Organising Secretaries Dr Kishore, Dr M Rajasekhar, scholars Obaiah, Ismail were present.