Differently-abled Rights Forum to hold 'chalo Delhi rally' on Aug 7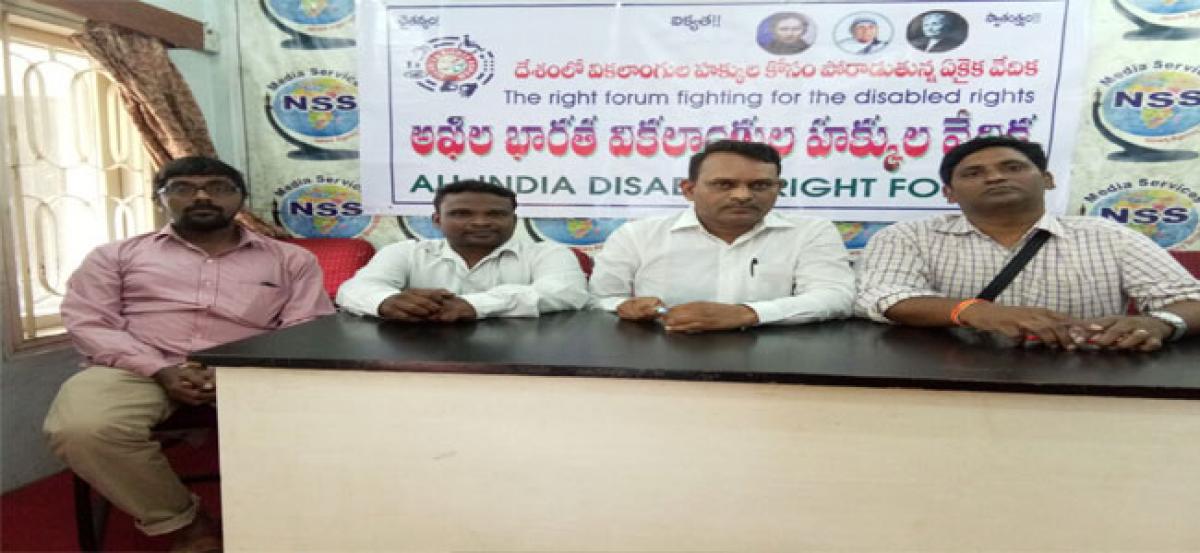 Highlights
The AllIndia Disabled Rights Forum is organising a chalo Delhi rally on August 7 demanding political reservations to disabled right from village to Parliament level
Adikmet: The All-India Disabled Rights Forum is organising a 'chalo Delhi rally' on August 7 demanding political reservations to disabled right from village to Parliament level. The other demands include provision of self-employment to all eligible differently-abled persons, setting up a special commission, a special free insurance facility, special housing scheme, filling of all backlog vacant posts across the country.
National president of the forum Kolli Nageswar Rao and other leaders at a press conference here on Friday held that all political parties should make public their stand on quota for the disabled, while recalling the assurance given by Congress leaders Sonia Gandhi and Rahul Gandhi before the last elections.
They stated that one crore signatures were being collected across the country to press the demand. Already some signatures had been handed over to President Ramnath Kovind. The leaders asserted that the recent Supreme Court ruling on provision of five per cent quota for the disabled in government offices was not being implemented. Forum vice-president Badda Dhananjay and secretaries Venugopal and K Narsing appealed to members to make the rally successful.