More Than 70 Migrants Dead in Austrian Truck Tragedy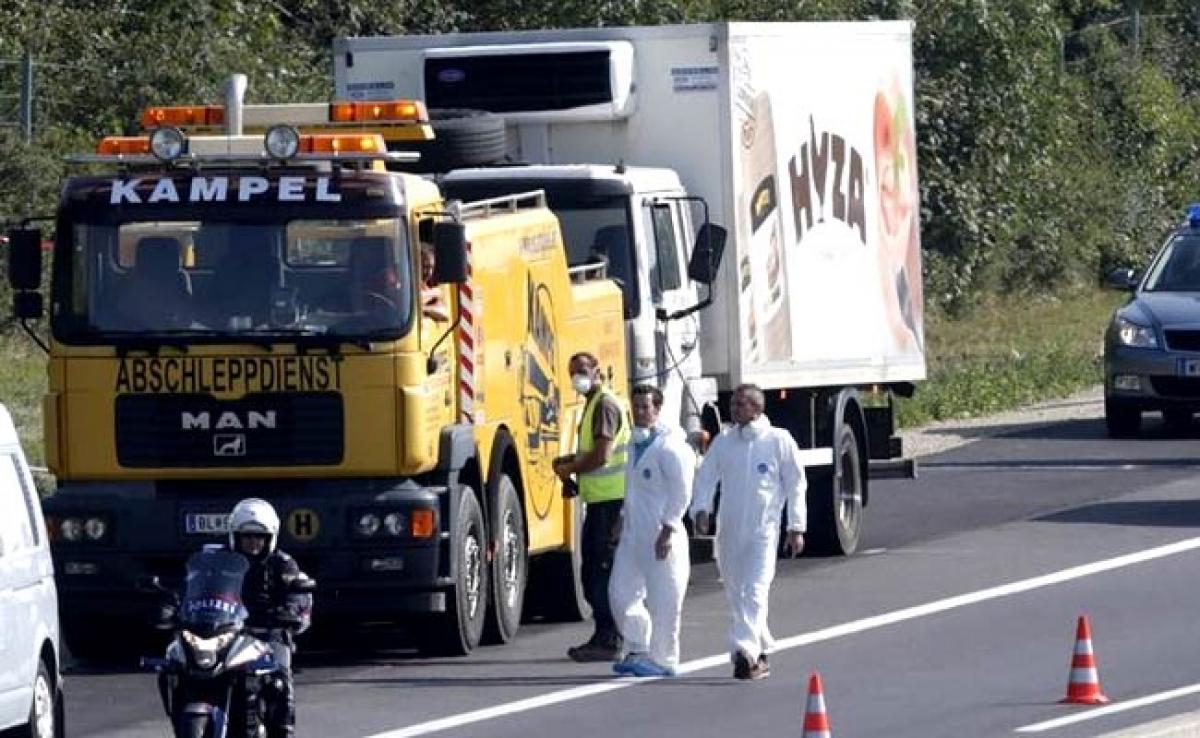 Highlights
Austrian police have recovered more than 70 dead migrants from a lorry abandoned on a motorway, the government said Friday, in the latest horrific tragedy in Europe\'s unrelenting migrant misery.
Austrian police have recovered more than 70 dead migrants from a lorry abandoned on a motorway, the government said Friday, in the latest horrific tragedy in Europe's unrelenting migrant misery.
Thirty bodies were also recovered in the Mediterranean off Libya on Thursday after yet another boat crammed with migrants sank, while a Swedish coastguard ship docked in Sicily with a grim cargo of 52 dead.
Austrian motorway maintenance workers first saw the poultry truck on Thursday and noticed "decomposing body fluids" dripping from the vehicle, police spokesman Hans Peter Doskozil said.
Police then briefly opened the rear doors and after being confronted by an overpowering stench and a mass of tangled limbs slammed them shut again and took the truck away for proper examination.
Forensics experts worked all night to clear out of the vehicle seeking to identify the bodies. Police were due to give more details at 0900 GMT.
The state of the bodies inside suggests that those inside had been dead for some time. Television images showed flies buzzing around the back of the vehicle in the baking sun.
'Who will stop this madness?'
German Chancellor Angela Merkel, in Austria for a summit with Balkan leaders on Europe's migrant crisis on Thursday, said all those present was "shaken" by the "horrible" news.
"This is a warning to us to tackle this migrants issue quickly and in a European spirit, which means in a spirit of solidarity, and to find solutions," Merkel said.
"Today is a dark day... This tragedy affects us all deeply," Austrian Interior Minister Johanna Mikl-Leitner told a press conference.
Mikl-Leitner vowed to crack down on the people who pocket exorbitant sums to arrange migrants' passage to Europe, and then often leave them stranded en route.
"Human traffickers are criminals," she said.
Austrian newspaper Kurier carried an black front page on Thursday with the headline: "Who will stop this madness?"
The European Union's leaders have struggled to get to grips with a crisis that has seen nearly 340,000 migrants cross the bloc's borders this year -- not counting August -- many from hotspots like Iraq and Syria.
Millions of other refugees have sought refuge in places like Lebanon, Turkey and Jordan.
So far this year, over 2,300 men, women and children have drowned trying to cross the Mediterranean to the EU after rickety and overcrowded boats operated by often unscrupulous people-smugglers capsized.
A Libyan coast guard official told AFP Thursday that "dozens" were still missing from the latest boat to sink off the western port of Zuwara, and that the search would be "intensified" on Friday morning.
"We are working with very limited resources. Most of the boats we use are fishing boats that we borrow from their owners," he said.
The Italian coast guard said it had rescued around 1,400 people off the coast of Libya on Thursday, a day after it pulled another 3,000 to safety from the same area.
Swedish officials said the Poseidon docking in Palermo had rescued 130 people Wednesday from a rubber dinghy and another 442 from a wooden boat found drifting off Libya that also contained 52 cadavers.
But what happened in Austria has brought home that even if they make it across the Mediterranean, the migrants' troubles are far from over, with many forced to put their fate in the hands of profit-hungry people-smugglers.
The lorry had Hungarian number plates, meaning that the migrants were highly likely among the more than 100,000 people to have trekked up through the western Balkans into EU member Hungary this year.
From Hungary, which is laying a barbed-wire barrier along its border with Serbia to be followed by a four-metre (13-foot) high fence, many migrants try to make it -- via Austria -- to places like Germany and Sweden.
"We passed by sea. And the sea was just a game playing with our lives," said Lashkari, a 30-year-old Afghan picked up by Hungarian border police on Thursday night after travelling for 30 days.
"I dont think we've reached our final destination yet, because after now we don't know where do we go," he told AFP.
Interested in blogging for thehansindia.com? We will be happy to have you on board as a blogger.