After being arrested at Lahore, Sharif, daughter Maryam to be taken to Islamabad by chopper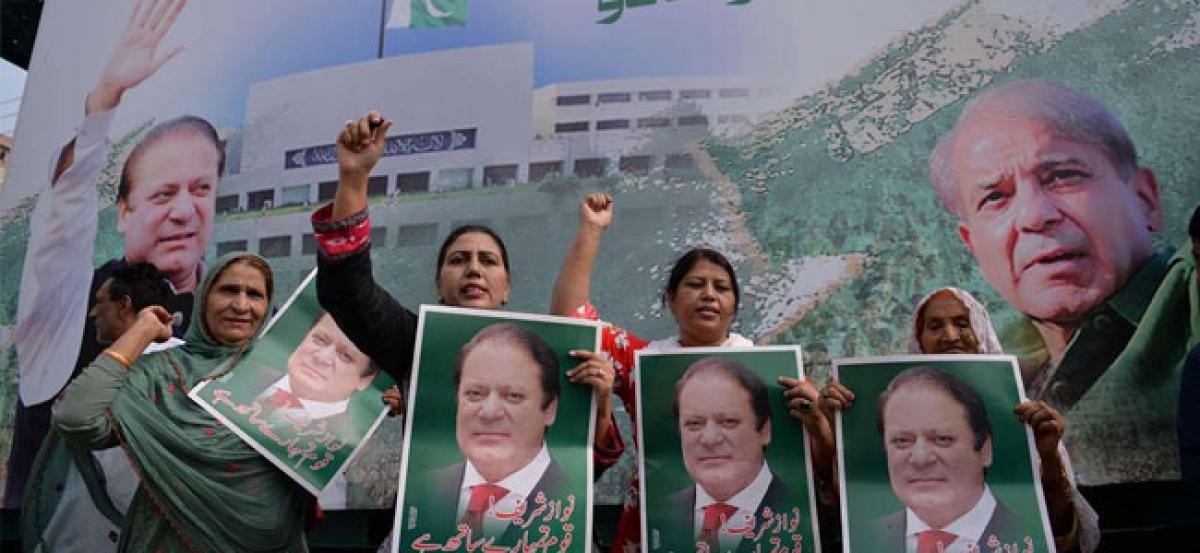 Highlights
Nawaz Sharif and his daughter Maryam are set to be arrested today after their arrival here from London following their conviction in a corruption case described by Pakistans embattled former prime minister as a blind revenge amid a crackdown on his party activists
Nawaz Sharif and his daughter Maryam are set to be arrested today after their arrival here from London following their conviction in a corruption case described by Pakistan's embattled former prime minister as a "blind revenge" amid a crackdown on his party activists.
Sharif, 68, the supremo of the Pakistan Muslim League - Nawaz, and Maryam stopped over in Abu Dhabi on their way to Pakistan from London.
Sharif and Maryam are expected to land at Lahore's Allama Iqbal International Airport at 6.15 PM (local time) via Abu Dhabi on Etihad Airways flight EY243, the Dawn reported.
Security has been tightened and all roads leading to Punjab's capital city have been blocked to prevent PML-N supporters to reach there. Travel to and from the airport had reportedly been restricted. Around 10,000 police officers have been deployed across the city to maintain law and order.
They will be arrested on their arrival at Lahore airport from where they will be taken to Islamabad by helicopter so that they can be sent to Adiala jail for imprisonment.
In a video message, tweeted by 44-year-old Maryam, the former premier urged his followers to stand with him and "change the fate of the country".
"The country is at a critical juncture right now," a grim looking Sharif said.
"I have done what I could. I am aware that I have been sentenced to 10 years [in prison] and I will be taken to a jail cell straight away. But I want the Pakistani nationals to know that I am doing this for you," he said.
"This was neither a case, nor there is a verdict. This is a game of blind revenge, which is continuing. There is no case against me, there never was. The whole Panama case was started to fix politics and to keep me out because I wanted a stronger democracy," he told The Nation newspaper before his departure from London.
Sharif said that "draconian crackdown" on his supporters by the Punjab government shows that the authorities are scared of his appeal and are desperate to stop tens of thousands of people from reaching Lahore airport to welcome him and his daughter.
The two PML-N leaders are returning to Pakistan to face a prison sentence handed out on July 6 by an accountability court in the Avenfield properties case, one of the three corruption cases against him following the Panama Papers scandal.
Maryam also posted some moving pictures of their visit to the hospital to see her ailing mother Kulsoom, who is on ventilator.
Sharif and Maryam have been sentenced to 10 and 7 years in jail respectively.
Sharif, who was in London with his wife and children when the verdict was announced, said he is returning to Pakistan from London to fulfil his pledge to "honour the vote".
Addressing a press conference in London with Maryam by his side, Sharif had said he has decided to return to the country "despite seeing the bars of prison in front of my eyes".
"Is there any Pakistani who has had three generations of his family go through an accountability process only to find out that no corruption was ever done?" he asked during the presser.
He also criticised the court's decision to sentence his daughter to a seven-year term in jail, saying those who did so "did not even remember in their hate what stature daughters have in Pakistan".
Over 300 PML-N workers and leaders have been detained in Pakistan in a massive crackdown on the party activists in Lahore ahead of the arrival of Sharif.
The anti-graft body - National Accountability Bureau (NAB) - chairman Javed Iqbal has ordered taking all necessary measures to arrest Sharif and Maryam upon their arrival at the airport.
He has also formed a 16-member team to arrest them and shift them to Adiala Jail Rawalpindi after producing them at the accountability court that sentenced the father-daughter duo last week.
According to sources, the Cabinet Division has allocated two helicopters - reserved for the prime minister - to the NAB to shift Sharif and his daughter to jail from the airport.
Sharif was disqualified by the Supreme Court last year in the Panama Papers case.
PML(N) leaders are mobilising party workers to reach at the airport in a large number.