KCR behaves like event manager: Uttam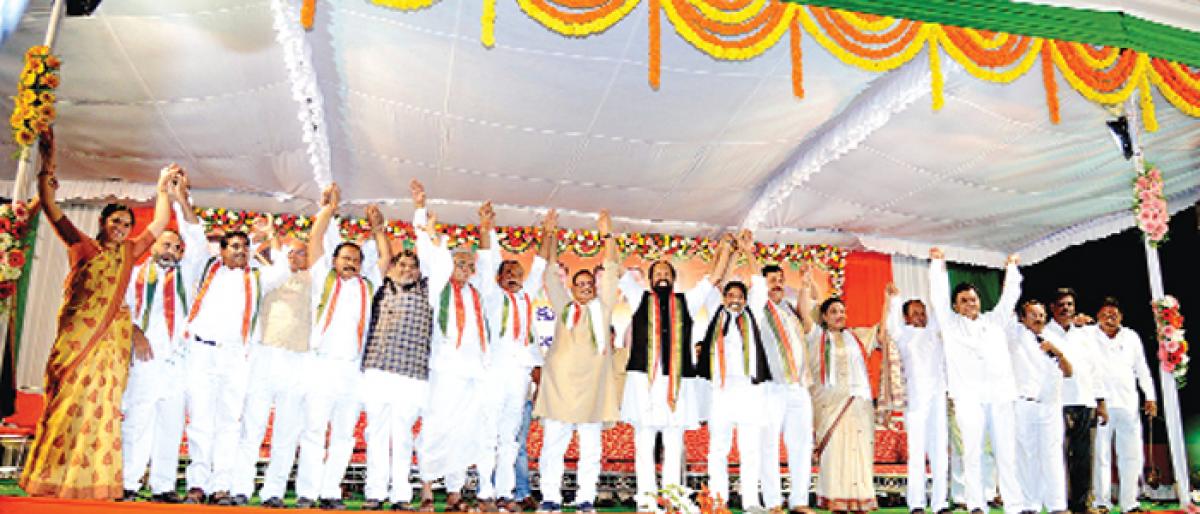 Highlights
Telangana Pradesh Congress Committee (TPCC) president N Uttam Kumar Reddy warned the Telangana Rashtra Samithi (TRS) government against rising...
Khammam: Telangana Pradesh Congress Committee (TPCC) president N Uttam Kumar Reddy warned the Telangana Rashtra Samithi (TRS) government against rising unemployment among educated youth and demanded that immediate steps be taken to resolve the crisis.
Addressing a massive public meeting at in Chintagurthi of Khammam district on Thursday evening, Uttam Kumar Reddy said the TRS government had completely failed to address the issue of rising unemployment. Quoting a report on unemployment in India prepared by the Bombay Stock Exchange (BSE) and Centre for Monitoring Indian Economy (CMIE), he said Telangana had the third highest level of unemployment among graduates in India.
He said the unemployment rate in Telangana State between May and August 2017 was a whopping 18.59 per cent. He alleged that Chief Minister K Chandrashekar Rao was not serious in dealing with unemployment crisis. He said lakhs of young graduates were waiting to get jobs both in government and private sectors. But the TRS government had completely neglected them and Chandrashekar Rao was living in his own illusionary world, he alleged.
Uttam Kumar Reddy pointed out there were nearly 30 lakh unemployed graduates in Telangana State. Of them, nearly 18.27 lakh had already enrolled themselves with the Telangana State Public Service Commission. "The desperation of these young graduates to get a job can be understood from the fact that the TSPSC website had over 44.50 lakh visitors in the month of October and nearly 35 lakh visitors in November. The visitors were none other than unemployed youth who log in repeatedly to check for fresh job notifications. But they got disappointed," he said.
He reminded that the Chief Minister, while addressing the first Assembly session, had promised to fill 1,07,744 vacancies in one year. Even after three-and-a-half years, notifications were issued only for 42,035 jobs and only 27,874 recruitments were claimed to have been made. Of 34,625 jobs notified through TSPSC, only 5,932 were filled, he said, adding that the government was yet to approve 44,979 jobs. He also slammed the TRS government for its silence on deadline for recruitment on 72,644 new posts which were created since June 2014. He said the TRS government had even failed to fill the vacancies that existed at the time of Telangana formation.
Uttam Kumar Reddy advised Chandrashekar Rao to focus on real issues like unemployment than behaving like a 'Chief Event Manager'. He said the Chief Minister had become allergic to advise by Opposition parties and had been crushing all kinds of protests to suppress views and complaints of all stakeholders. "Chandrashekar Rao wants everyone to believe his version that all is well in Telangana which is not the truth. The Chief Minister should at least look at the figures of unemployed youth who got registered themselves with the TSPSC to understand the gravity of the situation," he said while announcing that the Congress would launch a massive agitation on unemployment issue.
The TPCC chief also promised that the Congress, after coming to power to in 2019 elections, would reverse the situation. He said the Congress government would create lakhs of jobs in both the government and the private sectors. Further, he said all unemployed youth would be paid a monthly allowance of Rs. 3,000 until they get a job.
The meeting was also addressed by AICC Telangana in-charge Secretary R C Khuntia, TPCC working president Mallu Bhatti Vikramarka, Rajya Sabha member Renuka Chowdhary, MLC Ponguleti Sudhakar Reddy and other leaders.
Subscribed Failed...
Subscribed Successfully...