RTC buses remained in depots, autos had field day on strike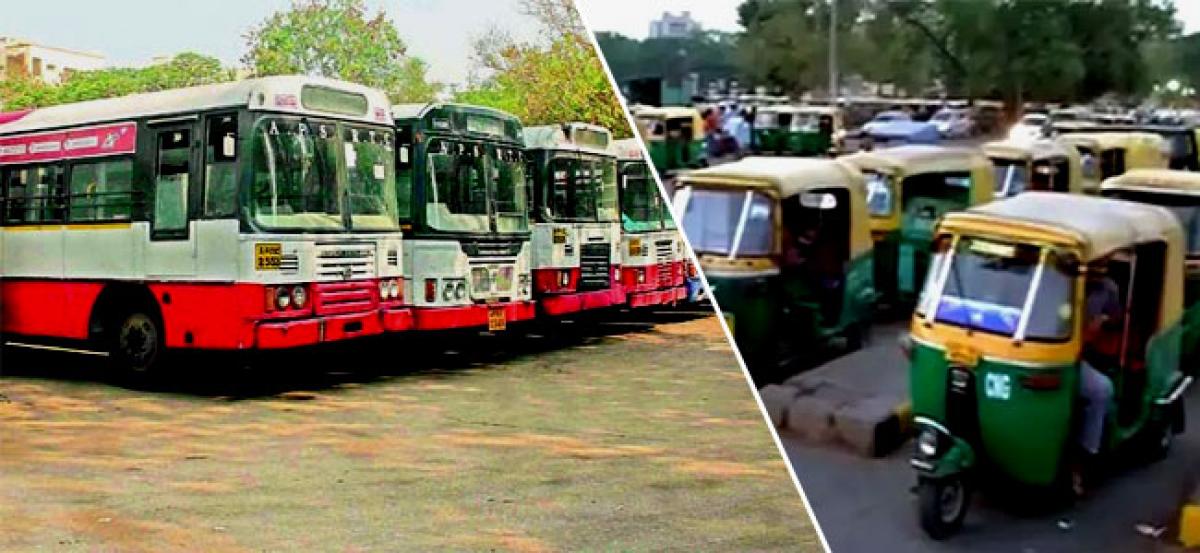 Highlights
Students and officice goers faced inconvenience to reach their destinations as most of them unaware of the one day strike by the TSRTC trade unions and autos
Hyderabad: Students and officice goers faced inconvenience to reach their destinations as most of them unaware of the one day strike by the TSRTC trade unions and autos.

Many of the commuters had to return as the RTC buses remained in depots in the state. No buses were operated at Mahatma Gandhi Bus Station (MGBS), Jubilee Bus Station (JBS) and other depots in the city.
The office and college goers to the districts were seen criticising the TSRTC officials for not making any prior announcement on stopping the buses. A college student P Venktat, who had to go to Wanaparthy, said that he had no idea of the strike. If they announced earlier we would have stayed at home, he said. Similarly, a woman said that she had to reach the MGBS bus station by paying Rs 200 double than normal charges.
Though the auto unions have also decided to go on strike some of them operates and fleeced the passengers charging double the normal charges.
The transport unions are observing one day strike against Centre's move to pass Motor Vehicle Act Amendment Bill in Parliament. The unions alleged that the public sector organisations like RTC will suffer with the proposed bill and the effort was to hand over the transport sector to the corporates. The unions are also demanding government to bring petrol and diesel into GST.
The Hyderabad Metro Rail authorities have extended the frequency of Metro trains in wake of strike.
Hyderabad Metro Rail MD N V S Reddy said that Metro stations and trains were full. Extra trains and manpower have been deployed.
Trains would be run with 6.5 minute frequency throughout the day. Last train timings extended by one hour. Will leave at 11 pm on both sides(Miyapur & Nagole - will reach end points at 12.15 am.