Harish Rao open letter to Chandrababu Naidu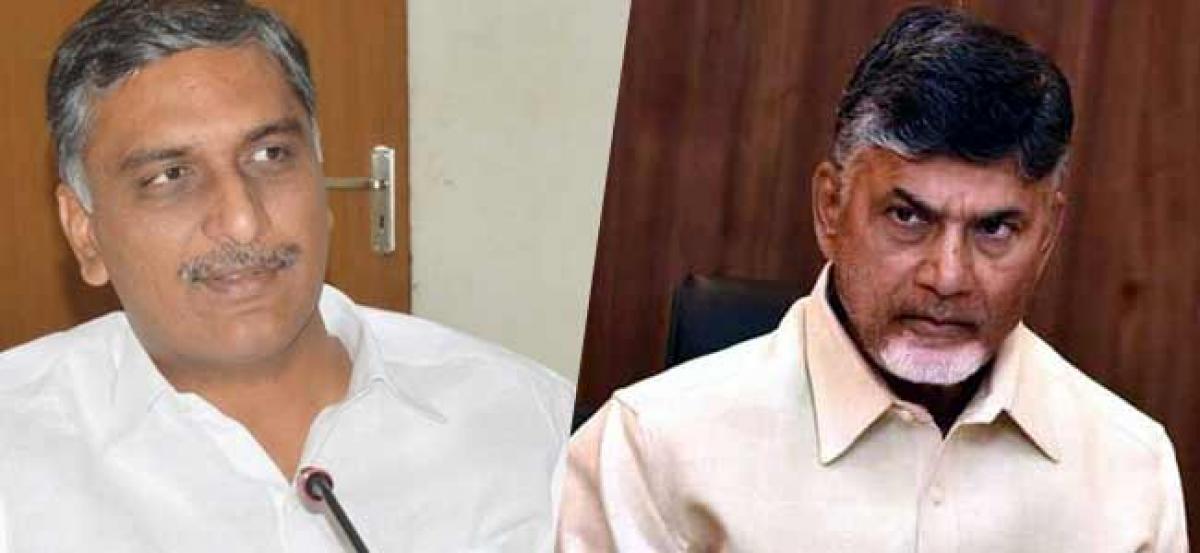 Highlights
Telangana irrigation minister T Harish Rao wrote an open letter to Chandrababu Naidu alleging that he is preventing the state from development Addressing a press meet at Telangana Bhavan, Harish Rao released the letter before media in which he posed a few questions to AP CM Chandrababu Naidu
Hyderabad: Telangana irrigation minister T Harish Rao wrote an open letter to Chandrababu Naidu alleging that he is preventing the state from development. Addressing a press meet at Telangana Bhavan, Harish Rao released the letter with 19 conspiracies of AP CM Chandrababu Naidu.
Rao questioned Naidu as to why he turned against the construction of Palamuru lift irrigation project after becoming AP CM? Why did he protest in favour of Palamuru project during former CM YS Rajasekhara Reddy's regime? Does he have right to ask votes in Palamuru? Why did he write a letter to centre over construction Kaleshwaram project claiming no permission has been received? Why did he allege as providing water to Paleru is illegal? With whose permission projects in AP are being constructed? Is not your move to prevent water to Telangana from Srisailam? Is not atrocious to grab seven mandals of Bhadrachalam division coming under Polavaram project?
Harish Rao criticised Naidu saying that the TDP is contesting in Telangana elections only to prevent the developments. He also said that the Telangana movement had taken place due to the scarcity of water, funds and Jobs and after the formation of state the TRS party has focused to provide irrigation water to farmers.
Coming down heavily on the AP chief minister Naidu, Rao also said that Chandrababu is making his efforts to prevent the construction of water projects by writing letters to centre and water board.