Kerala CM slams erasing of mural at railway station, alleges Sangh parivar hand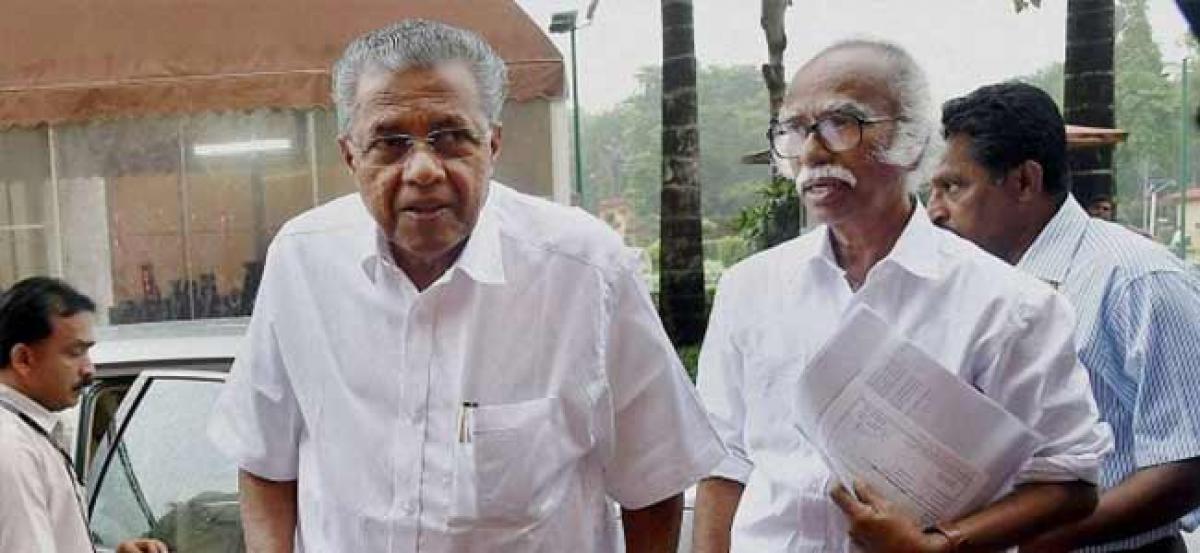 Highlights
A controversy has broken out in Kerala over erasing of a new wall painting at a railway station depicting the 1921 wagon tragedy as part of Mappila Muslims rebellion with Chief Minister Pinarayi Vijayan Wednesday alleging that the Sangh Parivar was behind it
A controversy has broken out in Kerala over erasing of a new wall painting at a railway station depicting the 1921 wagon tragedy as part of "Mappila (Muslims) rebellion" with Chief Minister Pinarayi Vijayan Wednesday alleging that the Sangh Parivar was behind it.
Describing the erasing of the painting at Tirur station as "extremely heinous", he claimed it was an 'insult' to the country's freedom struggle.
"Indian Railways, which is a PSU, has succumbed to Sangh Parivar's interests and erased the painting", Vijayan alleged in a Facebook post.
When contacted, Railway sources denied the charge and said it was painted over in view of calls from various people criticising the subject chosen for the mural under a beautification programme.
It was perceived to be not in accordance with the beautification plan of the railways, since it depicted a "tragic event", the sources said.
The painting was half way through when a fresh coat of paint was applied over it on directions from officials of the Palakkad Railway Division to restore the wall to its original state, they added.
BJP state general secretary AN Radhakrishban termed the railway's decision as a 'welcome step' but said his party had no role in it.
"BJP has nothing to do with the decision. As far as I have understood, the Railways have taken a stand against demonstration of communal violence," he told PTI.
The objection raised by local people might have persuaded them to take such a stand, he added.
The wagon tragedy took place on Nov 21, 1921 when 67 prisoners from the Malabar region, arrested for participating in the Mappila Rebellion against the British rule, died of suffocation while being brought to Tirur in a windowless wagon of a train.
Vijayan said the erasing of the painting was "an insult to the history of Indian Freedom struggle and can only be viewed as an anti-national act".
Using their power at the centre and various states, the RSS was attempting to 'distort' and 're-write' history of the country's freedom struggle, he said.
Now they were "allergic" to hear about the freedom struggle, Vijayan said alleging that whenever the RSS got an opportunity, it had 'slogged' for the Britishers.
"It is not surprising that these type of people are scared to think of the 'golden milestones' of the history of the freedom struggle," he added.
Besides Tirur, Kannur and Palakkad stations in the division had been chosen for beautification works with paintings of art, culture and historical events.