V Hanumantha Rao holds parleys with cadres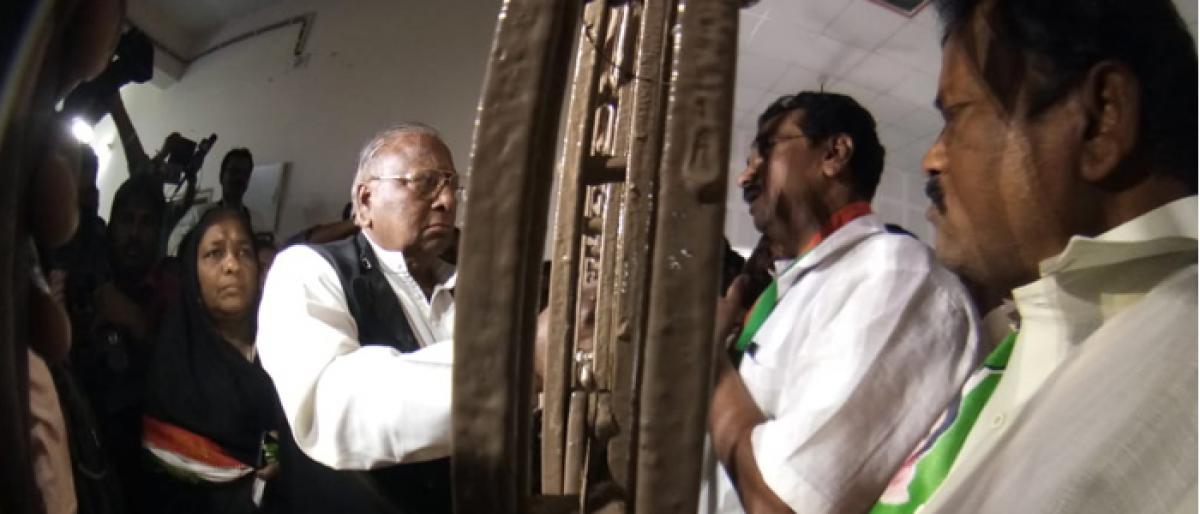 Highlights
VH speaking to party leaders who resorted to fast unto death in Hanamkonda demanding Warangal West ticket for Naini Rajender Reddy
VH speaking to party leaders who resorted to fast unto death in Hanamkonda demanding Warangal West ticket for Naini Rajender Reddy.
Former Rajya Sabha member V Hanumantha Rao (VH), who turned to party office tried to pacify the stirring leaders failed to convince them. "We all know that Naini has been with the party for about three decades. Even in thick and thin, he continued his loyalty and worked with commitment in strengthening the party from grass root level. It's unfortunate that as part of poll alliance the party is facing some constraints. However, we still have time to convince the leadership to allow Naini Rajender Reddy contest from Warangal West seat," VH said, assuring the cadres who virtually kneeled down before him urging him to speak to TDP chief N Chandrababu Naidu so that to clear the line for Naini.
Meanwhile, a large number of party workers especially women gathered at the party office raised slogans demanding ticket for Naini. On the other hand, party's district functionaries led by Greater Warangal President Katla Srinivasa Rao continued their hunger strike inside the party office.
Speaking to VH, Katla Srinivasa Rao said that unless party gives B-Form to Naini Rajender Reddy they will continue their hunger strike.