Cyclone Gaja intensifies into severe category, landfall expected in TN tonight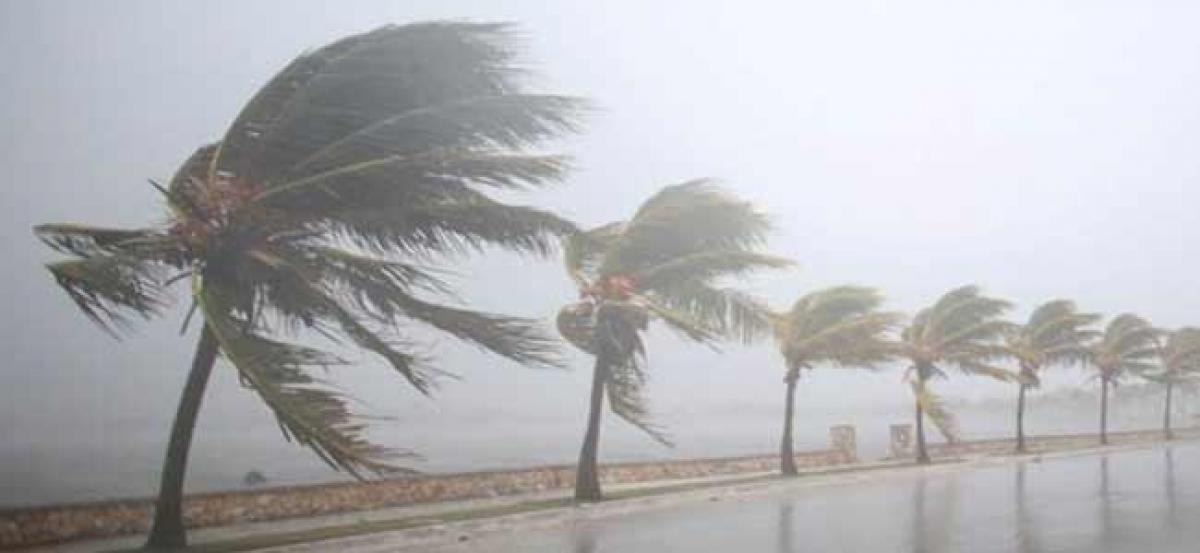 Highlights
Cyclone Gaja intensified into a severe cyclonic storm on Thursday and is expected to cross the south Tamil Nadu coast by late Thursday evening or night, with the government machinery put on high alert in vulnerable districts
Chennai: Cyclone 'Gaja' intensified into a severe cyclonic storm on Thursday and is expected to cross the south Tamil Nadu coast by late Thursday evening or night, with the government machinery put on high alert in vulnerable districts.
The storm which lay over the Southwest Bay about 140 km east of Nagapattinam and Karaikal in neighbouring Puducherry was very likely to cross the coast between Cuddalore and Pamban around Nagapattinam by evening or Thursday night after weakening into a cyclone, Deputy Director General of Meteorology S Balachandran said.
The cyclone, the first major weather system to form since the onset of the North East monsoon on November 1, was moving at a speed of 10 kmph as of 6 pm, he said.
At the time of landfall, wind speed of 80-90 kmph gusting up to 100 kmph and heavy rains were likely along the region, the Met office said.
Heavy rains were lashing several parts of Nagapattinam district and surrounding areas, including Karaikal, since this evening while power supply has been disconnected as a pre-cautionary measure in the region, officials said.
The Tamil Nadu State Disaster Management Authority, in a tweet, said: 'As per the latest updates #GajaCyclone is likely to have landfall between 8 pm and 11 pm tonight in all probability in Nagapattinam district, about 300 km from here'.
People living in low lying areas have been shifted to relief centres in Nagapattinam and other vulnerable districts where teams of National Disaster Response Force (NDRF) and state forces have been deployed.
A report from Rameswaram said people in Dhanushkodi have been evacuated to safer places while tourists entry banned. A holiday has been declared for educational institutions in seven districts, including Nagapattinam, Tiruvarur, Cuddalore and Ramanathapuram, and the government has advised private firms, and establishments to send back their employees early.
A report from Puducherry said Chief Minister V Narayanasamy reviewed the preparations by various departments of the union territory government to meet the situation and expressed satisfaction.
Agriculture Minister R Kamalakannan was camping in Karaikal, about 20 km from Nagapattinam, he said adding relief centres had been opened in the areas likely to be impacted by the cyclone.
The Coast Guard and Navy personnel were keeping a close watch on the coastal areas in and around Rameswaram and Pamban.
Local fishermen said the sea off Danushkodi was 'dead silent' through the day, adding it was unusual and expressed concern.
Meanwhile, Tamil Nadu Revenue Minister R B Udaya Kumar inaugurated an 'Early Warning System' on a trial basis in Nagapattinam and Cuddalore districts. It envisaged timely evacuation of people from vulnerable areas and help prevent loss of lives during times of disaster.
The government has also announced helpline numbers 1070 (state-level) and 1077 (districts) for those who may need assistance.
In view of the cyclone, the Southern Railway announced a cancellation of four trains, including three from here to destinations in Nagapattinam, Tiruvarur and Thanjavur districts, scheduled for departure Thursday. It also diverted four express trains bound for southern districts, a release said.
Ramanathapuram District Collector Veera Raghava Rao said trains bound for Rameswaram had been stopped at Manamadurai.