PM Modi congratulates National Teachers' Awards winners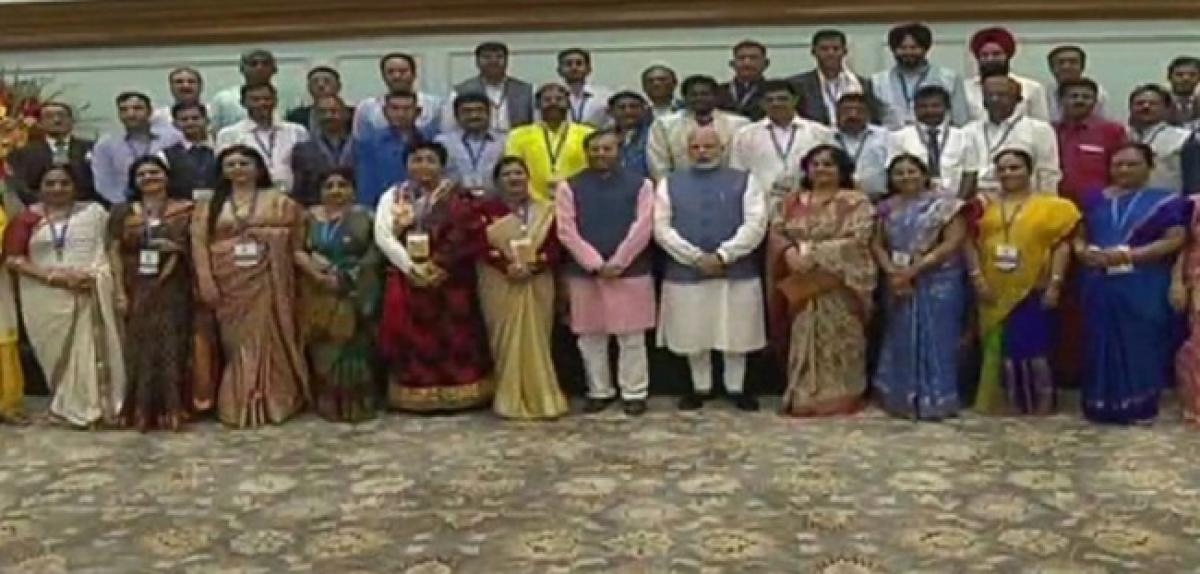 Highlights
Prime Minister Narendra Modi on Tuesday interacted with the awardees of National Teachers Awards, 2017 at Lok Kalyan Marg and congratulated them for their efforts towards improving the quality of education in the country
New Delhi: Prime Minister Narendra Modi on Tuesday interacted with the awardees of National Teachers' Awards, 2017 at Lok Kalyan Marg and congratulated them for their efforts towards improving the quality of education in the country.
Prime Minister Modi commended their dedication towards education and for making it their life mantra. He said that a teacher remains a teacher throughout life.
During the interaction, the Prime Minister urged the awardees to mobilise the community and to make them an integral part of school development. He also exhorted the teachers to work towards bringing out the inherent strength of students, especially those from poor and rural background.
He also encouraged the teachers to digitally transform their schools and its neighbourhood.
Interacting with the Prime Minister, the awardees narrated their inspirational stories in transforming their schools into centers of learning and excellence. They also thanked Prime Minister Modi for the new online nomination process and schemes like Digital India, which is bringing a big qualitative change in school education throughout the country.
This year, the Ministry of Human Resource Development had revised the guidelines for the selection of Teachers for National Awards. The new scheme envisages self-nomination and was inspired by recent innovations in major national awards. The scheme is transparent, fair, and rewards demonstrated excellence and performance.
The Union Minister for Human Resource Development Prakash Javadekar was also present on the occasion.