With 2 crore vehicles in Karnataka; Bengaluru choked with 76 lakh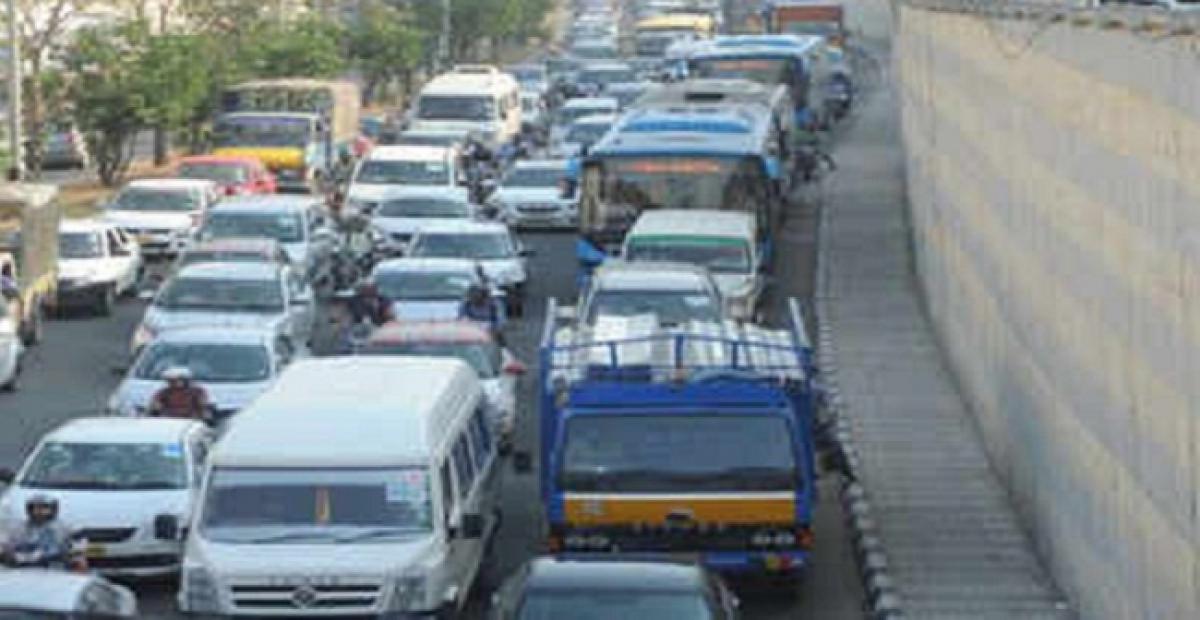 Highlights
Karnatakas vehicular population has now touched 2 crores This indicates that more number of people are switching from public transport to private transportGoing by the annual vehicle growth rate of 810, the number would have crossed 2 crores by Septemberend
BENGALURU: Karnataka's vehicular population has now touched 2 crores This indicates that more number of people are switching from public transport to private transport.Going by the annual vehicle growth rate of 8-10%, the number would have crossed 2 crores by September-end.
The transport department's data till July 31 this year displays the state has 1.99 crore vehicles, recording nearly 100% incline in seven years.
Of the 1.99 crore vehicles, two-wheelers constitute 1.4 crore and cars 23.7 lakh. The number of public transport vehicles registered in the state remains less: buses (1 lakh), cabs (3.3 lakh) and auto rickshaws (4.4 lakh).
Number of vehicles in the state was 82.9 lakh in 2008-09, 1 crore in 2011-12, 1.6 crore in 2015-16 and 1.9 crore in 2017-18.As stated on 2011 Census, Karnataka's population is 6.1 crore.Vehicular population in four districts has crossed the 10-lakh mark.
As per Urban district, with 10 Regional Transport Offices, continued to lead in the number of vehicles at 76.2 lakh. It is followed by Belagavi transport division at 35.7 lakh, and it consists of Belagavi, Dharwad, Gadag, Haveri, Vijayapura, Bagalkot and Uttara Kannada disricts. Shivamogga division with Shivamogga, Dakshina Kannada, Udupi, Chitradurga, Davanagere and Chikkamagaluru districts stood third with 29.9 lakh vehicles.With 22 lakh vehicles, Mysuru division that embraces Mysuru, Chamarajanagar, Mandya, Kodagu and Hassan districts stands fourth.B'luru Urban contains most number of vehicles as many as 19.3 lakh vehicles have been registered in Kalaburagi division that includes Kalaburagi, Ballari, Raichur, Koppal, Bidar and Yadgir districts. Bengaluru Rural division, including Tumakuru, Ramanagara, Kolar and Chikkaballapura accounts for 16.7 lakh vehicles. Belagavi district is home to the maximum number of vehicles after Bengaluru Urban district, which has 74.1 lakh vehicles. Tumakuru district has 6.8 lakh vehicles.
Experts are concerned that the huge rise in the number of vehicles could aggravate the traffic situation, and lead to more pollution and accidents.
Government should promote public mass transport system. Easy availability of EMIs and incompetent public transport are encouraging more people to buy vehicles.
MN Srihari, a traffic expert, said the government should learn from the flaw of Bengaluru. "These smaller cities should have mass transport system and dedicated lanes for buses to encourage more people to use public transport. The government should take steps to stagger work hours and shift industries and tech parks to the peripheries to avoid traffic congestion," he said, adding the government should increase taxes.