Mysuru Dasara: Maharajas protected City,Kannada, culture, says Sudha Murty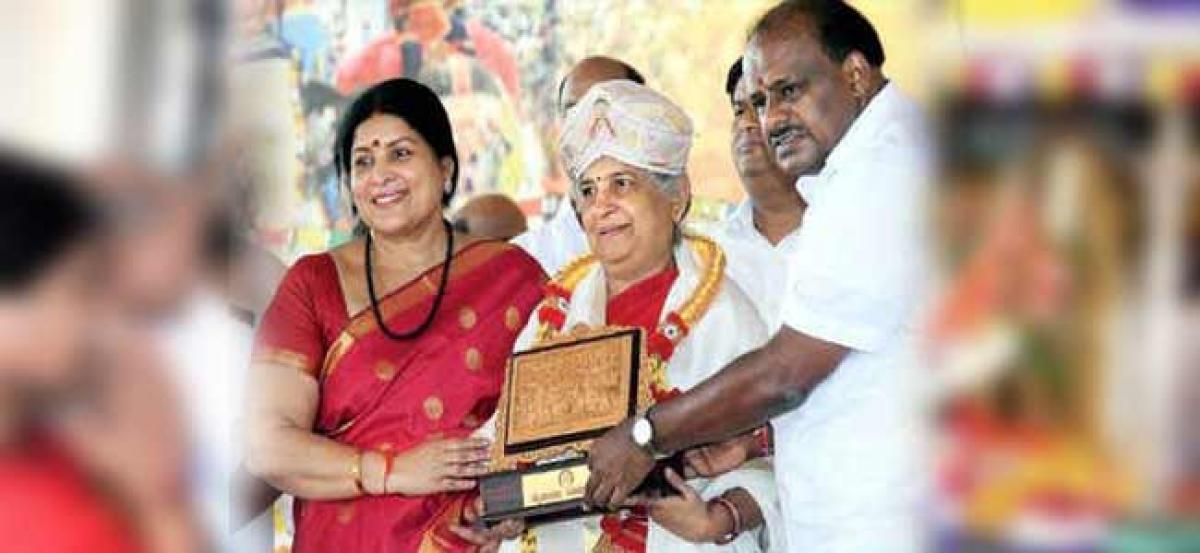 Highlights
Acclaiming the Maharajas of Mysuru for preserving tradition, nurturing Kannada and for their generosity, Sudha Murty, chairperson of Infosys Foundation, said everyone should join hands with the government to ensure society grows
MYSURU: Acclaiming the Maharajas of Mysuru for preserving tradition, nurturing Kannada and for their generosity, Sudha Murty, chairperson of Infosys Foundation, said everyone should join hands with the government "to ensure society grows". She announced a donation of Rs 25 crore to help build houses in Kodagu that were destroyed by rain and landslides and also announced funds to regenerate Hebbal Lake in Mysuru City.
The celebration also tally with the Khas Durbar (private durbar) conducted on all nine days by members of the Mysuru Royal family inside the palace.Sudha, in her inaugural speech, thanked the Wadiyars for their vision and praised the contribution of the maharajas to the land and culture.Sudha inaugurated the 10-day Dasara festival atop Chamundi Hills by showering petals on an idol of Chamundeshwari, the presiding deity, placed inside a silver chariot. The same idol will be transported on the back of an elephant and placed in the golden howdah on Vijayadashami day.Keeping its date with centuries-old tradition, Mysuru got into festive mood even as various cultural programmes were lifted off on Wednesday.
"Dasara is not a festival of yesterday or today," she said. "It has a rich history of over six-seven centuries. Dasara is an emblem of culture. We have records that the festival was celebrated during the period of the Vijayanagar Empire. After the fall of the empire, it was the Wadiyars of Mysuru belonging to the Yudu family who preserved the tradition."
She went on to add: "Because of the maharajas of Mysuru, our language has continued to flourish; otherwise Karnataka would have been a Marathi, Urdu, Tamil or Telugu-speaking land. Their contribution to the growth of the language is immense. They had even donated gold and help to the Tirupati temple."Quoting poet Pampa, Sudha said, "As Pampa said I like Kannada to the fullest and would like to be born in the land of Kannada again and again. I really felt honoured when I was told that I was chosen to inaugurate the Dasara. I'm indebted to the government."
Chief minister H D Kumaraswamy justified the decision to welcome Sudha to inaugurate the festival, saying she is a role model for women."The chief minister has flagged off 50 more buses which will be ply to areas such as Infosys in Hebbal, Vijayanagar, JP Nagar, and Naidunagar," said Veeresh, divisional mechanical engineer, Mysuru division, KSRTC.
"Her simplicity and magnanimity is what led us to choose her to inaugurate the festival," the chief minister said. "Moreover, she has a mother's heart. We felt that if she inaugurates the festival it will bring us the blessing of deity Chamundeshwari." He went on to add: "Even her husband NR Narayana Murthy is known for his simplicity. Neither of them flaunt their wealth or lead a lavish life, but they give back to society. Infosys Foundation had given Rs 200 crore to the Metro project, Rs 22 crore to the home department to upgrade technology to tackle cybercrime in Karnataka and today Sudha Murty had announced Rs 25 cr relief for Kodagu and another Rs 15 crore for lake rejuvenation."
"These buses will operate daily between 10 AM and 11 PM." Veeresh said that on Vijayadashami day, nearly three lakh people are anticipated to use buses.