Hisar 'godman', 26 followers held guilty in two murder cases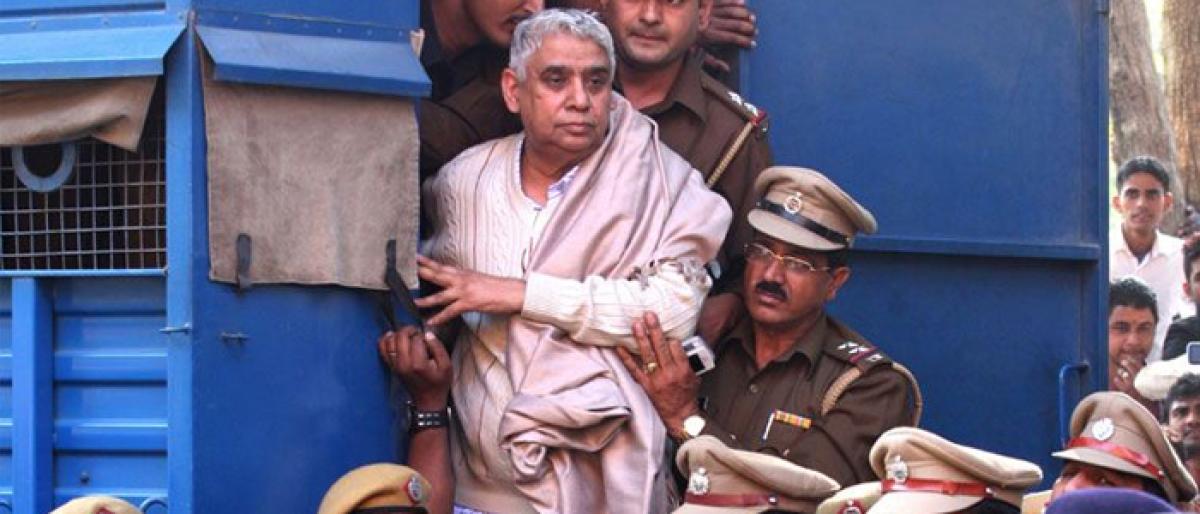 Highlights
A selfstyled godman of Satlok Ashram at Barwala in Hisar was convicted on Thursday along with 26 of his followers by a sessions court here in two separate cases of murder and other offences
Hisar: A self-styled godman of Satlok Ashram at Barwala in Hisar was convicted on Thursday along with 26 of his followers by a sessions court here in two separate cases of murder and other offences.
Hisar Additional District and Sessions Judge D R Chaliya held godman Rampal and his followers guilty of two murders and other offences, including wrongful confinement of his victims at his hermitage.
ASJ Chaliya pronounced his judgement after nearly four-year-long trial of the 27 accused in a makeshift court inside the Hisar district jail, where 67-year-old Rampal and his followers have been lodged since their arrest in November 2014.
After holding the accused guilty in two cases, the judge slated October 16 and 17 respectively to pronounce the quantum of sentences for them in the two cases.
The two cases against Rampal and his followers were lodged at Barwala police station on November 19, 2014.
The first one (FIR No 429/2014) was lodged on the complaint of one Shivpal of Mithapur near Badrapur in Delhi, while the second one (FIR No 430/2014) was lodged by Suresh of Jakhora village of Lalitpur district in Uttar Pradesh.
Both had complained of their respective wives' murders inside Rampal's ashram, where, they had said, the two women were held captive and later killed.
Besides the murder charges, the Barwala police had also invoked offences of wrongful confinement and criminal in the two FIRs.
As the police proceeded to arrest Ramapal holed up inside his ashram, his followers and devotees, numbering over 15,000 surrounded the sprawling, 12-acre ashram to prevent the godman's arrest.
The ensuing violence by the godman's followers had laid to death of six persons -- five women and an infant.
The Hisar district administration, meanwhile, has made elaborate arrangements to ensure there is no law and order problem in the district after the pronouncement of sentences to the godman and his followers.
The police and civil administration officials said more than 4,000 police personnel, besides those of the Rapid Action Force (RAF) and paramilitary forces have been deployed at various places in the district to ensure that no untoward incident takes place.
The police and paramilitary forces also took out flag march in various parts of the city on Wednesday evening.
Prohibitory orders under section 144 of the CrPC have already been imposed by District Magistrate Ashok Kumar Meena, effective till October 17 at least.