Crop insurance benefits cos more than farmers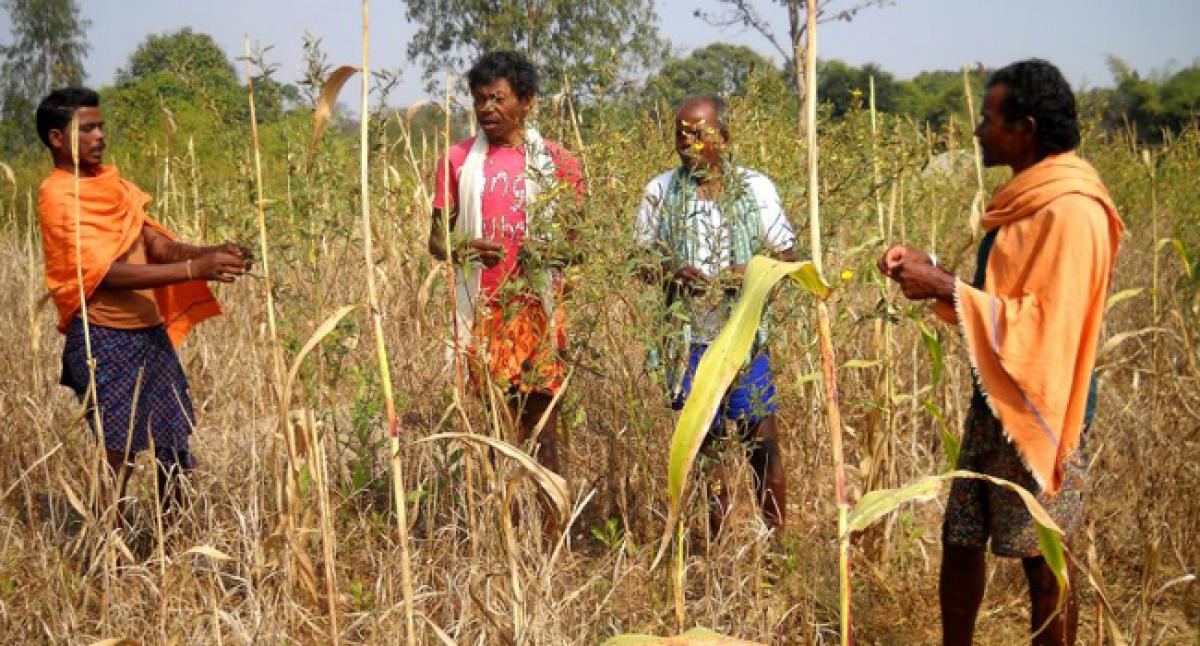 Highlights
It is yet to be seen how much the Modi governments ambitious crop insurance scheme has benefited farmers, but one section that has definitely hit the jackpot is the insurance industry, which collectively earned around 85 per cent profit, excluding expenditure on administrative purposes and reinsurance, during the 201718 kharif season, government data shows
New Delhi : It is yet to be seen how much the Modi government's ambitious crop insurance scheme has benefited farmers, but one section that has definitely hit the jackpot is the insurance industry, which collectively earned around 85 per cent profit, excluding expenditure on administrative purposes and reinsurance, during the 2017-18 kharif season, government data shows.
According to the Agriculture Ministry's data, all 17 insurance companies – five public and 12 private –empanelled under the Pradhan Mantri Fasal Bima Yojana (PMFBY) registered a margin of Rs 15,029 crore as they paid out claims of a mere Rs 2,767 crore as against the Rs 17,796 crore collected as premium.
PMFBY is exempted from Service Tax (now a part of GST), as per its operational guidelines. Similarly, these companies have earned over 96 per cent profit under another crop insurance scheme –Restructured Weather-Based Insurance Scheme (RWBCIS) – during kharif 2017-18 as they received Rs 1,694 crore as premium and paid out just Rs 69.93 crore as claim compensation, figures accessed by the IANS show.
During the last kharif (2016-17) season, the insurance companies had earned 44 per cent profit as they received Rs 15,735 crore while they incurred expenditure of Rs 8,862 crore in claims made by the farmers.
According to the Agriculture Insurance Company of India (AICI), the nodal agency for these schemes, the business has been "profitable" since they were launched in February 2016. "A good monsoon has certainly helped increase food production, which we think has led to such profits," said a senior AICI official, who wished not to be named.
Earlier, under previous insurance schemes, the AICI had paid as much as Rs 2.80 as compensation claim against the premium of Rs 1, causing it to incur significant losses, said the official.
The government and insurance companies cite a "good monsoon" and "higher production" for the low claims. But there were cases of extreme climatic conditions, drought like situations, and floods at many places, said Chandra Bhushan, Deputy Director of the non-profit Centre for Science and Environment (CSE).
"You cannot call it a good year to back low pay-outs since issues such as extreme climate and floods have been reported at many places. There are issues with assessment, payment dispersal along with technology issues. If claims are so low like 15 per cent (of premium collected), the country's agriculture has no problem. There is no need to have any such crop insurance scheme then," he added.
Interestingly, these insurance companies are bound to safeguard their interests by taking reinsurance cover and the government is to provide protection to them in case premium to claims ratio exceeds 1:3.5 or the percentage of claims to "Sum Insured" exceeds 35 per cent, whichever is higher.
Farm activists find a "big lacuna" in the design of the PMFBY, saying it has been more beneficial to the insurer than farmers. Kavitha Kuruganti of non-profit Alliance for Sustainable & Holistic Agriculture (ASHA) said Crop Cutting Experiment (CCE), which is done to obtain accurate estimates of crop output, is conducted in an unscientific manner. "The samples collected for CCE are not scientific. The consequences are that the farmers are not benefited but the companies," she said.
In addition, claims made by farmers for crop loss are found not to be settled by the insurance companies on time. "Claims are not provided in time. Also, banks do not send data (to companies) in time. There are several lacunae with the implementation. But the big lacuna is with the design of the product," Kuruganti said.
As many as 3,31,96,239 farmers bought crop insurance under PMFBY to insure 3,34,73,346 hectares of land during kharif 2017-18. However, claims of only Rs 2,767 crore were paid against the reported claims of Rs 5,052 crore.
Interestingly, the government could not yet complete claims settlement for winter crops cultivated during rabi 2017-18 when the process "ideally" should get over in "a month" after the harvesting.
According to the ministry data, claims worth Rs 14 crore were made under PMFBY for rabi 2017-18 and the payout was Rs 12.1 crore till early June against the premium of Rs 5,128 crore collected by the insurers.
A top official told IANS that the ministry was "aware" of the "big profits" and delays in settling claims. "Although companies are earning more profit now, there are chances that they may incur losses in future if significant crop losses are reported. Also, we have asked the companies and states to speed up the settlement process by adopting new technology," said the official, who requested anonymity.
Under the scheme, farmers have to pay just 2 per cent of total premium in case of kharif, 1.5 per cent for rabi and 5 per cent for horticulture and remaining premium is shared equally by the Centre and the States. However, there is no cap on the actuarial premium rates charged by the insurance companies, which Kuruganti said was "very high" for some crops.
By Saurabh Katkurwar