Netas' pastime: Pay lip service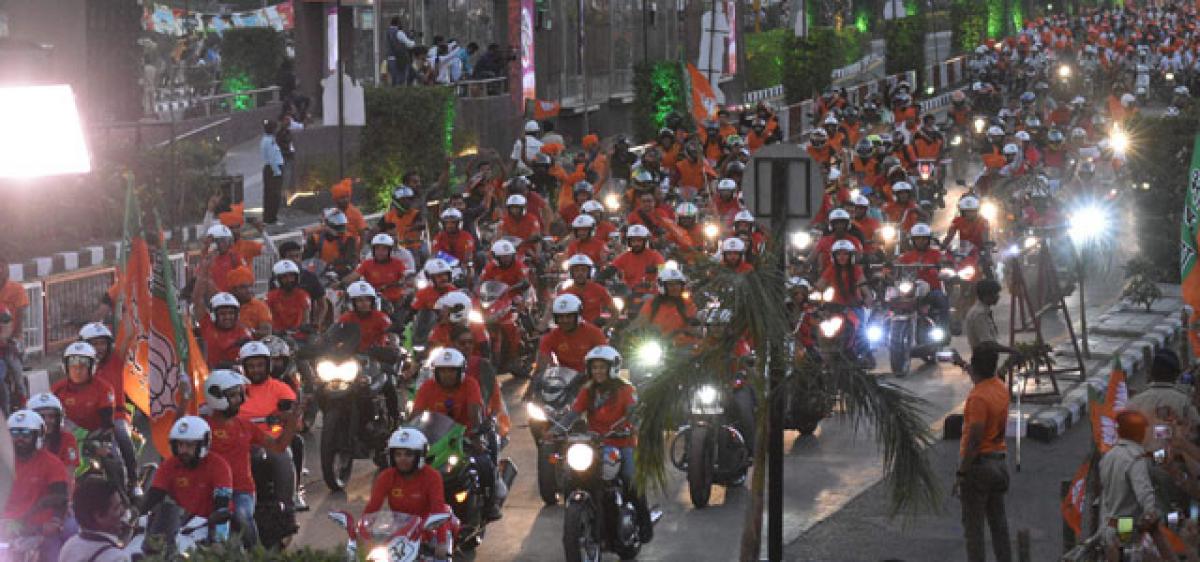 Highlights
I am glad I did not join the panel of commentators on a Hindi TV channel invited to take note of Prime Minister Narendra Modi's recent Gujarat visit.  I would have drawn a parallel that would have been out-of-sync and perhaps, unpalatable.  
A massive road show with around 11,000 bikes was held during the PM tour in Surat, despite his emphasis on the need to conserve energy at a meeting of the BJP National Executive. His frequent musings on need for conservation of hydrocarbons cannot be accepted seriously after the 'Surat Sawari.' The country's most effective communicator's exhortations show no effect on party colleagues and bureaucracy
I am glad I did not join the panel of commentators on a Hindi TV channel invited to take note of Prime Minister Narendra Modi's recent Gujarat visit. I would have drawn a parallel that would have been out-of-sync and perhaps, unpalatable.
I would have certainly applauded Modi's call for drawing a new roadmap that envisages raising exports of gems and jewellery from the current $35 billion annually to an ambitious $60 billion over the next five years.
Modi said he would 'represent' the people of Surat that is the world's premier hub of diamonds where 12 out of every 14 diamonds are cut and processed. He was right in asking that going beyond diamonds, it's time for jewellery of all kinds to glitter. After all, jewellery-making dates back to the Indus Valley Civilization and the Epic era.
If nothing else, these exports would compensate, though partially, the resources spent on the import of gold for which Indians – women, men and even the temple deities to whom huge offerings are made – are famous the world over. Gold imports surged 45.3 percent year-on-year to $39.7 billion in March of 2017.
But India is also heavily dependent on crude oil imports, with petroleum crude accounting for about 34 per cent of the total inward shipments. A part of the gold import surge was because the global oil prices rose. The question is: can India afford this luxury of the rising craze of gold and cars?
Hence, I would have been critical of a grand and dramatic road show during the Modi visit wherein 11,000 youths drove on motorcycles as part of the welcome. The figure, needless to say, was auspicious, but did the occasion call for this extravaganza? It would be easy to tabulate the fuel cost for the mass ride of eleven kilometer from the Surat Airport to the State Circuit House with dazzling display of modern technology.
Besides the pollution it must have caused, it kept thousands of school students waiting under a hot sun to have a glimpse of the Prime Minister riding by in his comfortable car. But when these points are made, one is seen as being churlish and asked: did not previous Prime Ministers and ministers do that? Of course, they did. It certainly does not speak well of all our Netas and the crowd-management done for their ego-boosting.
So far as fuel consumption goes, the fact is that for nearly four decades, India has been spending nearly a half of its total import bill on hydrocarbon fuels to meet its rising energy needs. Not only fuels consume considerable foreign exchange but they also entail huge costs involved in preservation of environmental purity.
Keeping these fuel needs in mind until 1974 – even way back in 1957, $110 million were spent on oil imports – successive governments had deliberately restricted production of personal passenger vehicles. Indeed, it led to long waiting lists and black marketing in vehicles.
Passenger vehicle was never an acquisition for personal convenience or merely a work facility. But this changed radically after late Sanjay Gandhi's small car project received official approval and push from his mother's government. With the advent of the Maruti era, it turned into buyer's market with no restriction on number of vehicles produced.
Now we have reached the other extreme with automakers emerging as an influential lobby and banks extend loans to even the modest two-wheelers. Not just limousines and SUVs have arrived, so has the famed Harley Davidson. We have put the vehicles on the road before widening and improving roads and creating related infrastructure.

Automobile then was, and is now more so, the demonstrative symbol of declaration of upward social movement of the family. Hence use of vehicles for pleasure is integral part of social life. Restrictions by law or through new procedures on usage would and can lead only to increase misuse.
On a different plane, though, look at Nitish Kumar's Prohibition in Bihar. Or worst, look at the way vigilantes are running amuck to 'protect' every bovine animal they think is going to be sold or slaughtered, ignoring, of course, the ones that are grazing for food in gutters and garbage dumps.
The Prime Minister's frequent musings on need for conservation of hydrocarbons cannot be accepted seriously after the "Surat Sawari." If his desire for conservation was genuine, he would not have allowed it. But then, his political compulsion of making a dazzling presence in his political backyard, and that of the Bharatiya Janata Party and its Gujarat Government, was to popularise the motorcycle that is the symbol of the communities of other backward classes (OBCs).
They need to consolidate the OBCs' support in time for the state assembly elections later this year and in the face of the rebellion by sections of the Patel community, the Patidars, led by Hardik Patel. In sum, come November, Modi and BJP are working hard as they cannot afford to do badly in Gujarat.
That brings up a larger question. The country's most effective communicator today finds that his exhortations and his unconventional talk receive only conventional response, if at all, from his party colleagues and the bureaucracy.
The Surat road show was preceded by his emphasis on the need to conserve energy made at meeting of the BJP National Executive at Bhubaneshwar. Eight states responded by restricting sale of fuels one day as week. They overlooked that it could lead to illegal sale of fuel to those in dire need to meet their emergencies.
Not only administrative structure across the country is incapable of ensuring stricter enforcement but also corrupt elements within would also exploit, as they do, the creation of any artificial scarcity to extract their pound of flesh. Like Piyush Goel daring officials "please leave, and vacate your positions, if you cannot work under this new arrangement," Modi and many his ministerial colleagues are applauded by acolytes on the social media for their 'tough' and 'plain' talking to the officials. But this age-old problem has not been resolved.
Without a change of approach by the political class and the bureaucracy and a change in the attitude and habit among the consumers, it is impossible to achieve the objective solution that the Prime Minister has in mind in suggesting conservation of fuel. People have to cultivate habit of avoiding usage of vehicles. It can come through education and not through imposing restrictions.
But our system is so used to bans and barricades – and more are coming by the day in the form of do's and don'ts on what to eat, what to wear, what movies to see, etc. – that it could not devise a different method to induce people to adhere to needs of fuel conservation.
Finally, the talk of corruption – repeated resolves to end it and threats to punish the guilty. True, there is a PM who keeps a hawk eye on his ministers. How far has it worked on the ground, among officials, in the states and lower down? Claims are high, but results are still opaque, even granting that there is no magic wand that can end corruption. And, as had happened under the UPA government, graft takes time to surface.
Nobody talks of Lokpal any longer. Anna Hazare, who led a nationwide campaign, is today reduced to issuing threats of indefinite fast and agitation and ends up castigating Arvind Kejriwal, his one-time protégé who, unlike the mentor, at least chose to join the system rather than take potshots from a distance.
Hazare believes that punitive law can prevent graft. Our middle class, the most corrupt component of the society, believes in this myth to absolve itself. Blaming the 'system,' it looks for a savior.
Every religion prescribes severe punishment to the corrupt, some even in the future birth. If divine diktats have not deterred humans from avarice, can man-made laws work?