FIFA World Cup 2018: England striker Jamie Vardy doubtful for Sweden tie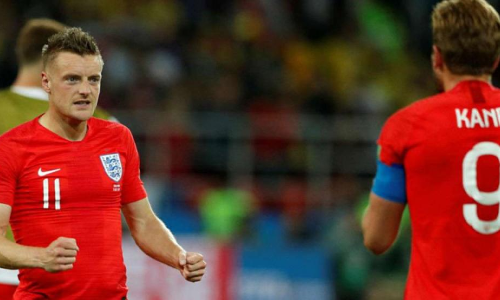 Highlights
England forward Jamie Vardy is looking doubtful for the World Cup quarterfinal against Sweden on Saturday after suffering a groin strain having come on as a late substitute in the last16 win over Colombia, manager Gareth Southgate has said
England forward Jamie Vardy is "looking doubtful" for the World Cup quarter-final against Sweden on Saturday after suffering a groin strain having come on as a late substitute in the last-16 win over Colombia, manager Gareth Southgate has said.
Vardy was unlikely to be ready to face the Swedes after sitting out training on Thursday, Southgate added.
"Vardy didn't train today, so is looking doubtful for this game," Southgate was quoted as saying by Sky Sports on Thursday. "But we'll know a bit more tomorrow (Friday), really. The others were all on the pitch. We didn't do a lot."
"I think at this stage, minimal time on the pitch, a lot of our information is going to have to be in meetings."
"Because it really is as much about recovery, physical and psychological, as everything else. The downside of that is we can't push the players enough today to see whether they're OK."
"So we'll know more tomorrow. We'll have to make late decisions. I think every team will be in the same boat on that."
Southgate was more upbeat about midfielder Dele Alli, who was back in the team against Colombia after missing the Group G matches against Panama and Belgium with a thigh issue.
"Dele was absolutely fine after the game, didn't feel anything," Southgate added. "I think the extra couple of days were really helpful for him.
"Had he gone into the last one a bit earlier he might have come out of the game feeling something. He was fine."
Left back Ashley Young and fellow defender Kyle Walker, who were substituted having seemed to be suffering from cramp in the shoootout win over the Colombians, were both fine.
"Young and Walker, we've no reason to believe they're serious issues. They were back on their feet today," said Southgate.
"But equally, there might be a couple of others. I think when you've had a long game like that, you don't know until you've really started to extend in training again exactly what you might be carrying."
"But our feeling is, certainly nothing serious, but two or three in particular that we've probably got to assess quite closely tomorrow and see exactly what level they're at. Again, because we've got good players to come in."
"So if we've got players that are 75 percent, then the guys who haven't been in the team deserve to come in and be at 100 percent."