FIFA World Cup 2018: This Croatia side can surpass stars of 1998, says Dejan Lovren ahead of Russia match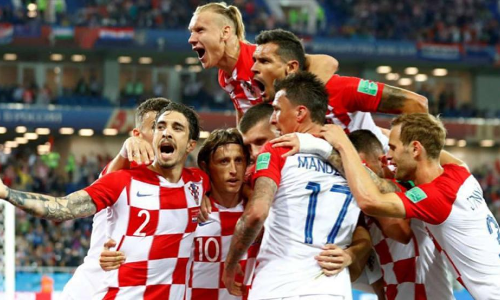 Highlights
Croatias successful run in the 1998 World Cup in France, when they finished third, has been something of a burden for the generations that followed, but the current group in Russia could even surpass them, defender Dejan Lovren said on Thursday
Croatia's successful run in the 1998 World Cup in France, when they finished third, has been something of a burden for the generations that followed, but the current group in Russia could even surpass them, defender Dejan Lovren said on Thursday.
In its maiden appearance representing an independent nation, Croatia went out to the hosts in the 1998 semi-finals, then beat the Netherlands 2-1 in the third-place playoff.
The current squad is one win away from matching that feat, and they meet hosts Russia in Saturday's quarter-final at the Fisht Stadium by the Black Sea.
"Of course, we respect the generation of '98 very much because they achieved the greatest success for Croatian football and the Croatian national team," centre back Lovren told reporters.
"This has always been... I can even say some kind of a burden to be better than them. Twenty years have passed and no one has managed to do anything in this regard.
"I believe in this team and I believe we can do better than them. With a little luck and several other things falling into place I am certain we can do better."
Croatia has world-class midfielder Luca Modric and a string of top-level forwards including Mario Mandzukic, Ante Rebic, and Ivan Perisic, and the team scored at least two goals in each of their three group matches, including three against Argentina.
The defence has conceded just two goals in their four matches in the tournament, and some believe they have not had their fair share of recognition.
"It is the norm in today's football that attackers and midfielders are always praised and more recognised than the defence players," said Lovren, who plays in England for top Premier League side Liverpool.
"But we do our job the best we can, and we are happy when we do our job right and there are no goals on the receiving end. We don't need praise, we care the most about what our coach says."While Croatia's progress to the quarter-finals has been relatively smooth, its path to qualification for the tournament was patchy.
Bosnian-born coach Zlatko Dalic, who played as a midfielder for many clubs in the former Yugoslavia and Croatia, was appointed at the most critical point of the team's turbulent qualifying campaign.
He replaced Ante Cacic, who fell out of favour after Croatia slipped from first to third in their group.
Croatia clinched a playoff berth with a 2-0 win in Ukraine in their final group match, and then booked their spot in the World Cup with a 4-1 aggregate win over Greece in the playoffs.
"We made our lives difficult in the qualifiers even though we started well," right back Sime Vrsaljko said. "However, since qualifying we are playing good football and at the World Cup right now.
"He (Dalic) came in a difficult moment but did what was asked of him. He is doing a good job."