Srinivas, Padmaja carrom champs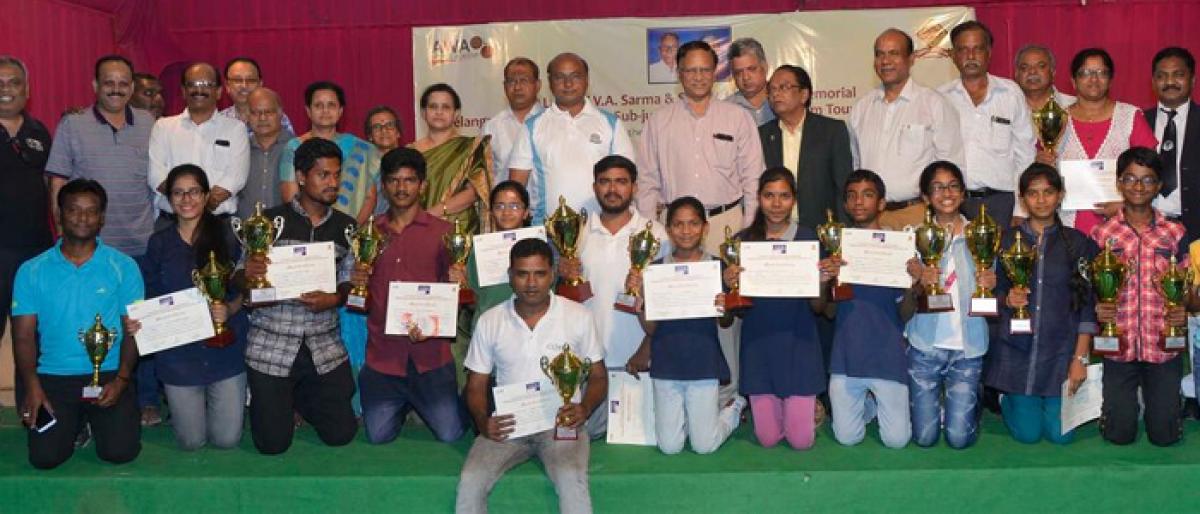 Highlights
Third seeded former world champion K Srinivas of IOCL battled his way past a gutsy Md Ahmed HMCC to annex the men singles crown of the fifth Late Sri VA Sarma Smt V Indiramba Memorial Telangana State Senior, Women, Junior Boys Under18 14 and Subjunior Girls Under18 14 Carrom tournament2018 at Anand Nagar Welfare Association Sports Academy AWASA premises here on Tuesday
​Hyderabad: Third seeded former world champion K Srinivas of IOCL battled his way past a gutsy Md Ahmed (HMCC) to annex the men singles crown of the fifth Late Sri VA Sarma & Smt V Indiramba Memorial Telangana State Senior, Women, Junior Boys (Under-18 & 14) and Sub-junior Girls (Under-18 & 14) Carrom tournament–2018 at Anand Nagar Welfare Association Sports Academy (AWASA) premises here on Tuesday.
Although, Srinivas lost the first game 08-25, he bounced back in the nick of time to draw level while winning the second game rather effortless at 23-10. From there on, there was no stopping him even as his opponent wilted under duress to surrender the decider 00-25 in 20 minutes. The titlist needed a mere four boards to accomplish the feat.
Meanwhile, fourth seeded independent K Padmaja also needed three games before edging out unseeded G Shravika Reddy of Infosys 00-25, 17-15 and 20-16.
However, the star performer on the final was C Kartika Varsha of NASR, who lived up to expectations by pocketing both the junior and sub-junior girls titles. In the junior, she brushed aside the credentials of N Swathi from Mancherial, 25-14, while for the sub-junior girls' title she whipped K Nandini of AWASA 25-06.
An upset came about in the junior boys category, when unseeded B Nitin Goud of Wanaparthy stunned top seeded Ch Sai Charan (MNCL) 25-21. The sub-junior boys titlist was B Sandeep (BRR) who made it with 25-00 rout of B Akash (AWASA).
HR consultant Aniruddha Das gave away the prizes in the presence of family members of Late Sri VA Sarma and V Indiramba, who sponsored the event.
Results: All finals-Men Singles: K Srinivas (IOCL) bt Mohd Ahmed (HMCC) 8-25, 23-10, 25-00; Women Singles: K Padmaja bt G Shravika Reddy (Infosys) 0-25, 17-15, 20-16; Junior boys: B Nitin Goud (Wanaparthy) bt Ch Sai Charan (MNCL) 25-21; Sub-junior boys: B Sandeep (BRR) bt B Akash (AWASA) 25-00; Junior girls: C Kartika Varsha(NASR) bt N Swathi (MNCL 25-14; Sub-junior girls: C Kartika Varsha (NASR) bt K Nandini (AWASA) 25-06.