The criminal defacing of Sholay!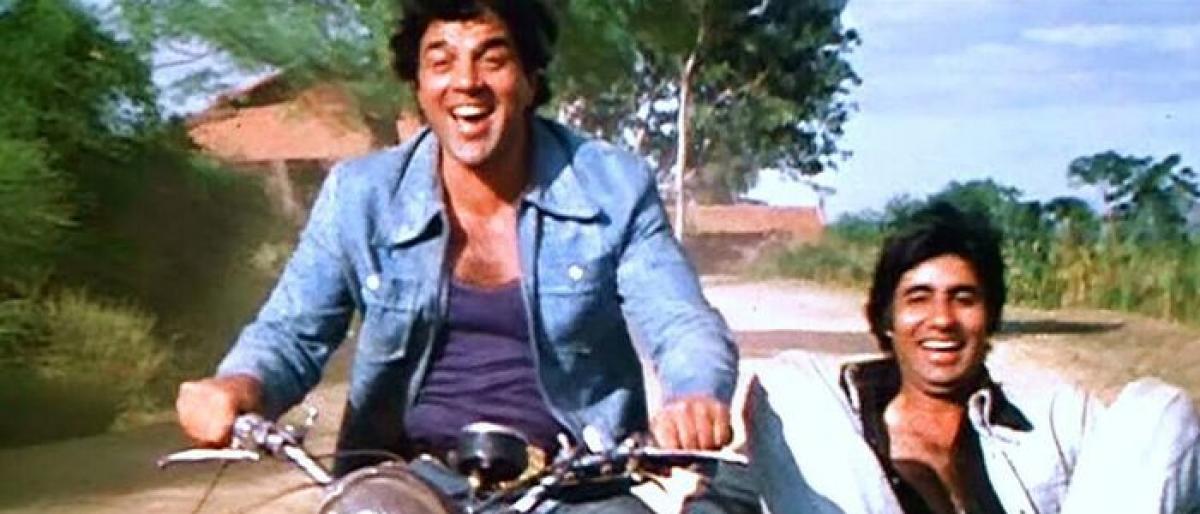 Highlights
You cannot call yourself a Bollywood fan if you have not watched 'Sholay'. No other movie whatever be the statistic-ridden noise in its favour by the modern fact scientists has reached half the mark of the way 'Sholay' has impacted our psyche and the way it has become a part of our social fabric.
You cannot call yourself a Bollywood fan if you have not watched 'Sholay'. No other movie whatever be the statistic-ridden noise in its favour by the modern fact scientists has reached half the mark of the way 'Sholay' has impacted our psyche and the way it has become a part of our social fabric.
A movie, which was so well-made that it refuses to age. Shekhar Kapoor summed it up for millions of us when he famously once said the entire history of Bollywood can be summed up as Sholay BC and Sholay AD. I might not be quoting Kapoor verbatim here but this is what he more or less said. Nothing can underline the legendary status of this iconic work of art. A movie, which came and shook the way movies were made till date. So much that even the rocks of Ramanagaram have achieved immortal status.
Therefore you might assume and in fact, expect the makers of this movie to keep the legacy of the movie intact. To his credit, Ramesh Sippy did brilliantly well in that regard. A hungry audience has always helped by ensuring the movie gets the numbers in every rerelease. Keeping in touch with times the makers released a 3D version of the same movie in 2014. That was fine.
What they did besides that was, politely put criminal. More baffling for any Sholay buff should be if Salim-Javed and Ramesh Sippy were in silent agreement to this crime that I will mention below.
'Sholay' achieved creative zenith because of its actors, a committed director, one of the most epic faultless forever in fourth gear screenplay and last but not at all the least its background score and its moments of silence.
The 3D version had 'Sholay's moments of silence and its background music tinkered with. Here are those moments, some of them, I was so filled with hurt when I first heard that they have updated the soundtrack. However, I felt once the 3D version craze is out, they will restore the good old Sholay.
Till this Sunday came and when I saw the movie on TV to my horror I discovered that they have in fact kept the new soundtrack intact. When I read on the internet the logic behind digital restoration and soundtrack was done to make it acceptable to the new generation. Nothing can be more insulting to a great work of art, this point I will touch later.
Here are the scenes and moments they killed in their over-enthusiasm to make 'Sholay' – "new" and "acceptable".
The addition of new zing to the background music of 'Sholay' sounded like that irritating trend of the 1990s called "jhankaar beats" when even a sad song would have a "krr-krr-jhintak-dhish-krr-krr-jhintak-dhish" kind of music playing alongside a good musical track, in the process totally killing whatever good was in that song.
So for starters, they added extra sounds and music to Veeru running over train wagons to reach the engine, which was minor. There are many such minor additions that you can try to digest but the biggest one comes for instance when in that epic scene where Basanti falls down tired and you hear a brief moment of silence when the epic clicking of Sambha's rifle makes Basanti dance again to buy Veeru that much time so Jai can arrive and rescue the day. They have filled music around Sambha's rifle click totally killing the moment.
Worse is the tinkering they have done with Gabbar's background music, RD Burman had filled a glass pipe with water and played the sound it made in loops to create that background score. What on earth went through the makers head to spoil a musical score, which helped create the legend of Gabbar?
The moments of silence in 'Sholay' were also done to death by this new over enthusiastic tech team. The scene where a trapped young boy looks all over the horizon when dacoits surround him and the total silence of the moments when Gabbar casually pulls his rifle up and the camera focuses on the loud bang of the barrel and it hits you in the gut suddenly. They filled a loud "whoosh, whoosh" wind blowing scene, which is more like when a ghost comes visiting in a Ramsey brothers movie. Did they show this scene to Salim-Javed and Ramesh Sippy? If not fine but if they did and approved all this and I am trying to figure that how did they say yes to this?
I could go on and on the scene where Thakur silently walks towards Gabbar once Veeru leaves him in the climax and those epic beats have been fooled around with.
In fact, they have tried to add extra music bits to the songs of 'Sholay', totally killing the old melodies and surely not creating anything great in the process. Probably the logic was new generation will love it more, did they? Because the box office numbers of 'Sholay 3D' were no great shakes. In fact 'Mughal-e-Azam', which was just released in colour did better and honestly they did not remix "Pyar kiya to darna kya" with beat music to make it acceptable to the new-age audience.
'Sholay' has a timeless background music and songs. That is the thing about good music. When you try to better it you are committing creative suicide. That is exactly the 3D team of 'Sholay' did – worse they left it like that for future TV audiences.
Also, where does this whole idea of making a piece of art acceptable to new audiences end? Do you add a sparkler on Monalisa's smile? Will you add an imaginary rain song between Jai and Radha because the new-age audience loves spice? Where will you put a stop? Would you add Anurag Kashyap style cuss words in Gabbar's dialogues because "modern generation" will love that?
Do you also not agree that when you try to make it more "acceptable" to the new audience you are also silently agreeing with those who do not agree to the fact that 'Sholay' is a work of great art.
You are most welcome to digitise and restore 'Sholay' and if that movie were lost to future generations just because someone could not keep it protected that would be a crime. And we did that to 'Pather Panchali'.
The idea should have been to let the young audiences understand the evolution of music, I'm sure the moments of silence of 'Sholay' would be well understood by them too. By adding sound to those bits we are insulting both 'Sholay' and those who come to appreciate it for the first time.
If remixes were indeed so great how come all those movies, which have had aggressively publicised remixed songs in it bomb one after the other at the box office. The reason is our young generation is as hungry for true creativity as were those who came to watch 'Sholay' in 1975.
Please restore the old 'Sholay', else my original background score DVD will always be there for my rescue.
Jai playing his mouth organ with extra zing while Radha quietly turns off the lanterns – thank you over enthusiastic techies! I prefer the old version of Jai and Radha! I love the old 'Sholay'! Pancham Da it's good that you are gone!
Interested in blogging for thehansindia.com? We will be happy to have you on board as a blogger.