Junk plastic, lap up clay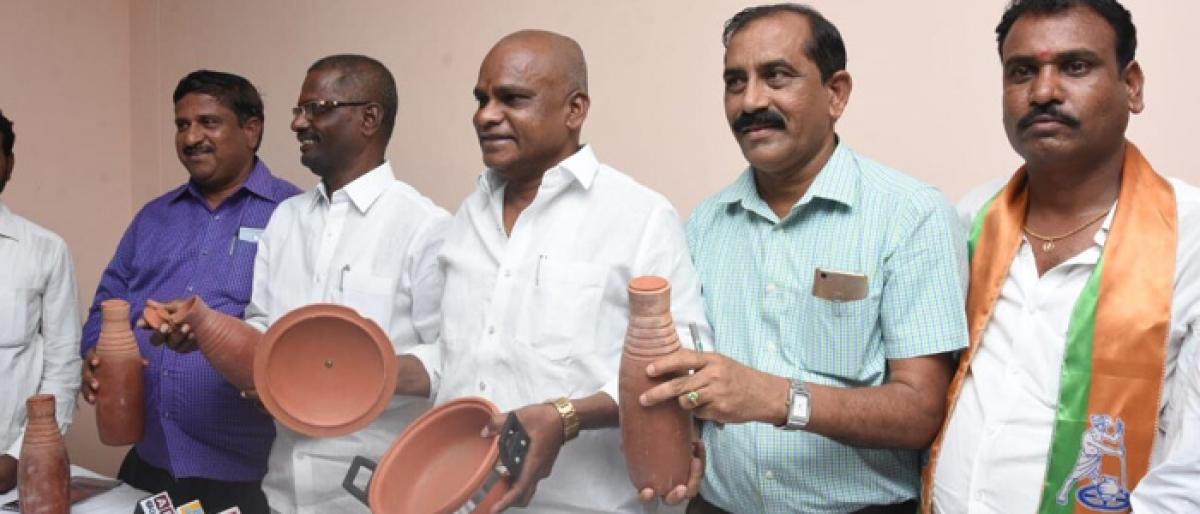 Highlights
It appears that the need to strive in the direction of attaining freedom from plastic seems to be catching up both with the people and the government as well. To reduce the plastic usage and plastic water bottles to protect the health of the people and environment, Minister for Irrigation T Harish Rao also seems to have taken up the matter seriously and has taken the initiative to ensure that Sidd
​Siddipet: It appears that the need to strive in the direction of attaining freedom from plastic seems to be catching up both with the people and the government as well. To reduce the plastic usage and plastic water bottles to protect the health of the people and environment, Minister for Irrigation T Harish Rao also seems to have taken up the matter seriously and has taken the initiative to ensure that Siddipet is free from plastic.
The State Most Backward Classes Corporation (MBC) announced setting up of a manufacturing unit of clay water bottles in the town as a pilot project using latest technology. This, apart from helping Siddipet achieve freedom from plastic, would also help in renaissance of community professions in the rural areas, MBC Corporation Chairman Taduri Srinvas decided to facilitate setting up of a manufacturing unit in the town to encourage community occupations, livelihoods and practices and to provide employment for the unemployed too. This unit can even cater to the needs of the government offices since Chief Minister K Chandrashekar Rao ordered for the usage of clay water bottles at all the government offices, schools, institutions, hospitals and hostels to reduce soil and environmental hazards.
The centre will provide training by 31 master trainers for setting up of units in all 31 districts with the sanction of loans from the corporation without any bank linkage for the first time in the country on the basis of self-declaration. District Collector P Venkat Ram Reddy told The Hans India that in the first phase to turn Siddipet Municipality into an eco-friendly town, nearly 5,000 clay water bottles would be used at Government Area Hospital and offices including the the Collectorate.
The pilot project was aimed at achievement of 100 percent eco-friendly and clean Siddipet town, said Taduri Srinivas who termed Siddipet town a mascot of development in the State by the Minister Harish Rao after visiting Komati Cheruvu, Model Rythu Bazaar and Government Hospital in the town.
Subscribed Failed...
Subscribed Successfully...