Valmidi replete with hidden history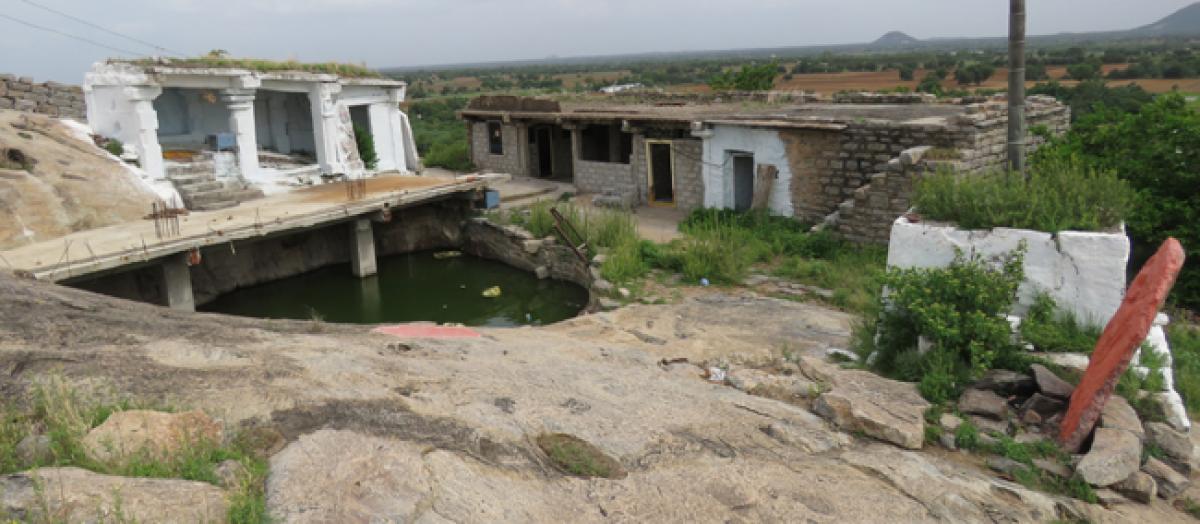 Highlights
The twin hillocks of the tiny Valmidi village in Janagaon district, 126 kms eastwards of Hyderabad, locally known as Ramulagutta and Munulagutta, where Valmiki Maharshi believed to have lived, is a treasure trove of bygone era
Valmidi (Janagaon): The twin hillocks of the tiny Valmidi village in Janagaon district, 126 kms eastwards of Hyderabad, locally known as Ramulagutta and Munulagutta, where Valmiki Maharshi believed to have lived, is a treasure trove of bygone era.
Before it moved to present day location, Valmidi village was located between the two hillocks. The remains of pottery, terracotta beads and megalithic burials that were available in plenty at the site suggest pre-historic life here.
Ramulagutta has a Sita Ramachandra Swamy temple, carvings of Lord Rama's coronation ceremony, idols of Ganesh, Garuda and Alwarlu, footprints etched on the rock believed to be of Lord Rama and many more sculptures.
The Gundam (pond) on the hillock will never go dry even in the times of drought, Veeramalla Thirumalaiah, a retired teacher of Valmidi told The Hans India. The annual jatara which attracts hordes of people held at the Ramulagutta as part of Sri Rama Navami fiesta is famous in the region. The locals say that the temple indicates that Lord Rama spent some time here on this hillock.
He said that the locals believe that Valmiki Maharshi, author of Ramayana, lived on Munulagutta. The villagers offer prayers to the idol of Valmiki located on this hillock. Although the Sitaramachandra Swamy temple has around 60 acres, there was no effort to develop the shrine by the Endowments Department, Thirumalaiah said.
Kotha Telangana Charitra Brundam (KTCB) member and historian Sriramoju Haragopal said, "The Shivalayam in the village is probably built in the times of Kalyana Chalukyas (12th century AD). The other Shivalayam on the Ramulagutta is even more ancient, said to be of 3rd century AD." The stone circles, megalithic burials and a dolmen make it clear that the ancient man lived in this part of the region, he added.
According to the local lore, Valmikipuram village where Valmiki lived once was transformed into present day Valmidi. The inscription found near Thallacheruvu, indicates that the lake was constructed during the times of Qutb Shahis on July 18, 1567.
The members of KTCB - Aravind Arya, Chanti, Mudavath Ravinder and Kamalakar Naik – who also visited the historic site along with Sriramoju Haragopal said that Valmidi has potential to be developed as a tourism place.
Interested in blogging for thehansindia.com? We will be happy to have you on board as a blogger.