Subramanian Swamy threatens to put KCR in the dock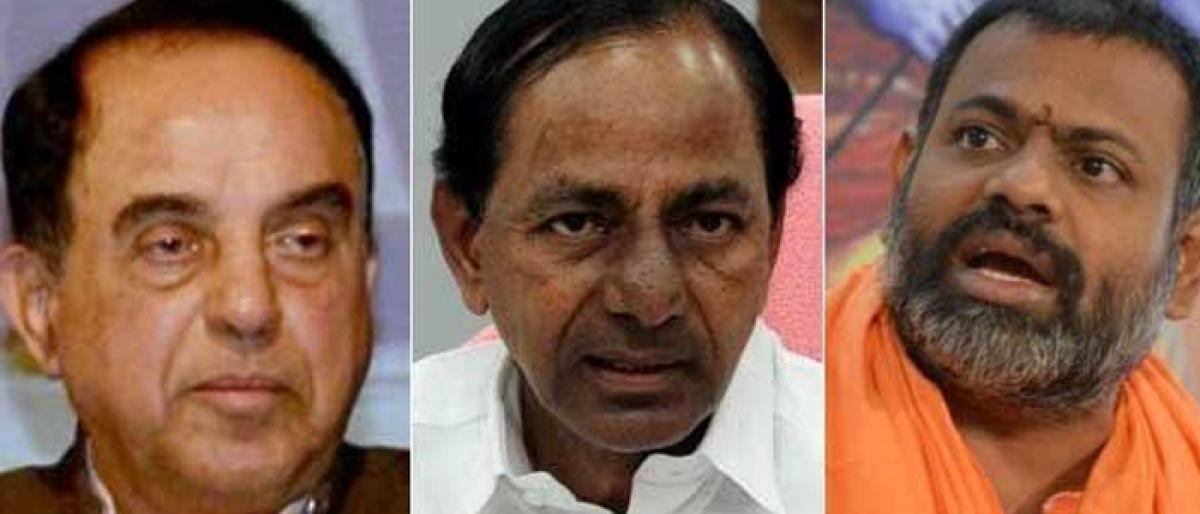 Highlights
Objecting to the externment of Sri Peetham seer Swamy Paripoornananda, BJP lawmaker Subramanian Swamy on Thursday advised Telangana Chief Minister K Chandrashekar Rao to cancel the orders or else he would be taking action in the court and seek damages
​Hyderabad: Objecting to the externment of Sri Peetham seer Swamy Paripoornananda, BJP lawmaker Subramanian Swamy on Thursday advised Telangana Chief Minister K Chandrashekar Rao to cancel the orders or else he would be taking action in the court and seek damages.
The BJP MP wrote to Chief Minister and sought cancellation of the police orders. Subramanian Swamy said that Swamy Paripoornananda was externed under Section 3 of Anti-Social and Hazardous Activities Act, 1980. He said, "I wonder whether the externing authority who has passed the said order has even read Section 3 of the aforesaid Act. On the perusal of the above mentioned section, it came to my knowledge that it reads as 'Externment of Goondas'.
It is pertaining to note that a person in order to be externed under this section needs to be classified as 'Goonda'. Externment of Swamiji under this section gives an impression of him being a 'Goonda', which is highly insulting, disrespectful and defamatory for a sanyasi who has such a good reputation and respect in the eyes of the people of Telangana State."
Subramanian Swamy said that because of the externment order, Swami Paripoornananda's fundamental rights- Right to Freedom of Speech and Expression, Right to Freedom of Movement and Right to Assemble peacefully as guaranteed by Article 19(1)(a), 19(1)(d) and 19(1)(b) respectively of the constitution were violated.
Swamy said that the order appears to be arbitrary and it seems that the authorities were flouting the highest law of land. He advised the Chief Minister to cancel the orders or he would be compelled to take an action in the court and seek damages for the same. He ended his letter stating, 'waiting for your favourable response'.
Meanwhile, the Vishwa Hindu Parishad, Bajrang Dal and BJP activists staged 'Chakka Jaam' in the State against the externment of the seer by the police. The Sangh Parivar activists were taken into police custody for staging dharnas at crossroads in various parts of the State.