KCR ready to kick off poll campaign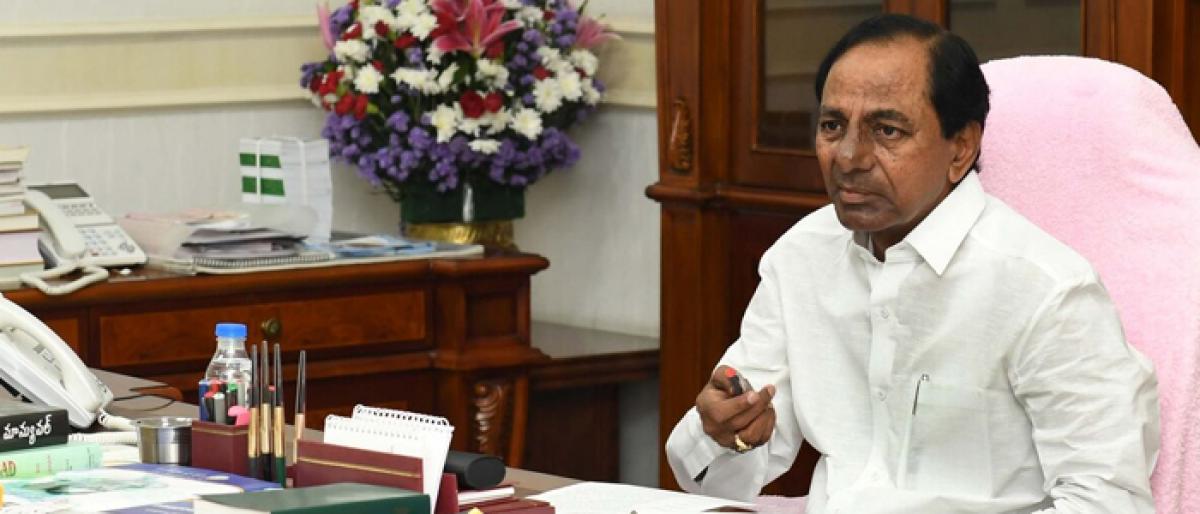 Highlights
Chief Minister K Chandrashekar Rao has decided to kick off campaigning for elections to the Telangana State Assembly which are likely to be in December by addressing the motherofallpublic meetings TRS Pragathi Nivedana Sabha on September 2 at Kongara Kalan in Ibrahimpatnam on the outskirts of the city at 4 pm
​Hyderabad: Chief Minister K Chandrashekar Rao has decided to kick off campaigning for elections to the Telangana State Assembly which are likely to be in December by addressing the mother-of-all-public meetings - TRS Pragathi Nivedana Sabha - on September 2 at Kongara Kalan in Ibrahimpatnam on the outskirts of the city at 4 pm.
Setting at rest speculation that the meeting might be postponed, the Chief Minister, at a meeting with his Cabinet colleagues and important leaders of the party at his official residence Pragati Bhavan here on Wednesday, reportedly told them that at the public meeting he would explain to people what he had done during the last four-and-a-half years as he intended to go in for early elections.
The meeting would be held in an area of 1,600 acres of land and over 25 lakh people are expected to attend the meeting. The arrangements for the meeting would begin from Thursday in right earnest as the Chief Minister reportedly asked the party leaders to start preparations from Thursday morning. The MLAs would be given the task of crowd gathering and organising preparatory meetings for the public meeting.
This will be the largest-ever public meeting of the party after coming into power. The party had organised massive meeting in Warangal during the Telangana agitation. The Chief Minister is learnt to be keeping ready his ammunition to attack the Opposition Congress, thus setting the tone for the elections.
According to sources, the Chief Minister discussed the political scenario in the state with the ministers and then after convincing himself that it would be prudent to go in for elections early, he broke the news to his cabinet colleagues.
He indicated to them that he wants to dissolve the Assembly in September as the situation in Telangana is very conducive for Telangana Rashtra Samiti. The farmers are quite happy these days with the state having received ample rain and the irrigation projects are full with water.
Sources also said that the Chief Minister had indicated that they should be prepared for December along with four other North Indian states since he was going to dissolve the House in September. The Chief Minister has already declared that he would announce candidates for the coming polls and he is expected to declare candidates for 80 per cent of the seats.
Meanwhile, a joint meeting of the state executive committee, Parliamentary Party, Legislature Party would be held at 3 pm on August 24 at Telangana Bhavan. Chief Minister would be giving necessary instructions to the party leaders on the public meeting on September 2.